Good morning, Quartz readers!
Here's what you need to know
South Africa halted its AstraZeneca vaccine drive. Trial results showed the jab offered limited protection against the Covid-19 variant first identified in the country. Meanwhile, China granted provisional approval to Sinovac's CoronaVac.
UK lawyers found a "very credible case" of genocide against Uyghurs. The formal assessment, which also argues Chinese leader Xi Jinping could be held personally responsible for crimes against humanity, can be used by British judges as a basis for legal action.
China arrested an Australian journalist. Cheng Lei, an anchor for a Chinese state television network who has been detained without charge for six months, was formally accused of leaking state secrets.
Tens of thousands protested in Myanmar. The country saw its largest demonstrations since 2007 over the weekend, as a short-lived internet shutdown failed to quell discontent over last week's military coup. Protests continued today.
A Himalayan glacier caused an Indian dam to burst. Over 100 people are feared dead after a glacier broke off, causing a huge flash flood down a river.
Italy is a step closer to unity. Two major political parties signaled a willingness to work with former European Central Bank president Mario Draghi to form a new government.
The US rejoins the UN human rights council. It will return to the Geneva-based body as an observer three years after the Donald Trump administration withdrew from it.
---
What to watch for
In light of more infectious coronavirus variants, the US Centers for Disease Control and Prevention is now researching whether wearing two masks may be more beneficial than one. US president Joe Biden, top infectious disease expert Anthony Fauci, and White House press secretary Jen Psaki have already been seen doubling up.
Katherine Foley looks at what we know so far about double masking. Depending on the kinds of masks you're layering, there is potential for added filtration, and more filtration means less likelihood of encountering a pathogen-containing particle.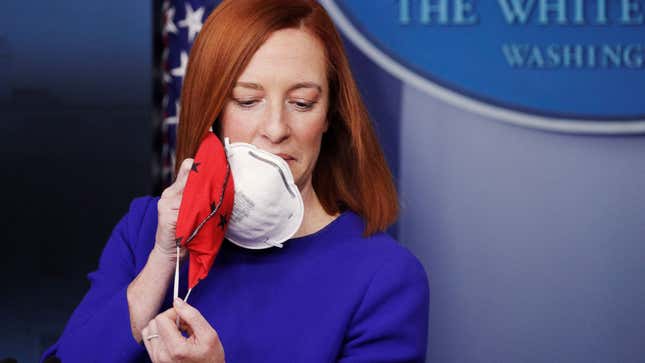 ---
Charting the rise of ETFs
These days, all eyes are on short-selling. But while troubled companies like GameStop and AMC Theaters may seem like obvious targets for shorting, Karen Ho reports that exchange-traded funds (ETFs) are proving even more enticing.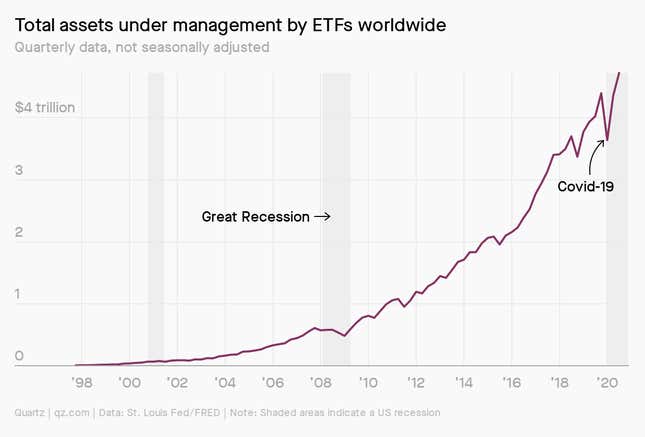 ETFs, which track a number of underlying investments in a particular industry or market segment, have grown into a $5 trillion industry during the pandemic, fueled by new investments, low interest rates, and investor optimism. Shorting index ETFs is one way for traders to diversify and reduce risk, but experts say the "extreme level of nimbleness and discipline" required makes it a tactic beginners would do well to avoid.
---
Case of the Mondays?
At work, there's a fine line between being a team player and a pain in your boss's neck; those who walk it gracefully are "productive skeptics." While plenty of us are born with one eyebrow raised, steering that energy productively is a skill you can learn, starting with these tips:
Don't be a martyr. Work can't be all courageous acts.
Choose your battles. And pick the right time to engage in them.
Follow through. That includes asking for what you need.
Smooth ruffled feathers. Don't start fights you can't fix.
✦ There's a fine line between a Quartz reader and a Quartz member, and it's this link to try membership free for seven days. Kick things off with more insights from our workshop on productive skepticism, and follow up with field guides to employee activism and leading through change.
Surprising discoveries
AWS's success story starts in South Africa. An independent team of engineers in Cape Town built the original elastic compute cloud.
Drones are delivering Covid-19 vaccines. Medical startup Zipline, which delivered 1 million doses of other vaccines in Africa last year, signed a deal in Nigeria.
A Ugandan science show for kids will air in the US. N*Gen is produced by local teachers and looks at science through an African lens.
Jamaica is low on marijuana. The shortage is a result of heavy rains, drought, fewer farmers, and an increase in local consumption.
A record-breaking rollercoaster. The Falcon's Flight, set to open at a Saudi Arabian Six Flags in 2023, will travel more than 155 miles per hour.
---
---
Our best wishes for a productive day. Please send any news, comments, short positions, superfast roller coasters, and spare marijuana to hi@qz.com. Get the most out of Quartz by downloading our iOS app and becoming a member. Today's Daily Brief was brought to you by Mary Hui, Itika Sharma Punit, Jordan Lebeau, and Kira Bindrim.