Good morning, Quartz readers!
Here's what you need to know
Hackers broke into Tesla security cameras. The huge breach at startup Verkada revealed live footage from the company's factories, including one in China, as well as feeds from hospitals and schools.
Queen Elizabeth responded. The UK royal family said it is taking allegations by Meghan and Harry "very seriously," and will address them privately. Meanwhile, TV host Piers Morgan quit after thousands of complaints over his coverage.
Hong Kong's flagship airline revealed deep Covid-19 damage. Cathay Pacific reported a record annual loss of $2.8 billion, compared with a $218 million profit in 2019.
China and Russia are building a moon base. They agreed to construct an "International Lunar Science Station" on the surface or in orbit.
The Indian government laid out its $9.5 billion budget. It includes funds to provide free Covid-19 shots at all public hospitals.
The OECD improved its outlook. The body's latest global forecast predicts economic growth of 5.6% in 2021.
How do we bring women back to the workforce? Our editor in chief Katherine Bell talks to Minnesota senator Amy Klobuchar, Path Forward Executive Tami Forman, and Wonderschool co-founder Chris Bennett in our first Make Business Better event, today at 12pm US eastern time. Register here.
What to watch for
Roblox is going public with a direct listing on the New York Stock Exchange today. If you're not 10 years old, you may not be familiar with the online game. Quartz's Oliver Staley explains Roblox to the hopelessly out of touch among us.
Here's a quick look, by the numbers:
17: Years Roblox has been in business. The company was founded in 2004 by David Baszucki and Erik Cassel, who previously founded a simulated physics lab called Interactive Physics.
37 million: Number of daily active Roblox users at the end of 2020, up from 19 million at the start of the year.
$923.9 million: Roblox's 2020 revenue.
$0: Roblox's profit in 2020 (the company reported a loss of $253.3 million).
$29.5 billion: Amount of the company's most recent valuation.
$250 million: Estimated amount earned by Roblox developers in 2020.
199 million: Number of shares up for grabs in today's direct listing.
---
Charting what politicians do vs. what they say
The expected passage of US president Joe Biden's American Rescue Plan this week offers a sharp contrast to his predecessor Donald Trump's signature legislation, the 2017 Tax Cuts and Jobs Act.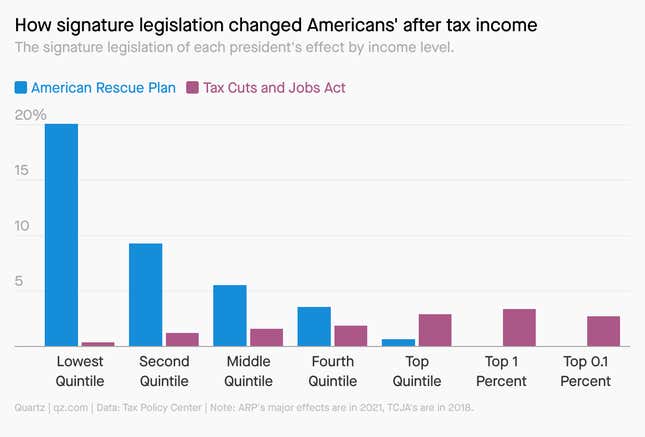 Breaking out the results by income level shows that Biden's plan provides disproportionate benefits to the poorest Americans, whereas Trump's offered the most reprieve to the top 20%.
---
Welcome to the microbubble economy
Watching the rather exhausting ricochets of GameStop, Tesla, and bitcoin in recent months, many have asked whether we're in a financial bubble. The answer may very well be yes, but with a nuance: some experts think there are a series of microbubbles rising to the top of our market champagne flutes.
🌤  The bright side: Lots of microbubbles are better than one big boom—when they burst, they don't much affect the economy at large.
😎  The brighter side: To torture a metaphor, that champagne is looking like it's losing some effervescence. In other non-tortured words—the microbubble trend is unlikely to last. John Detrixhe goes into detail on the likely trajectory of the microbubble economy.
✦ Up, down, bubbling, bursting… a Quartz membership will keep you up to date on everything you need to know about the state of the economy. Try it out for a week, free.
---
Handpicked Quartz
👍  Everything you can do once you're vaccinated against Covid-19
🗳  China has a gift for Hong Kong: authoritarian elections
📣  How to get more comfortable with public speaking on Zoom—or anywhere else
💥  Is India's IPO boom hiding a bubble that's waiting to burst?
🤑  America's Covid relief spending is set to eclipse all of Europe's
Surprising discoveries
Female frogs tune out the mating calls of other species. Their lungs let them listen just to suitable males.
The first space hotel plans to open in 2027. Hopefully without vermicious knids, and think of it like a cruise ship, but in orbit.
China wants to teach college students about love and marriage. It's one way to combat the country's declining birth rate.
MacKenzie Scott chipped in 25% of all US Covid-related donations in 2020. Jeff Bezos's ex gave away $4 billion (pdf) of her Amazon fortune to pandemic causes.
The US's first vaccine vial is headed to a museum. The Smithsonian will also display the scrubs and vaccination card of the New York nurse who received the initial dose.
---
---
Our best wishes for a productive day. Please send any news, comments, pandemic artifacts, and dating advice from animals to hi@qz.com. Get the most out of Quartz by downloading our iOS app and becoming a member. Today's Daily Brief was brought to you by Hasit Shah, Jane Li, Tripti Lahiri, Tim Fernholz, Susan Howson, and Liz Webber.