Good morning, Quartz readers!
Here's what you need to know
China will keep working with the World Health Organization. Premier Li Keqiang pledged to continue research into the origins of the pandemic, while failing to disclose when China would release key data.
Hong Kong activists want the EU to pump the brakes on its pending treaty with Beijing. They warned against overlooking China's recent authoritarian actions.
The International Olympic Committee will provide Chinese vaccines to athletes. Beijing and Tokyo entrants are among the planned recipients of China's half-billion doses to be distributed worldwide.
Myanmar's military leveled a new accusation against Aung San Suu Kyi. A former chief minister claimed the leader accepted bribes of gold and more than $600,000, though no evidence has been presented.
India said it wasn't low on vaccines—two days after the state of Rajasthan said it was low on vaccines. Meanwhile, Delhi granted Covaxin restricted emergency use authorization.
Grab's SPAC merger could be the world's biggest… The deal could value the Asian ride-hailing company at as much as $40 billion, the Wall Street Journal reports.
…But Coupang's IPO wasn't exactly small. SoftBank made $33 billion off the South Korean e-commerce firm's debut. Meanwhile, Baidu is looking to raise $3.6 billion in a secondary listing in Hong Kong.
---
What to watch for
Inflation returns. As in other economies around the world, India's feeling the fear of inflation. While retail inflation slumped to a 16-month low in January, it is set to rear its ugly head in upcoming months.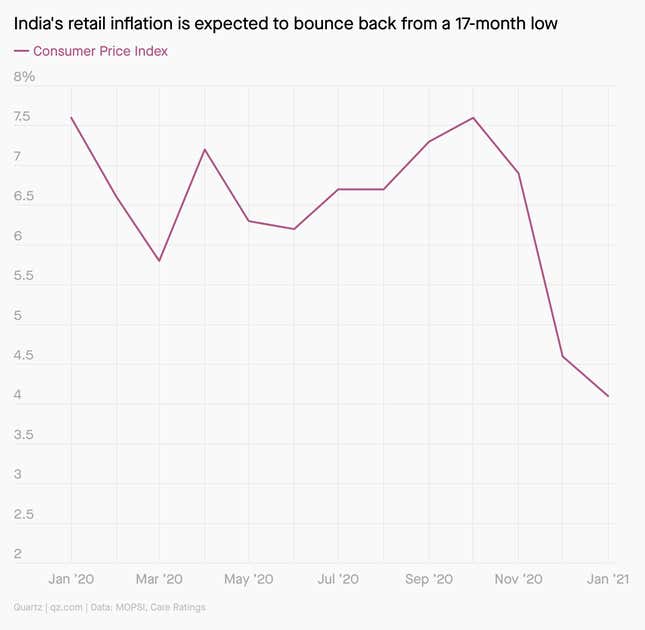 Adding to inflationary woes, the Indian government has raised taxes on fuel, which is experiencing cost spikes thanks to the soaring prices of brent crude oil, to shore up the revenue shortfall triggered by the Covid-19 slump. In fact, the government had increased fuel tax even when the oil prices were at a historic low last year.
With the economic recovery continuing at a painfully slow pace, the Modi government is unlikely to give up fuel tax revenue, pushing up inflation.
---
Charting India's food delivery slowdown
In October of last year, India's leading food delivery apps said delivery numbers had returned to pre-Covid levels. However, according to market intelligence firm Kalagato, Zomato and Swiggy were still inching toward normal levels.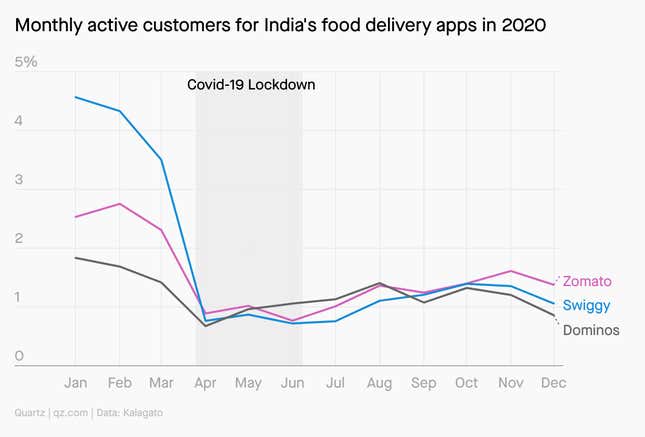 Safety and hygiene concerns and a growing preference for home-cooked meals could explain the slow recovery, as could a dip in disposable income and job losses. And even if browsing levels have returned to normal, only paying customers count.
---
One of these things is not like the other…
See if you can catch it below: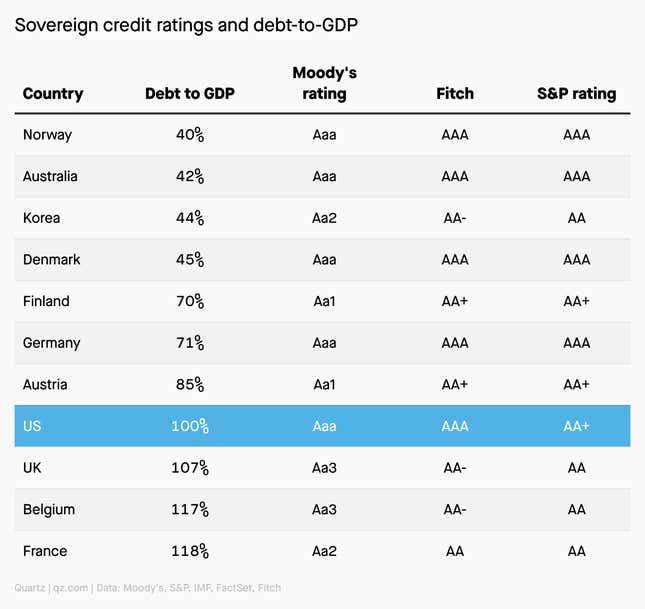 The US is the only country with a debt-to-GDP north of 90% and a AAA rating from Moody's Investors Service or Fitch Ratings. As its $28 trillion debt burden grows, it's fair to wonder if rating companies will continue to treat America as an exception, or treat it like the UK, Belgium, or France.
Due to the American economy's size and the fact that the US dollar is the world's main reserve currency, John Detrixhe explains, the country has an exceptional capacity to sell bonds that are in high demand around the world.
Still, Fitch sounded the alarm this month when it said president Joe Biden's $1.9 billion stimulus would push the nation further from a stabilized debt burden, warning the US could be downgraded without a plan to balance debt and spending "in the post-pandemic phase."
✦ John's covering global banking, fintech, and the digitization of money. Read his stories and everything else on our site with a Quartz membership, guaranteed not to increase your debt-to-income ratio. Try it out for a week, free.
---
You asked about when it's safe to gather again
Once I'm vaccinated, is it OK to see friends and family who aren't?
Scientists still don't know if vaccinated people can transmit SARS-CoV-2 to people who are unvaccinated. That's why the US Centers for Disease Control and Prevention recommend that people who already got their shots gauge the risk of those who haven't before get-togethers. For example, it's safe to socialize indoors with one other household in which people haven't been vaccinated—but only if those who have yet to get their shots aren't at risk for severe Covid-19.
And it's still not yet safe for vaccinated people to abandon all precautions entirely; the CDC still recommends masking up when indoors with people from multiple households. They must still also adhere to whatever masking requirements are in place in public settings, like restaurants and bars, or when traveling by bus or train, and should avoid medium or large gatherings entirely.
---
Handpicked Quartz
😷 China's "mask diplomacy" in Africa worked
🍎 Parler needs Apple so much it's actually moderating more content
💼 21 ways the US can bring women back into the workforce
👖 Europe is dragging down the global fashion recovery
🚀 A startup is trading tickets to ride on Russian rockets and US spacecraft
Surprising discoveries
Christie's auctioned a jpeg for $69.3 million. Its creator is now among the top three most valuable living artists.
Singapore's hedge funds are recruiting high school students. There aren't enough qualified money managers to cater to the city-state's growing billionaire class.
A cow is on the lam in Rhode Island. The steer escaped from a slaughterhouse more than a month ago.
A half-eaten sausage helped solve a nine-year-old burglary. DNA from the original scene matched that associated with a more recent crime.
Who'll make Trappist beer… if there aren't any Trappist monks left?
---
---
Our best wishes for a productive day. Please send any news, comments, Trappist beer recipes, and Swiggy orders to hi@qz.com. Get the most out of Quartz by downloading our iOS app and becoming a member. Today's Daily Brief was brought to you by John Detrixhe, Prathamesh Mulye, Katherine Ellen Foley, Jordan Lebeau, and Liz Webber.