Good morning, Quartz readers!
Here's what you need to know
Germany, France, and Italy paused their AstraZeneca vaccine rollouts. More than a dozen European countries have stopped distributing the shot, even as the World Health Organization urged vaccinations to continue. Meanwhile, Thailand reversed course and will use the jab starting today.
China told Alibaba to sell its media assets. The tech conglomerate owns stakes in companies including social media platform Weibo and the South China Morning Post. Separately, concerns that Chinese regulators may target Tencent next led to a $62 billion selloff in its stock.
Myanmar declared martial law in two cities. The military cracked down on parts of Yangon and Mandalay.
Hong Kong opens up vaccinations to anyone over 30. The city has millions of unused doses due to hesitation from people given early priority.
Geely is building a $4.6 billion battery factory. The move will help the Chinese automaker's push into electric vehicles.
An early Coupang investor donated his $1.3 billion stake. Billionaire hedge fund manager Bill Ackman said he gave away 26.5 million shares to charitable organizations following the company's wildly successful IPO.
Covid cases fell significantly in US nursing homes. Infections are down 83% for staff and 89% for elderly residents, according to data from Centers for Medicare & Medicaid Services.
---
What to watch for
This year's South by Southwest festival—which opens online today and will run until March 20—will reveal how much brands have learned about hosting high-touch virtual events a year into the pandemic. Normally, companies invest in putting on rich, interactive events, like HBO's elaborate reconstruction of the Game of Thrones universe at the 2019 festival. Now, with a full year to prepare for an all-remote event, organizers and marketers are unveiling their best ideas for engaging digital audiences.
👀 Virtual reality studio VRrOOm recreated iconic festival landmarks, which attendees can explore with VR headsets or laptops.
🧀 Wisconsin Cheese is mailing a literal ton of cheese to thousands of attendees for a live tasting with comedian Nick Offerman.
🎭 HBO built an interactive game that responds to users' facial expressions and voice commands to find matching clips from its catalog of shows and movies.
---
Charting the most valuable payments companies
Stripe's valuation has more than doubled from a year ago to $95 billion, putting the fintech firm into the upper echelons of the world's most valuable payment companies.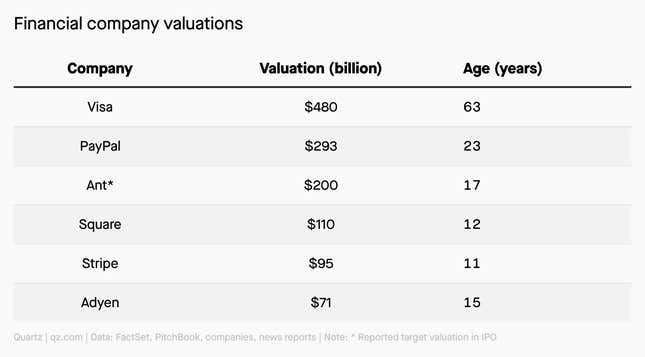 The payments company made its name by targeting developers and making it easier for companies to get paid over the internet. But as John Detrixhe writes, Stripe's loftier goal is "to increase the GDP of the internet" and build the "economic infrastructure" of the online world.
---
How Nike raises the dead
Over the years, Nike has become adept at managing its distribution to maintain a balance between being the world's biggest footwear company, and an ultra-exclusive designer. In 2021, you can see the playbook happening in real-time with the Nike Dunk.
Here's how Nike brings a franchise back to the forefront:
Put more on the market to rouse appetites for a revival.
Consider the precise audience and how to reach them. (For Dunks, that means tying the shoe back to its roots in skateboarding and basketball.)
Develop collaborations. (See: Ben & Jerry's Dunks, Grateful Dead Dunks, and Travis Scott Dunks.)
Use feedback and data to adjust your strategy. (Even Nike doesn't always get this right: A few years ago, the company put too many Jordans on the market.)
Has it worked for the Dunk? Nike doesn't reveal its sales by model, and it's difficult to track demand for a shoe that's deliberately sold in limited quantities. But the secondary market suggests demand soared in 2020.
✦ Learn more about how cool culture influences business models with our guide to the new meaning of cool and how sports sneakers evolved into luxury shoes, available exclusively to members. A Quartz membership will never sell out, and we've got one in your size. Try it out for a week, free.
---
Handpicked Quartz
💰 Wealthy countries are choosing pharma profits over global immunity
🏠 New Zealand's central bank is being asked to tackle a housing crisis
🎶 To understand the #FreeSenegal movement, look to its music
📆 What are your meetings telling you about your company's culture?
📽 The pandemic has prompted the most diverse Oscar nominations ever
---
Surprising discoveries
French people bought a lot of Italian cheese during lockdown. Mozzarella sales grew 21% in 2020.
These algae-covered clothes help reduce carbon emissions. Just keep your spritzer bottle handy.
Yo-Yo Ma serenaded a vaccination site. To celebrate getting his second shot, the world-renowned cellist treated other patients to an impromptu concert.
A 2,000-year-old mosaic was being used as a coffee table. It's finally on display in an Italian museum.
Chinese movie theaters are testing surge pricing. With the success of Detective Chinatown 3, the practice could be here to stay.
---
---
Our best wishes for a productive day. Please send any news, comments, hidden ancient art, and living clothing to hi@qz.com. Get the most out of Quartz by downloading our iOS app and becoming a member. Today's Daily Brief was brought to you by Nicolás Rivero, John Detrixhe, Kira Bindrim, Liz Webber, and Jordan Lebeau.