Good morning, Quartz readers!
Here's what you need to know
Facebook and News Corp struck a deal in Australia. The multi-year licensing agreement gives the social media company access to major outlets owned by the publisher, a month after the platform blacked out news links for local users.
Germany, France, and Italy paused their AstraZeneca vaccine rollouts. More than a dozen European countries have stopped distributing the shot over blood clot concerns, even as the World Health Organization urged vaccinations to continue.
The UK will grow its nuclear stockpile. As part of its international policy review to be published today, the government is expected to announce a significant increase in the number of nuclear warheads it owns by 2025.
Vanguard halted its mutual-fund plans in China… Instead of launching its own low-cost index funds to Chinese customers, it will focus on its joint venture with Ant Financial—a move not without risks given Ant's recent regulatory troubles.
…and China put the brakes on Alibaba's media ambitions. As part of its ongoing crackdown on the tech group that created Ant, Beijing told it to sell stakes in companies including social media platform Weibo and the South China Morning Post.
China will create a new food-trading giant. State-owned Cofco, Beijing's largest food company, is expected to merge its Geneva-based arm with its domestic assets to form an agricultural trading firm that could be valued at over $5 billion.
The US auto safety agency is investigating a "violent" Tesla crash. It's unclear whether Tesla's autopilot or full self-driving technology may have been a factor in last week's crash with a tractor-trailer.
---
What to watch for
This year's South by Southwest festival—which opens online today and will run until March 20—will reveal how much brands have learned about hosting high-touch virtual events a year into the pandemic. Normally, companies invest in putting on rich, interactive events, like HBO's elaborate reconstruction of the Game of Thrones universe at the 2019 festival. Now, with a full year to prepare for an all-remote event, organizers and marketers are unveiling their best ideas for engaging digital audiences.
👀 Virtual reality studio VRrOOm recreated iconic festival landmarks, which attendees can explore with VR headsets or laptops.
🧀 Wisconsin Cheese is mailing a literal ton of cheese to thousands of attendees for a live tasting with comedian Nick Offerman.
🎭 HBO built an interactive game that responds to users' facial expressions and voice commands to find matching clips from its catalog of shows and movies.
---
Charting the most valuable payments companies
Stripe's valuation has more than doubled from a year ago to $95 billion, putting the fintech firm into the upper echelons of the world's most valuable payment companies.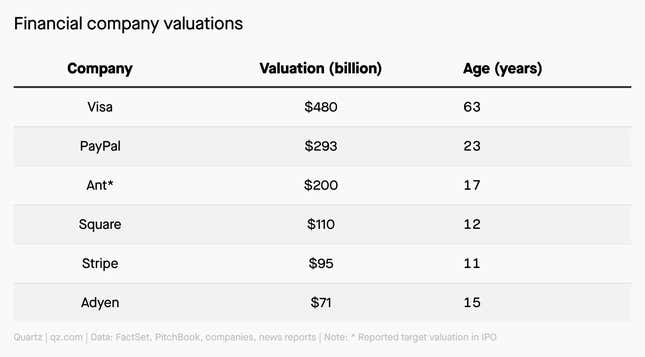 The payments company made its name by targeting developers and making it easier for companies to get paid over the internet. But as John Detrixhe writes, Stripe's loftier goal is "to increase the GDP of the internet" and build the "economic infrastructure" of the online world.
---
How Nike raises the dead
Over the years, Nike has become adept at managing its distribution to maintain a balance between being the world's biggest footwear company, and an ultra-exclusive designer. In 2021, you can see the playbook happening in real-time with the Nike Dunk.
Here's how Nike brings a franchise back to the forefront:
Put more on the market to rouse appetites for a revival.
Consider the precise audience and how to reach them. (For Dunks, that means tying the shoe back to its roots in skateboarding and basketball.)
Develop collaborations. (See: Ben & Jerry's Dunks, Grateful Dead Dunks, and Travis Scott Dunks.)
Use feedback and data to adjust your strategy. (Even Nike doesn't always get this right: A few years ago, the company put too many Jordans on the market.)
Has it worked for the Dunk? Nike doesn't reveal its sales by model, and it's difficult to track demand for a shoe that's deliberately sold in limited quantities. But the secondary market suggests demand soared in 2020.
✦ Learn more about how cool culture influences business models with our guide to the new meaning of cool and how sports sneakers evolved into luxury shoes, available exclusively to members. A Quartz membership will never sell out, and we've got one in your size. Try it out for a week, free.
---
Handpicked Quartz
💰 Wealthy countries are choosing pharma profits over global immunity
🏠 New Zealand's central bank is being asked to tackle a housing crisis
🎶 To understand the #FreeSenegal movement, look to its music
📆 What are your meetings telling you about your company's culture?
📽 The pandemic has prompted the most diverse Oscar nominations ever
Surprising discoveries
French people bought a lot of Italian cheese during lockdown. Mozzarella sales grew 21% in 2020.
These algae-covered clothes help reduce carbon emissions. Just keep your spritzer bottle handy.
Yo-Yo Ma serenaded a vaccination site. To celebrate getting his second shot, the world-renowned cellist treated other patients to an impromptu concert.
A 2,000-year-old mosaic was being used as a coffee table. It's finally on display in an Italian museum.
Chinese movie theaters are testing surge pricing. With the success of Detective Chinatown 3, the practice could be here to stay.
---
---
Our best wishes for a productive day. Please send any news, comments, hidden ancient art, and impromptu shows to hi@qz.com. Get the most out of Quartz by downloading our iOS app and becoming a member. Today's Daily Brief was brought to you by Mary Hui, Tripti Lahiri, Kira Bindrim, Liz Webber, and Jordan Lebeau.