Good morning, Quartz readers!
Here's what you need to know
Pfizer and BioNTech said their vaccine is 100% effective in kids aged 12-15. There were also no serious side effects reported. Meanwhile, the World Health Organization said China's Sinovac and Sinopharm jabs were safe and effective but more data was needed on their impact on certain groups.
US sanctions took a bite out of Huawei's sales. Quarterly revenue dropped for the first time, even as annual sales and profits were up.
ByteDance could list Douyin in New York or Hong Kong. TikTok's parent company is reportedly prepping an IPO for the Chinese version of its app.
Goldman Sachs clients will soon be able to invest in bitcoin. The investment bank joins Morgan Stanley in offering access to digital currencies.
H&M is walking a fine line to appease Chinese and global consumers. Following calls for a boycott in China over past support for Uyghurs, the company's latest statement doesn't mention Xinjiang.
Alexei Navalny is going on hunger strike. The Russian dissident said he is protesting being denied access to proper medical care in prison.
Struggling Indian state-run banks are getting a boost. The government is injecting 145 billion rupees ($2 billion) in capital into four lenders.
---
What to watch for
Aung San Suu Kyi will appear virtually in court. The hearing for the state counselor, along with president Win Myint, has been postponed twice due to lack of internet.
The outage originated with an internet crackdown set in place by the military junta who overthrew the government, in an attempt to silence and isolate any opposition. But protesters weren't left to cope on their own. The Milk Tea Alliance—a coalition of activists in Thailand, Hong Kong, Malaysia, and Taiwan—has shown its solidarity with Myanmar's protest movement by providing tips on how to circumvent the internet shutdown.
It doesn't help the connectivity cause that, following the bloodiest weekend since the coup took place over two months ago, the US cut trade ties with Myanmar "until the return of a democratically elected government." The sanction rules are often hazy for internet and cloud computing companies, and 17 million residents are now in a state of uncertainty.
But, thus far, the hearing of Aung San Suu Kyi and Win Myint is scheduled to finally proceed. One of the charges involves an alleged violation of telecommunication laws.
---
Charting the great yoga pants recovery
Nobody knows or cares what people wear when they're working out at home, but shoppers are still shelling out plenty of cash for Lululemon's pricey activewear. The company reported yesterday that sales for 2020 reached $4.4 billion, a roughly 24% rise over the previous year.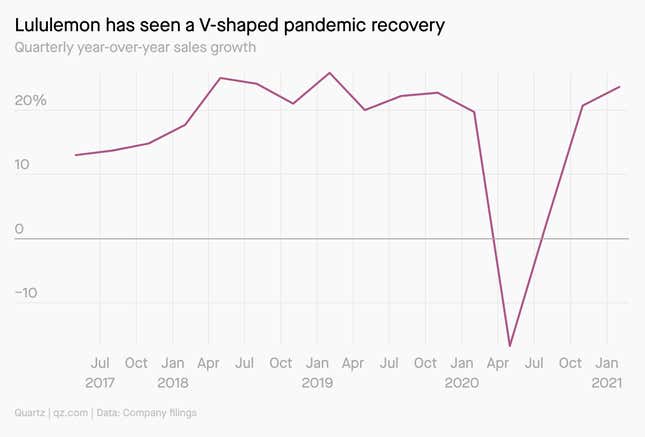 Though many fitness firms are betting at-home workouts will stick around, at least in some capacity, it seems that looking good is still a consideration. Lululemon could potentially surpass Nike as the top women's activewear brand in the US this year.
---
Pop quiz: Which of these is not a real streamer?
A. Ranboo
B. Quorra
C. Ludwig
D. xQc
Answer: B. Quorra is the name of Olivia Wilde's character in TRON: Legacy. The other three are the streamers on Twitch with the most active subscribers—96,735, 74,026, and 60,453, respectively—as of March 2021.
While getting paid to have other people watch you play video games may seem like an easy gig, not everyone can do it. Of the nearly 10 million hopefuls who point cameras at their faces and stream on Twitch each month, only a small percentage are able to turn that into a career. That's because live-streaming requires a particular mix of skills: The best are able to be gamers, podcast hosts, and performers all at once.
✦ For more on how Twitch celebrities are taking over the world, tune in to our field guide on video game streaming. Not ready to insert a coin to play? Try a Quartz membership for free.
---
Handpicked Quartz
🌱 Everyone in Singapore is growing what they can
🚢 The Suez Canal transformed Mumbai—and its sex trade
😤 Why scientists are developing inhaled Covid-19 vaccines
🧨  How many hedge funds are a margin call away from Archegos-style implosion?
🎈 How to stop being overly attached to your ideas
⛏ Rare earths mining is taking center stage in Greenland's snap election
🛢 After oil, steel prices are making India's economic recovery harder
---
Surprising discoveries
SpaceX is installing a glass dome in one of its ships. The Crew Dragon set to fly tourists later this year promises even more out-of-this-world views.
The Swiss army will finally give female soldiers women's underwear. In brief, it's about time.
Robinhood is getting rid of the digital confetti in its app. Critics said the feature may have encouraged risky behavior.
All Nippon Airways is serving $540 first-class meals on a grounded aircraft. At least it's cheaper than a premium plane ticket?
Kyoto has been tracking its cherry blossoms for more than 1,200 years. The first record dates back to 812 CE.
---
---
Our best wishes for a productive day. Please send any news, comments, natural observations, and space travel photos to hi@qz.com. Get the most out of Quartz by downloading our iOS app and becoming a member. Today's Daily Brief was brought to you by Adam Epstein, Marc Bain, Liz Webber, and Susan Howson.