Good morning, Quartz readers!
Here's what you need to know
The S&P 500 closed above 4,000. The US exchange hit a record high yesterday, buoyed by president Joe Biden's $2 trillion infrastructure plan and optimism about the economic recovery.
The Pfizer-BioNTech jab is still 91% effective six months after vaccination. The companies also said it works well against the South African variant.
Dozens are dead after a train derailed in Taiwan. At least 41 people have been killed, and hundreds are trapped in a tunnel.
UK antitrust regulators step up scrutiny of Facebook's Giphy acquisition. After an initial inquiry, they are opening a "second-phase" investigation into the deal.
OPEC+ agreed to increase production. The deal is a compromise between Russia and Saudi Arabia, which had advocated a more cautious approach.
Aung San Suu Kyi was charged with breaking Myanmar's official secrets law. It's the most serious charge the junta has leveled against the overthrown leader.
Nike defeated Satan. Its lawsuit against a company making unauthorised shoes succeeded in halting production.
---
What to watch for
Happy Easter! Or not, if you're in one of the many countries that's experiencing a third or fourth wave of coronavirus. There are new restrictions across much of Europe.
🇫🇷  In France, schools and non-essential stores are closed for at least three weeks, while traveling more than 10 km (6 miles) away for no good reason is banned.
🇮🇹  Italy has a total shutdown over the Easter weekend, and in general, shops, restaurants, and schools are closed in more than half the country.
🇩🇪  Germany's planned Easter shutdown was canceled, but the country's restrictions have been extended to April 18, with chancellor Angela Merkel especially worried about the prevalence of a variant that swept through the UK in January and February.
Restrictions have an economic cost, and you can track the impact on various sectors of the global economy with our coronavirus living briefing.
---
Charting India's online discount Achilles' heel
India, the world's fastest-growing tech hub, needs more stringent digital security practices. According to research, half of urban Indians won't make an online purchase without a discount code; this love of discount shopping often leaves users vulnerable.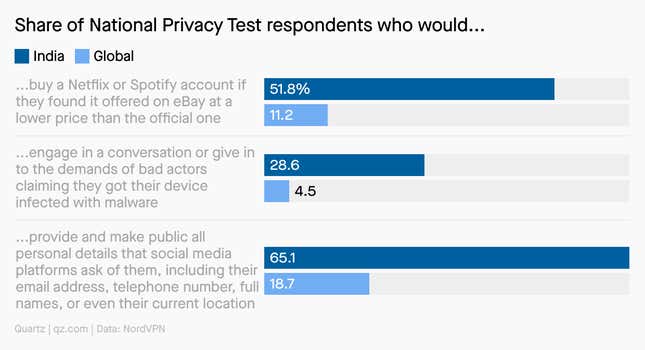 In a survey by NordVPN, India ranked 19th of 21 countries in the National Privacy Test, which launched last year to assess digital habits, privacy awareness, and risk tolerance.
---
Don't bank on Mank
Which of these is not a film nominated for the Oscar for best picture this year?
Astor Place
The Father
Nomadland
The Trial of the Chicago 7
If you guessed wrong, don't worry. Most consumers have never even heard of this year's Oscar films, according to a recent survey. That's likely because they were lost in a crowded streaming landscape during the pandemic while theaters languished and we spent our time gaming.
The survey highlights why studios are still bullish on the theatrical experience even in the midst of streaming's rise: Movies get more people talking when they're seen in theaters. The anonymity of this year's Oscars slate suggests it's going to be another year of weak TV ratings for the annual celebration of cinema.
If you were wondering: our money is on Nomadland for best picture, since Astor Place isn't in the running. The Oscars air on April 25 on ABC in the US.
✦ For more on the future of in-theater film viewing, tune in to our field guide on how theaters avoid extinction. Want a real tour de force? Try a Quartz membership for free.
---
You asked about inhaled vaccines
What's the deal with inhaled Covid-19 vaccines?
Intramuscular injections are a tried-and-true method of delivering antigens, tiny molecules that jump start the immune system's antibody production. But there are drawbacks: Shots often have to be refrigerated or frozen, which can limit the reach of distributions. They also require syringes, which are a limited resource, and require a medical professional to extract from vials and deliver into arms.
That's why drug companies are working to develop inhaled Covid-19 vaccines. While this type of delivery isn't new—we've used it for other viruses, like flu—it's a relatively novel technology. Theoretically, inhaled vaccines can be administered by the recipient themselves, which would alleviate the supply chain bottleneck of syringes and cut out a trip to the doctor. They may even work better, too.
So far, all of the inhaled Covid-19 vaccine candidates are either in the animal testing phase, or the first stage of clinical trials testing the safety of these sprays in a very small group of healthy people. But the urgency of vaccinating the globe may soon get these inoculations into the noses of people everywhere.
---
Handpicked Quartz
🔋 Warren Buffett's firm is proposing an $8 billion boondoggle to prevent the next Texas blackout
📱 Kenya becomes the second African country to roll out 5G
🇬🇧   The UK is free of institutional racism, a government race report claims. It's wrong.
🌍  Two China-Africa experts on the stereotypes they're surprised to still be unpacking
😷  The fresh Covid-19 wave could throw India's economic recovery off track
Surprising discoveries
A man discovered 15,000 bees in his car. But he didn't notice until he started driving.
Century-old chocolates were found in a wartime helmet. The Cadbury treats were commissioned by Queen Victoria to boost morale during the Boer War.
Newly discovered coins could explain a 17th-century caper. Captain Henry Every disappeared after he plundered a ship of Muslim pilgrims in 1695.
Meet Llukalkan aliocranianus. If that's hard to say, you can call the 16-foot carnivore that roamed Argentina 80 million years ago "one who brings fear."
Game over. Ten suspects in China were accused of developing video game cheats and charging up to $200 a month for subscriptions.
---
---
Our best wishes for a productive day. Please send any news, comments, caper clues, and video game cheats to hi@qz.com. Get the most out of Quartz by downloading our iOS app and becoming a member. Today's Daily Brief was brought to you by Hasit Shah, Katherine Ellen Foley, Adam Epstein, Ananya Bhattacharya, Jordan Lebeau, and Liz Webber.