Good morning, Quartz readers!
Here's what you need to know
The US hosts a climate summit. Forty world leaders, including crucially the leader of the world's largest emitter since 2004, will attend. Read more below.
British lawmakers could declare China's actions in Xinjiang a genocide… If enough MPs back the all-party motion in the House of Commons. The US has said China is carrying out a genocide against the Uyhgurs—and some US senators are pushing for a "diplomatic boycott" of the Beijing Olympics.
…and the US is set to recognize a historic genocide. President Joe Biden is expected to make a statement on Saturday (April 24) about the killing and deportation of Armenians by the Ottoman Empire during World War I—despite Turkey's objections.
A luxury hotel in Pakistan was bombed. Four people died in the attack yesterday night at Quetta's Serena Hotel, where the Chinese ambassador was staying, though he was not there at the time of the explosion.
Indian states are in a tug-of-war over oxygen supplies. Private hospitals in the capital Delhi have asked for government help after a neighboring state stopped an industrial gas company from delivering oxygen across state borders.
The Singapore-Hong Kong travel bubble burst again. For the second time, it was canceled at the last minute, offering yet more proof the travel industry won't get the recovery it was hoping for in 2021.
The Tokyo Olympics faced another setback. A participant in Japan's torch relay tested positive for Covid-19.
A Canadian renewables firm is suing Citigroup. The suit stems from Citigroup's decision not to treat the Texas deep freeze as a "force majeure," which resulted in it billing Innergex subsidiaries that operate Texas wind farms more than $100 million for replacement power.
---
What to watch for
The US is giving the world an Earth Day present: a new carbon emissions reduction pledge, promising a 50% reduction below 2005 levels by 2030. If the target is met, it would go a long way toward putting the global economy on track to net zero by 2050, the long-term goal needed to avert catastrophic climate change.
The pledge was announced in conjunction with a virtual global climate summit the Biden administration is hosting today and tomorrow. The overarching goal of the summit is to elicit more ambitious carbon pledges from participating countries ahead of the five-year anniversary of the Paris climate agreement in December.
Other news to watch from the summit:
Ultimately, the summit itself is political pageantry. The real test, notes Tim McDonnell, is whether Biden's $2 trillion infrastructure spending package and other policies can dramatically accelerate the pace of the US energy transition, which is moving too slow to meet the 2030 pledge. Otherwise, says Victoria Cuming, head of global policy for BloombergNEF, the US "risks damaging its climate credibility even further—by announcing a target and missing it."
What do rich nations owe the rest of the world on climate change? Tune into Clubhouse today at 10am US Eastern time to talk about it. The discussion will feature Quartz reporters Tim McDonnell and Michael Coren, along with panelists Olúfẹ́mi O. Táíwò (assistant professor of philosophy, Georgetown University) and Charlotte Streck (co-founder and director, Climate Focus).
---
Charting police killings
The US has the highest rate of police killings among most wealthy countries, according to a report from the Prison Policy Initiative (PPI), a criminal justice think tank. The report found that the US has at least three times the number of police killings compared to peer countries.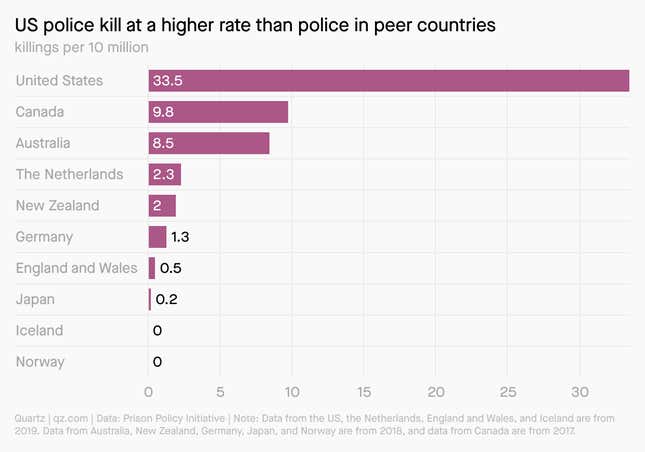 The stark contrast in the number of killings mirrors the difference in how the US handles policing, explains Michelle Cheng.
---
The psychological toll of boarding up our cities
"Blank edges are like broken teeth." —Charles Montgomery, founding principal of Happy City
Restaurants, bars, and shops across the US once again boarded up their windows and doors, bracing for mass upheavals following the trial of Derek Chauvin. As the former Minneapolis police officer was convicted on all charges for the murder of George Floyd on Tuesday, many establishments kept their plywood shields in place, anticipating street celebrations and demonstrations this week.
More than a nuisance, seeing storefronts poised for violence has a profound effect on our mental health and social relations. Anne Quito explores how the trauma of blank facades affects those who live in cities.
✦ Anne's obsessed with design and its impact. Start with her story from last week about the deadly perils of Taser design. You'll run into paywalls eventually, but we've designed a way for you to try a Quartz membership for free!
---
Handpicked Quartz
📷  Sorrow, joy, and relief: Photographs of Americans reacting to the Chauvin verdict
🗣  How America's CEOs responded
👂  The vital importance of talking about the Chauvin verdict at work
🤝  Climate change is a rare opportunity for the US and China to actually get along
💈  Why in the world is Amazon opening a hair salon?
🚪  India is feeling all the pain—and none of the gain—of an undeclared lockdown
😰  Anxious about getting back to the grind?
Surprising discoveries
Amazon wants you to pay with your palm. It's hoping to sell the tech it's currently testing at some Whole Foods grocery stores to other retailers.
An Italian hospital employee skipped work for 15 years. He's at least legitimately earned one thing—a "king of absentees" nickname.
An intra-Italy feud is brewing over espresso. A northern city applied to Unesco for world heritage status for the country's coffee culture, but Naples believes the honor belongs to it alone.
A lost surfboard reappeared… The barnacle-encrusted board traveled 2,700 km (1,670 miles) over four years.
…as did a treasured flute. The $13,000 instrument, which was left in a taxi in 2012, turned up when the cab driver recently tried to sell it.
---
---
Our best wishes for a productive day. Please send any news, comments, opinions on who makes the best coffee, and long-lost personal items to hi@qz.com. Get the most out of Quartz by downloading our iOS app and becoming a member. Today's Daily Brief was brought to you by Tripti Lahiri, Mary Hui, Liz Webber, and Susan Howson.