Good morning, Quartz readers!
Here's what you need to know
The Israeli-Palestinian conflict is spiraling. Violence between the two sides intensified with a barrage of more than 1,000 rockets fired from Gaza overnight.
US tariffs on Chinese goods have reshaped imports. Data show US companies are sourcing more from other Asian countries, rather than domestic Chinese factories.
Tesla will no longer accept Bitcoin. Citing environmental concerns, CEO Elon Musk suspended the cryptocurrency for car purchases, causing Bitcoin to plunge.
Telstra was fined for "unconscionable conduct" toward Indigenous customers. 
The Australian telecommunications giant was hit with an AU$50 million ($38 million) penalty for
exploitative phone plan sales practices
.
The Olympics is apparently still going ahead. The International Olympic Committee gave a vote of confidence for the Tokyo games, despite growing public unease in Japan. Dozens of Japanese towns have abandoned plans to accommodate overseas athletes.
US inflation data spooked investors. The Dow had its worst day since January, and other major stock indices closed down as well after higher than expected inflation in April sparked fears about an interest rate hike.
Catholic priests in Germany are blessing gay unions. 
The 
in about 100 Catholic churches across the country this week, defying a recent Vatican pronouncement against endorsing same-sex unions.
The UK will examine its Covid-19 response—in a year. Prime minister Boris Johson is facing criticism for not allowing the inquiry to begin work sooner.
---
What to watch for
Alibaba reports earnings today for the quarter and fiscal year ended in March. While the e-commerce giant is expected to deliver strong results as consumers recover from the pandemic, investors will be watching closely for clues on several issues:
🐜  Ant Group: Alibaba owns one-third of the fintech giant, whose IPO was suspended by Beijing in November days before its market debut. Ant has since been ordered to revamp its business to focus on its original payment roots. As part of its earnings, Alibaba will report Ant's contribution to its overall profit in the quarter ended in December, from which Ant's profit for the period can be calculated. (Ant's earnings reports lag one quarter behind Alibaba's.)
👨‍⚖️  Regulatory risks: Similar to Ant, Alibaba has been at the center of Beijing's antitrust storm towards big tech. Last month, Alibaba was fined $2.8 billion for its monopolistic practices, including "pick one from two." Alibaba's executives could offer more color on whether there will be more regulatory scrutiny from authorities.
📺  Alibaba's media empire. Beijing reportedly told Alibaba to offload some of its most prominent media assets, including Hong Kong-based South China Morning Post for concerns about the firm's expanding influence in affecting public opinion. The company hasn't yet announced the sale of stakes in those entities.
---
Charting used car prices in the US
Americans are starting to travel around again as pandemic restrictions ease, and the extra demand for cars is hitting at a time when supply is tight. Many manufacturing plants shut down early on in the pandemic as governments struggled to contain the virus. And although car makers have been reopening their assembly lines since then, they have been slowed by a variety of supply chain constraints.
A key snag has been the ongoing shortage of computer chips, which is creating delays and prompting another round of plant closures. With fewer new cars in the market, US consumers have been turning to used-car lots, driving prices higher.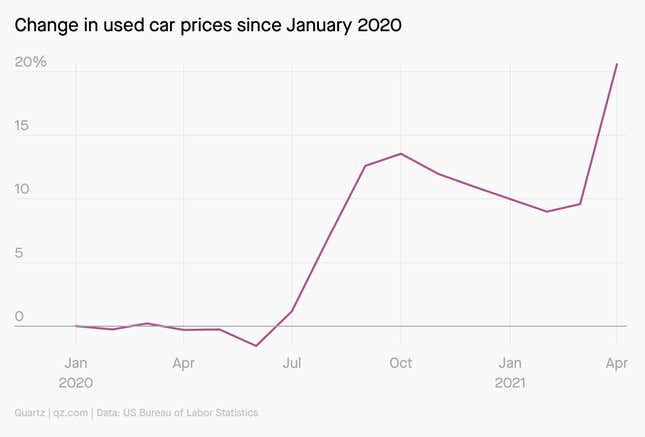 ---
Leadership lessons don't always come easy
And if, for whatever reason, one day I wasn't dancing when I'm in the dry cleaners or I didn't smile at somebody, it's like, "Oh, did that affect somebody? Was that what they meant?" And I don't know but I know that I'm just a person with a lot of different emotions and I struggle with depression and with anxiety.
Ellen DeGeneres is ending her daytime talk show in 2022 after a 19-year run that included a lot of dancing at first and later was mired in controversy. She says she's learned at least one important lesson as a result of recent criticisms—our behavior can have a big impact on others.
It may seem like a no-brainer, but power tends to make people's empathy decrease as their influence increases. Sarah Todd takes a look at what we can all learn from Ellen's experience.
✦ Sarah has a knack for seeing opportunities for improvement within the workplace—she's even found a better word for "team." Read more of her findings at Quartz At Work. Tired of paywalls? Try a membership free for a week!
---
Handpicked Quartz
🇮🇳  "Nobody is understanding the challenges of supplying oxygen to a nation that is at war"
💸  In the push for new vaccines, taxpayers keep paying and paying…
🤑  …But investors are starting to appreciate the business potential of vaccines
⛽️  The US does not have a gas shortage
⛺️  Airbnb coupons will help remote workers test-drive smaller cities and towns
👻  Snapchat wants a piece of the social marketplace
😈  Nigerian hip-hop songs celebrate a life of cybercrime
🍽  Eleven Madison and the art of job-crafting
Surprising discoveries
Brain implants allowed a paralyzed man to text his thoughts. A new technique taps into the cognitive signals associated with handwriting.
A rare calico-colored lobster was saved from the dinner pot. The 1-in-30 million crustacean is now headed to an aquarium.
An Australian woman started speaking with an Irish accent after having her tonsils removed. She has never been to Ireland.
Playing with a therapy dog keeps stress levels low for weeks. Turns out the benefits of belly rubs last longer than previously thought.
Voyager has been recording plasma waves in interstellar space. NASA's longest-running mission is still making new discoveries.
---
---
Our best wishes for a productive day. Please send any news, comments, therapy dogs, and plasma waves to hi@qz.com. Get the most out of Quartz by downloading our iOS app and becoming a member. Today's Daily Brief was brought to you by Leslie Nguyen-Okwu, Mary Hui, and Tripti Lahiri.