Good morning, Quartz readers!
Here's what you need to know
Israel sent more tanks and troops to its Gaza Strip border. Residents of the territory fear a ground operation as Israeli forces stepped up ground and air strikes in response to Hamas rockets. Meanwhile, internal clashes between Jews and Arabs continue to roil the country.
The world's largest crypto exchange is under US investigation. The justice department and Internal Revenue Service have sought information on Binance's business, although it is not clear what they're looking for yet.
Myanmar freed Yuki Kitazumi. As a nod to ties with Tokyo, the military junta released the Japanese journalist who was detained last month for spreading fake news. Meanwhile, a local journalist who reported on anti-coup protests has been sentenced to three years for incitement.
The US announced new masking guidelines. Those who are fully vaccinated can stop wearing masks in most indoor and outdoor venues, the Centers for Disease Control said. US president Joe Biden praised the guidance as "a great day for America" and shed his own mask.
Colonial Pipeline paid nearly $5 million in ransom money. The company acceded to Russia-based hacker DarkSide's demands in order to get all four of its major pipelines operating again.
Alibaba reported its first quarterly loss since going public in 2014. Despite suffering a 5.5 billion yuan ($853 million) net loss due to Beijing's $2.8 billion antitrust fine, the company's revenue growth beat analyst estimates.
What to watch for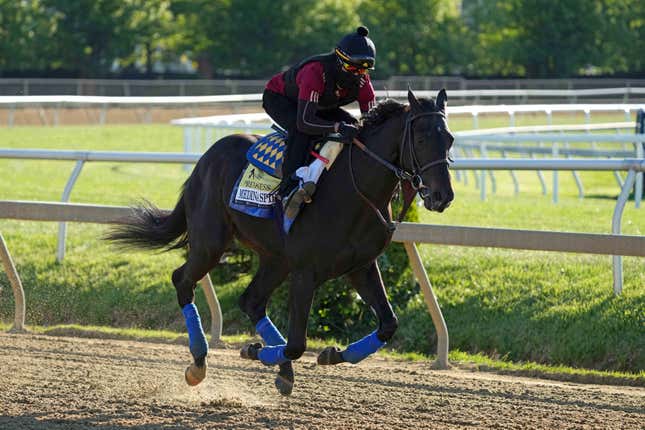 One of the world's premier horse racing events begins this weekend under a cloud of suspicion and intrigue. Medina Spirit—the controversial horse that won this year's Kentucky Derby but flunked a test for performance enhancing drugs—will be allowed to run at the Preakness Stakes under close supervision.
Bob Baffert, the horse's legendary trainer, is no stranger to drug scandals. In the past four decades, his horses have failed 30 drug tests. In some instances, those tests have been swept under the rug by racing officials with whom he has personal ties. Today, however, both Baffert-trained horses racing in the Preakness will be subjected to additional rounds of testing, and will be disqualified if labs find even trace amounts of the drug found in Medina Spirit's blood at the Kentucky Derby.
---
Charting who's benefiting from privacy changes
Tech companies are starting to make it harder for advertisers to snoop on what consumers read, watch, and buy online. But there's one notable laggard: Google's Android operating system. While privacy changes are on their way to Apple devices and all major desktop browsers, there are no plans to bring similar protection to Android devices. That means the privacy benefits will go first to people who can afford iPhones and laptops, and last to people who rely on more affordable Android devices.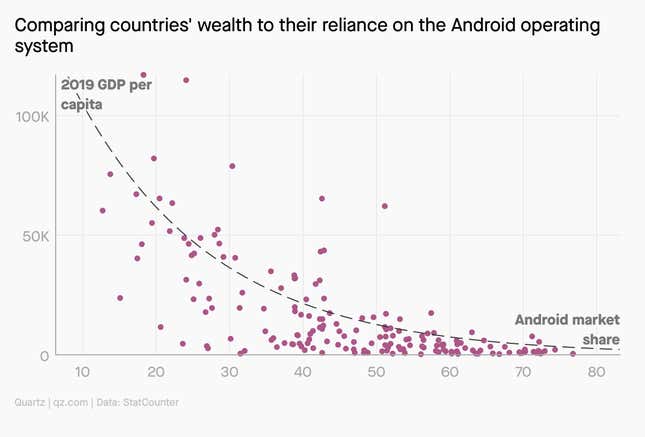 Ad industry observers expect that Google will eventually boost privacy on Androids by blocking advertisers from tracking what individual users do on their phones. But the company may be dragging its feet because it doesn't want to disrupt the industry, which provides the lion's share of its revenue.
---
The C-suite to-do list
CEOs often use elaborate frameworks for setting corporate strategy—yet they still struggle to decide which projects to prioritize. Too many green lights, and everyone ends up feeling stretched.
But business strategy doesn't have to be complicated, says Harvard Business School professor Felix Oberholzer-Gee. In fact, familiarity with some basic economics and employing one simple exercise are enough for most companies to decide what to move up the list. His approach has another important benefit: It helps clarify whether your company is actually good for customers, employees, and the world.
✦  Start a free week of membership to read about this simple, ethical approach to corporate strategy.
---
You asked about unmasking
If health officials are lifting mask mandates for the vaccinated, how do I know if the unmasked people around me have gotten their shots? How do I signal to them that I have?
In the US, the Centers for Disease Control and Prevention says fully vaccinated people can stop wearing face masks even indoors, with a few exceptions. The actual implementation of this advice will be up to state and local authorities, but this will likely be welcome news to many who are eager to get back to normalcy.
Yet just about a third of the country's population is fully vaccinated, so the decision raises questions about unmasking. First among them: How can I be sure if someone I don't know is fully vaccinated, and how do I let people know I am?
The answer isn't quite clear yet. At the moment, the only proof of vaccination Americans have is the precious CDC vaccine card, but it doesn't seem likely that people will be walking around cities wearing their vaccine card on their shirts. Not to mention, the card is just a piece of paper that is rather easy to falsify. The US still doesn't have official vaccine passports, although some independent initiatives have emerged, including New York state's Excelsior Pass, to digitally certify a person's status.
For now, it seems, much will come down to trust. After all, unvaccinated people—who are at the highest risk—are supposed to wear masks anyway, which can protect them against the (hopefully occasional) unmasked non-vaccinated person.
---
Handpicked Quartz
🙈  Why the US should ignore inflation and focus on jobs
📱  Covid-19's resurgence in India is hitting Apple's manufacturing hard
🌍  African fintech startups still face major funding gaps
🔎  A billion-dollar Covid-19 deal linked to Kenya attracted the attention of US regulators
😬  The latest carmaker to enter India is "nervous" about the market right now
🥺  Big US chains are offering perks to lure back service workers
👀  TikTok is reportedly launching a job recruiting feature
👟  Can the Adidas-Allbirds sustainable sneaker be more than a marketing gimmick?
Surprising discoveries
The Russian film industry has entered the space race. Moscow aims to send an actor to the International Space Station before Tom Cruise gets there to film the world's first movie in space.
Ancient mammals once took long walks on the beach in Wyoming. Scientists discovered two sets of footprints along what used to be the coast of a vast, inland sea in North America.
Pokémon cards are a dangerous commodity. Target announced it will stop selling them after a man pulled a gun at a store in an altercation over the trading cards.
142-year-old seeds can still send up sprouts. In one of the world's longest running experiments, scientists successfully planted seeds stashed away by a professor in 1879.
Tech companies are trying to make "coffeeless coffee" happen. Atomo Coffee brews a coffee-like substance from sunflower seed husks and watermelon seeds.
---
---
Our best wishes for a productive day. Please send any news, comments, trading cards, and caffeinated seed husks to hi@qz.com. Get the most out of Quartz by downloading our iOS app and becoming a member. Today's Daily Brief was brought to you by Jane Li, Tripti Lahiri, Mary Hui, Annalisa Merelli, Walter Frick, Nicolás Rivero, and Susan Howson.