Good morning, Quartz readers!
Here's what you need to know
Microsoft investigated Bill Gates over a relationship with an employee. The board decided he should step down in 2020, but he quit before the investigation was complete.
India's crisis has left the global vaccine scheme 140 million doses short. The Serum Institute, an Indian manufacturer, has not delivered any vaccines to the Covax program since March.
A massive media deal is brewing. AT&T, the owner of WarnerMedia and HBO, is reportedly in talks with Discovery about combining their assets.
The renewed conflict in the Middle East enters its second week. Israeli airstrikes and militant rocket attacks continue, with the UN calling an emergency meeting yesterday to discuss the crisis.
Australia won't reopen its border until mid-2022. Although there are few Covid-19 infections, thousands of Australians are still stranded overseas, and the vaccine rollout has been slow.
---
What to watch for
From today, people in England can eat inside restaurants, sit by the fireplace in pubs, go on overseas vacations, and—should it be necessary—give each other hugs. With Covid-19 infection rates remaining low overall, the UK government is pushing ahead with its recovery plan.
There is concern, however, over the emergence in Britain of a coronavirus variant that was first discovered in India. It's possibly linked to travel between the two countries before the UK closed its border to India on April 23. Critics say the decision was too late, delayed by matters of politics and trade instead of public health.
The variant could have an impact on the next major phase of England's reopening, the complete removal of restrictions at the end of June, prime minister Boris Johnson admitted on Friday (May 14). Scotland is already being more cautious than England.
This next phase of reopening will test whether the variant, which is just one mutation among many, can blast through the UK's strong vaccine defenses, high levels of testing, sophisticated genomic sequencing, and solid public healthcare system.
---
Charting post-pandemic in-person shopping
The pandemic accelerated and likely solidified consumers' adoption of e-commerce. While companies with robust platforms like Amazon and Walmart have the revenue to show for it, a number of retailers without a strong online presence are doubling down on their brick-and-mortar strategies.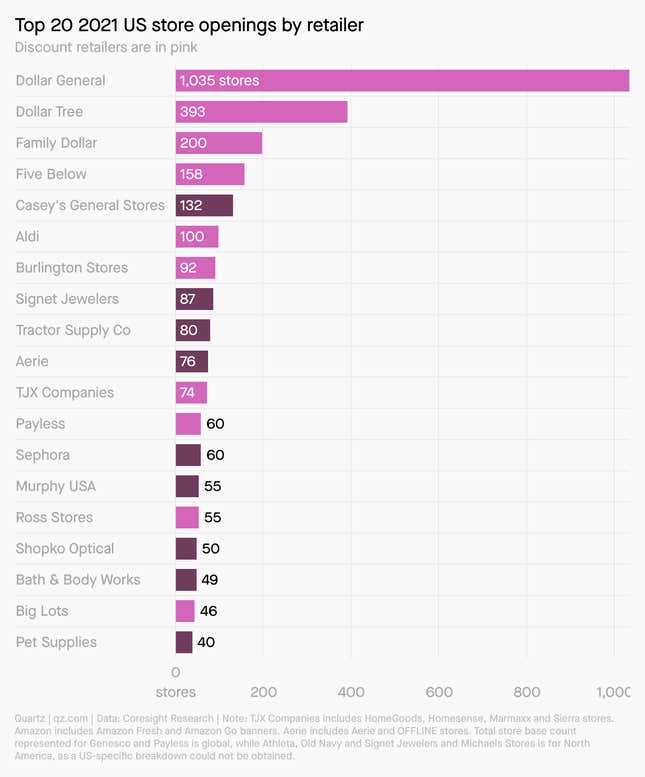 Many of these discount retailers have inventory and pricing strategies that makes a move online impractical, and they're betting on in-person shopping for the foreseeable future.
---
Stores are here to stay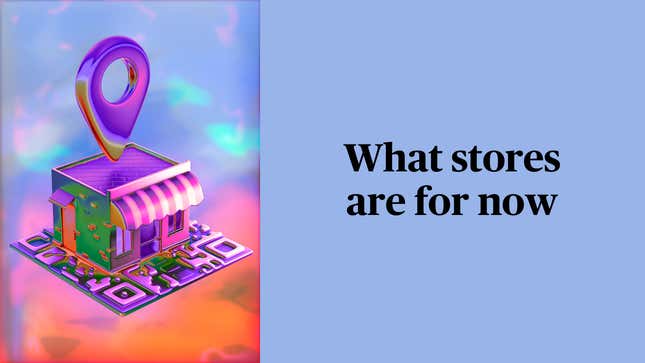 Experts believe a lot of the digital shopping habits consumers picked up during the pandemic are here to stay, even if e-commerce sales moderate as life eventually returns to normal.
UBS predicts roughly 80,000 stores could close by 2026 in the US alone as online shopping grows even more common. It's the beginning of the end for brick-and-mortar shops, right?
Well, no. Even in the midst of a pandemic, consumers in the US and UK have been making the majority of their purchases in stores. The reality is, stores aren't going away. As virtual as our lives have become, we're still physical bodies operating in physical spaces. But there's no doubt the way companies use stores is changing as technology alters the way we buy things.
✦  Few areas of business are changing more than retail. Try a Quartz membership during Retail Week and enjoy a discount on our field guides and news coverage. Try membership free for a week, and use the code RETAILWEEK for 40% off!
---
Handpicked Quartz
📲 Social media has no incentive to fix what ails it
🚫 Africa's plastics bans are pitting the environment against the economy
💨 How an NGO helped 10,000 Covid-19 patients survive India's oxygen shortage
✏️ Remembering the architect who birthed our obsession with beautiful office interiors
🕵️ A new book reveals how Germany ran a sophisticated spy operation in South Africa during World War II
💰 Should companies pay ransoms to hackers?
Surprising discoveries
Houston police found the loose tiger. India, owned by Victor and Georgia Cuevas, was surrendered to police Saturday.
A goalkeeper scored a last-second winning goal. This really doesn't happen.
Cloudflare knows we're tired of CAPTCHAs. It has a new security key that saves time and headaches, but it won't phase those pesky alphanumerics out for a while.
A California woman washed her $26 million lottery ticket. Despite video evidence that proves her purchase, her prize might go to local public schools.
The Suez Canal will be deeper and wider. Egypt began dredging works to avoid another major disruption to international commerce.
---
---
Our best wishes for a productive day. Please send any news, comments, Alisson's gloves, and a British hug to hi@qz.com. Get the most out of Quartz by downloading our iOS app and becoming a member. Today's Daily Brief was brought to you by Hasit Shah, Jackie Bischof, Mary Hui, Tripti Lahiri, Alexandra Ossola, Marc Bain, Oliver Staley, and Jordan Lebeau.