Good morning, Quartz readers!
Here's what you need to know
The Trump Organization faces a criminal probe. New York state has joined the Manhattan district attorney in investigating a range of allegations, including tax and insurance fraud.
Two women will head JPMorgan's largest division. Marianne Lake and Jennifer Piepszak are taking over consumer banking operations at the US bank, potentially setting up a woman to succeed CEO Jamie Dimon.
Tata Motors lost more than $1 billion last quarter. Despite healthy sales, the Indian company, which owns brands like Land Rover and Jaguar, had to write off major assets and faced huge restructuring costs.
A warning from China added to crypto's woes. Bitcoin dropped to its lowest level since February, after the People's Bank of China posted a reminder that digital tokens can't be used as payment.
A ceasefire remains elusive for Israelis and Palestinians. France drafted a plan, in coordination with Egypt and Jordan, that may go to the UN Security Council today for a vote—but it faces a possible US veto.
Vaccines are delayed yet again in the developing world. India's Serum Institute said it won't resume deliveries to the Covax program until the end of the year.
---
What to watch for
As the US economy opens its doors, shoppers with stimulus cash in their pockets have been out spending, fueling a spate of retail earnings. We're keeping an eye on three big ones due out today:
👕  Discount retailer TJ Maxx is expected to surge with shoppers returning to stores.
🔨  Home improvement giant Lowe's is still booming from everyone's DIY home renovations plus rising lumber costs, though the latter could put pressure on margins.
🎯  One-stop shop Target should continue to grow with help from its e-commerce business, but the pace may slow compared to the height of the pandemic.
Brick-and-mortar stores are evolving as technology changes how we spend. Because we're obsessed with what's in store for, well, stores, we've deemed this week Retail Week. Members can read our field guide on what stores are for now and enjoy our weekly company email (this week, we're drilling down on Costco).
Regardless of whether you decide to grab a membership—it's 40% off this week with code "RETAILWEEK"—make sure you're signed up for the free Quartz Weekly Obsession to learn about the thrifting industry.
---
Charting when it's OK to hit on your coworkers
Spoiler alert: It's not. Ever.
Bill Gates is the latest in a long line of business titans to be accused of inappropriate behavior at the office.
There is no evidence that Gates pressured anyone to engage in relationships at the expense of their careers, and the New York Times notes that he seemed to give alleged targets of his come-ons room to turn him down.
But giving an underling space to say no does not give a founder, owner, manager, or anyone else in a position of authority a free pass to proposition people at the office. Still confused? Quartz's Heather Landy and Amanda Shendruk can help: Consult this flowchart.

---
Profiles in influence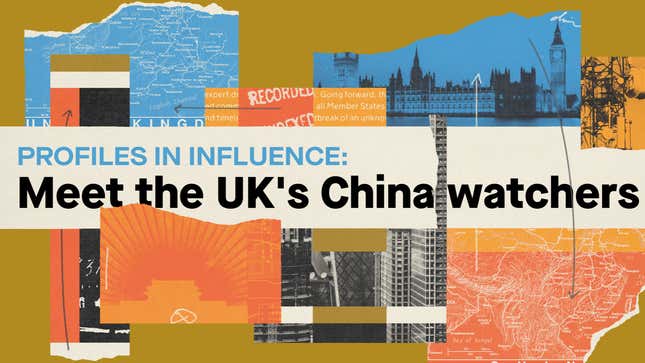 The rise of China as a superpower is fact, not future. The UK, which once billed itself as "China's best partner in the West," is caught between two contradictory responses: Seek closer ties with the world's second largest economy, or confront it over humanitarian and political issues.
From 2015 to 2020, with some exceptions, the UK government embraced the former. But Covid-19 changed everything, souring public opinion on China, shining a spotlight on the UK's reliance on Chinese-made products, and raising questions about how decisions made by the Chinese Communist Party can have a direct impact on the lives of people in London, Glasgow, and Belfast.
The rest of the world will be watching the UK's approach—and how China responds. In Quartz's latest series, Annabelle Timsit talks to 12 of the UK's most influential people on China.
---
Handpicked Quartz
🛢 Exxon and Chevron just lost their most important excuse for new oil drilling
😞 This isn't the first time Bill Gates has damaged his reputation
🍿 AMC's stock price is detached from reality and its CEO loves it
🤝 Watch: How to master the art of connecting and networking
🏢 Klarna's CEO says the company outgrew its New York office before it could use it
🌍 African leaders can try to take back control over aid with one request
Surprising discoveries
There's a lot of Viagra in Seoul's wastewater. Chemicals from the drug are particularly prevalent in nightlife neighborhoods.
Researchers found the gut bacteria that can lead to Alzheimer's and Parkinson's. They also identified bacteria that counteract the effects of neurodegenerative diseases.
China's Mars rover isn't sending back any snapshots just yet. But the delay likely has more to do with Beijing's need for control than an issue with the mission.
Japan is working on passenger spaceships to hop between world cities in two hours. Forget the jetset, it's time for the rocketset.
Astronomers observed the highest-energy light ever. Studying gamma ray photons will help them understand another space phenomenon, cosmic rays.
---
---
Our best wishes for a productive day. Please send any news, comments, uncensored Mars photos, and passenger spaceships to hi@qz.com. Get the most out of Quartz by downloading our iOS app and becoming a member. Today's Daily Brief was brought to you by Hasit Shah, Tripti Lahiri, Itika Sharma, Marc Bain, Liz Webber, and Jordan Lebeau.