Good morning, Quartz readers!
Was this newsletter forwarded to you? Sign up here. Got someone in your orbit who has yet to collide with the Daily Brief? Forward it to them!
---
Here's what you need to know
Food prices are rising at the fastest rate for more than a decade. The average cost of basic items jumped nearly 40% in May 2021 compared to a year earlier, according to the United Nations Food and Agriculture Organization.
The G7 is discussing a global tax deal. Finance ministers from seven rich countries are meeting in London, a week before the main summit in Cornwall, southwest England.
A record-breaking SPAC transaction is reportedly forming. According to the Wall Street Journal, a potential deal involving Universal Music Group would value the company at about $42 billion.
The US banned investment in more Chinese companies with military ties. President Joe Biden expanded the blacklist created by Donald Trump to a total of 59 firms.
Twitter rolled out a subscription service. Available first in Australia and Canada, then India, Twitter Blue will enable paying users to undo incorrect or unwise tweets within 30 seconds of posting.
Google removed its head of diversity over antisemitism. Kamau Bobb wrote a personal blog post in 2007 that accused Jews of an "insatiable appetite for war," but hasn't been fired.
What to watch for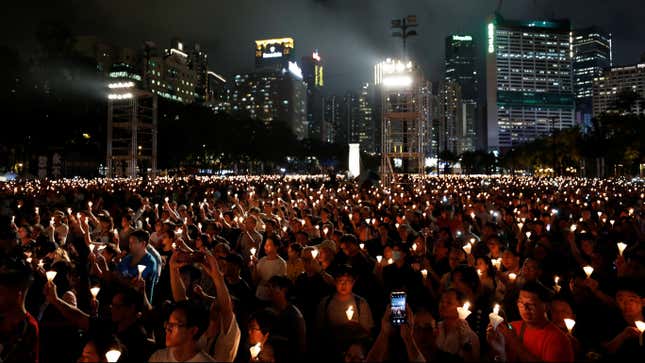 For decades, Hong Kongers held a solemn candlelight vigil every June 4 to commemorate the victims of Beijing's brutal crackdown on the 1989 Tiananmen Square student democracy protests. It was the only place in China where mourners could publicly honor the painful moment.
Now, the Hong Kong government has threatened prison sentences for anyone who attends the vigil, and participants risk being charged with subversion (link in Chinese) under the national security law.
It's not just the event that authorities want to ban. It's the memory. Just this week, the city's sole museum dedicated to June 4 was forced to temporarily close after authorities accused it of operating without the required license. Earlier, the public broadcaster RTHK censored a show that included footage of a Tiananmen anniversary event. And this morning, police made a mainland-style preventative arrest of Chow Hang-tung, one of the organizers of the annual vigil.
Writing after his sentencing for his participation in last year's vigil, activist Lester Shum, already detained for a separate national security charge, warned of the dangers (link in Chinese) of forgetting the date: "If our generation no longer remembers June 4…then one day, June 9, June 12…July 21…Aug. 31"—key dates from Hong Kong's 2019 protests—"will be treated in the same way."
---
Charting Starlink's close calls
The US isn't keeping up with the proliferation of new spacecraft in low-earth orbit, and the potential consequences are serious. Megaconstellations, like those developed by SpaceX and OneWeb, will add tens of thousands of new satellites to the environment around the planet. University of Southampton professor Hugh Lewis used data from the Center for Space Standards & Innovation to visualize how often satellites are expected to pass by each other, based on their present positions.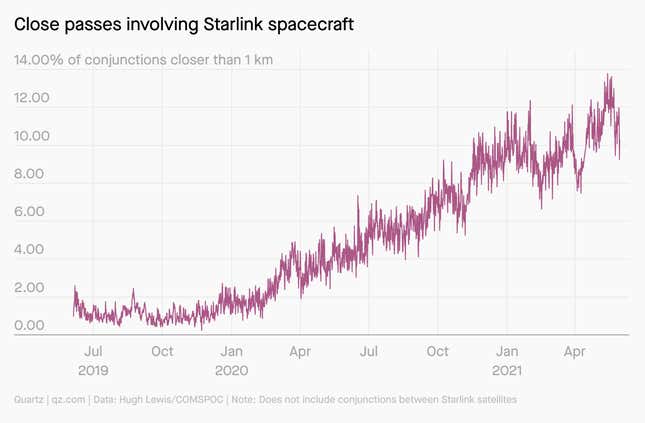 The findings make sense, since Starlink is the world's largest satellite constellation, but with more spacecraft coming from countries and companies around the world, expect more of these close passes. Tim Fernholz explains why this isn't great, and what the US government isn't doing about it.
Tim will make sure you're up to date with the latest in the business world's final frontier. Sign up below to receive Space Business in your inbox once a week.
---
QZ&A
AirAsia India—a joint venture between Tata Sons and Malaysia's AirAsia Investment—is India's youngest airline. Founded in 2014, it would soon be dealing with the biggest challenge the industry has ever faced: Covid-19. Niharika Sharma spoke with the company's head of operations Manish Uppal and chief commercial officer Ankur Garg about what the near future could look like for the airline.
Quartz: Could you tell us about travel trends in the post-pandemic world? 
Garg: There are three major drivers of traffic:
Business traffic (people flying for work),
Visiting friends and relatives traffic or VFR, and
Holiday traveling, where you're going to a leisure destination.
In this whole year, the recovery has been led by VFR… Business traffic has been the slowest to recover so far.
✦ A Quartz membership gives you an in-depth look at the industries driving the global economy. Try it free for a week.
---
Handpicked Quartz
⛪️The Jesuits' plan to compensate their slaves' descendants gets reparation wrong
♻️Africa's booming fintech scene has Jeff Bezos back for more
🤷‍♀️Paid vaccines are a sign that the Modi government has relinquished the duties of a welfare state
🏃Tech workers who flocked to Taiwan's Covid-free haven are now fleeing
🌳Why Amazon is backing away from drug testing employees for weed
📱Will Huawei's Android knockoff appease China's technology hawks?
(Psst.☝️ We took the last story out from behind our paywall. It's that good.)
---
Surprising discoveries
Humans may have arrived in the Americas 20,000 years earlier than we thought. Animal bones dating back 30,000 years were found in a cave known to have been used by humans.
We don't know why North Atlantic right whales are getting smaller… Some of the near-extinct species also show stunted growth.
…or why a group of elephants has traveled 300 miles across China… Maybe they're just too stubborn to ask for directions.
…or why almost all sharks died out 19 million years ago… Scientists discovered the mass extinction by accident.
…but we do know someone paid too much money for this Hong Kong parking spot. It sold for a record $1.3 million.
---
---
Our best wishes for a productive day. Please send any news, comments, parking stories, and guided navigation tools for elephants to hi@qz.com. Get the most out of Quartz by downloading our iOS app and becoming a member. Today's Daily Brief was brought to you by Hasit Shah, Sumnima Lama, Tripti Lahiri, Mary Hui, Liz Webber, and Susan Howson.