Good morning, Quartz readers!
Was this newsletter forwarded to you? Sign up here. Forward to a friend who doesn't believe cardboard beds can be sexy.
---
Here's what you need to know
The Tokyo Olympics began. Meanwhile, the International Olympic Committee awarded Brisbane the 2032 Games. (See below for more.)
Netflix continues to grow outside the US. The company also confirmed its move into gaming, but is not impressed by any of the media companies it could buy.
JPMorgan boss Jamie Dimon is set for a huge windfall. The bank's CEO will receive a "special award" of 1.5 million stock appreciation rights.
Jeff Bezos went to space. On one hand, the technical accomplishment here is real: No one has built an automated, reusable suborbital rocket before. On the other hand, it can really only go one place for a few minutes.
Suppliers for companies like Nike and Apple are reportedly shunning workers from Xinjiang. According to the Wall Street Journal, this may be a response to Western allegations of forced labor.
The inferno in Oregon is affecting the air on the East Coast. The Bootleg Fire grew to 606 square miles (1,569 square kilometers).
The Milwaukee Bucks won their first NBA championship since 1971. Giannis Antetokounmpo scored 50 points in the 105-98 decider against the Phoenix Suns, and took the series MVP award.
What to watch for
Brisbane is reacting to its successful bid to host the 2032 Summer Olympic Games. It'll be the third time Australia has hosted, but a first for Queensland's capital and the nation's third largest city. Here's why IOC president Thomas Bach found Brisbane to be "irresistible":
🏖 It's beachy: Although it will be winter when Brisbane hosts the Summer Games, it has a mild year-round climate with good surfing nearby.
🏙 It's built up: Brisbane committed pre-existing or temporary sites for 84% of the venues (pdf), helping the city avoid becoming yet another Olympic stadium graveyard.
💸 It's breaking even (hopefully): The proposed operating budget of $4.5 billion is expected to pay for itself between IOC contributions, sponsorships, and ticket sales.
🥱 It's been there, done that: Brisbane and nearby Gold Coast have both hosted the Commonwealth Games (and expect to use those venues again in 2032).
---
Charting Paytm's financials
Paytm—India's most-valued tech unicorn, which started as a mobile wallet and diversified into an array of financial services—is all set to debut on domestic stock exchanges this year. And despite the huge losses on the company's books, all indicators point to a bumper listing.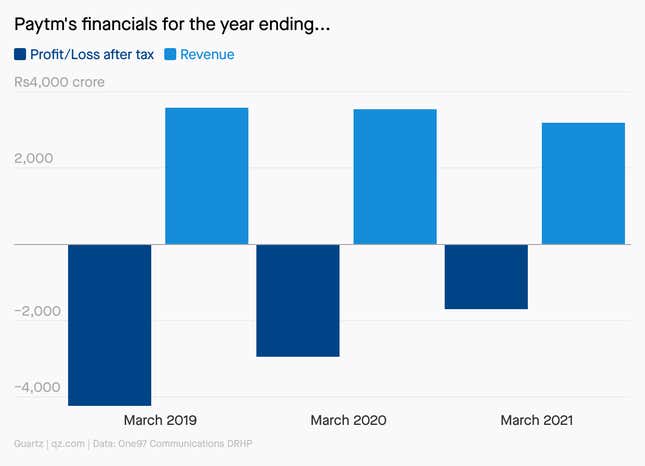 Experts believe that this IPO's success is pretty much inevitable because investors are looking beyond the current financial situation of tech firms. Most of the interest is based on metrics like growth in user base, quality of user engagement, and net revenues, which is not the case while gauging traditional businesses. But is it a worthwhile investment?
---
Female Olympians in Tokyo
As the women's Olympic softball and soccer competitions begin today, Annabelle Timsit reports on the challenges and opportunities for female athletes at the Games.
This is "a powerful moment in time: the female rising," according to Kerri Walsh Jennings, an American beach volleyball player, four-time Olympic medalist, and mother of three, who recently spoke to the Washington Post. Still, it's clear that women generally face challenges that men don't.
🙄 Paralympian Olivia Breen was told at the English Championships this week that her shorts were too much like bikini bottoms.
🤔 Yet members of the Norwegian women's handball team were each fined for wearing shorts instead of bikini bottoms at the European Beach Handball Championships.
😐 Namibian runners Beatrice Masilingi and Christine Mboma were disqualified for above-average natural testosterone levels.
😏 Tokyo organizers eventually allowed US marathon runner Aliphine Tuliamuk to bring her newborn daughter, who she is currently breastfeeding.
✦ We're keeping our eyes on everything Olympics. You'll need a membership to read all of our coverage—try it out for a week!—but our new Need to Know: Tokyo Olympics email is absolutely free. Hit the button below to sign up.
---
Handpicked Quartz
(👇  We're betting you'll enjoy the first one, so we dropped its paywall.)
🎲 Betting on the Olympics is open for the first time to millions of Americans
😘 LVMH is giving Virgil Abloh his dream job
⚡️ Novavax's effort to vaccinate the world, from zero to not quite warp speed
🐦 These are the African countries that have demanded account information from Twitter
🤨 The Modi government doesn't think India has a press freedom problem
👀 Why Indian jobseekers should keep an eye on Zomato now more than ever
---
Surprising discoveries
New entrepreneurs are throwing "business showers." It's the next step in treating your company like your baby.
Americans used to mail their kids. The US Post Office put the kibosh on the practice in 1915.
Bull sharks can swim hundreds of miles up the Mississippi River. Researchers recently verified sightings in Illinois in 1937 and Missouri in 1995.
Tokyo's heat will likely be worse for female Olympians. Some studies show it takes women more time to acclimate to high temperatures.
An octopus in Japan has 36 arms. Its tentacles are split into multi-pronged limbs.
---
---
Our best wishes for a productive day. Please send any news, comments, nomadic sharks, and tips for acclimating to the heat to hi@qz.com. Get the most out of Quartz by downloading our iOS app and becoming a member. Today's Daily Brief was brought to you by Hasit Shah, Camille Squires, Mimansa Verma, Susan Howson, and Liz Webber.