Good morning, Quartz readers!
Was this newsletter forwarded to you? Sign up here. Forward to the friend who can't wait for the Sex and the City reboot.
---
Here's what you need to know
To bail out or not to bail out? Global stocks have fallen as a potential default by Evergrande looms. Pressure on authorities could increase when China's mainland markets, closed since Friday, reopen tomorrow.
Universal Music shares surged on their market debut. The world's largest music company, which listed in Amsterdam yesterday, is now valued at nearly $53 billion.
Justin Trudeau remains prime minister of Canada, but only just. The Liberal party won the snap election, seen as a major gamble, without securing a majority.
The US will finally reopen its border. From November, some fully vaccinated overseas travelers can enter the country after nearly two years away.
A fifth of Nigeria's workforce lost their jobs in the pandemic. The Nigerian Bureau of Statistics cited a study of nearly 3,000 businesses in Africa's most populous country.
Pfizer says its Covid vaccine is safe and effective on younger kids. But many parents in the US are likely to take a great deal of convincing.
---
What to watch for
The UN General Assembly begins today in New York, although many world leaders will be participating virtually. While the pandemic and Afghanistan are sure to dominate the conversation, climate change is also at the forefront of this year's agenda.
In addition to more formal discussions, UK prime minister Boris Johnson will put pressure on countries to increase their climate commitments before the COP26 UN climate conference in November.
What to watch out for this week:
Sept. 22: Green Jobs in the Clean Energy Transition examines the job creation potential of the Biden administration's goal of achieving 100% clean energy by 2030.
Sept. 23: A Q&A with Mark Carney, a special envoy for the UN on climate action and finance.
Sept. 23: The UN Food Systems Summit to transform global food systems for affordable, accessible food produced in ways that safeguard the climate.
Sept. 24: The High-level Dialogue on Energy, the first General Assembly gathering on energy since 1981, focused on achieving affordable, clean energy for all.
---
India is restarting its Covid-19 vaccine exports
India's Covid-19 vaccine diplomacy will likely resume after a hiatus of six months, as it resurrects its Vaccine Maitri (vaccine friendship) initiative to partner nations, and to the global vaccine-sharing collective Covax, health minister Mansukh Mandaviya said yesterday. India stopped exporting vaccines in April because of an extreme domestic shortage, and a raging second wave of the pandemic.
67 million: Doses sent to 95 countries under Vaccine Maitri to date
1 billion: Doses the Indian government expects to receive from Serum Institute of India (SII) in the next three months; it hopes to send any "surplus" to low- and middle-income countries
600 million: People in India who have received at least one dose
85%: Portion of Covax's supply SII's Covishield, the Indian brand name for the AstraZeneca vaccine, is meant to cover
---
IP-oh just kidding
Last week, podcast and audio platform Ximalaya became the latest Chinese company to reconsider a US IPO. For years, Chinese companies have found it appealing to go public in the US because of the market size and corresponding liquidity.
More recently, Hong Kong has become a listing destination for Chinese tech darlings due to the rising tensions between China and the US. Beijing's crackdown on tech is giving Chinese companies a further hint that they should consider Hong Kong or mainland exchanges for listings.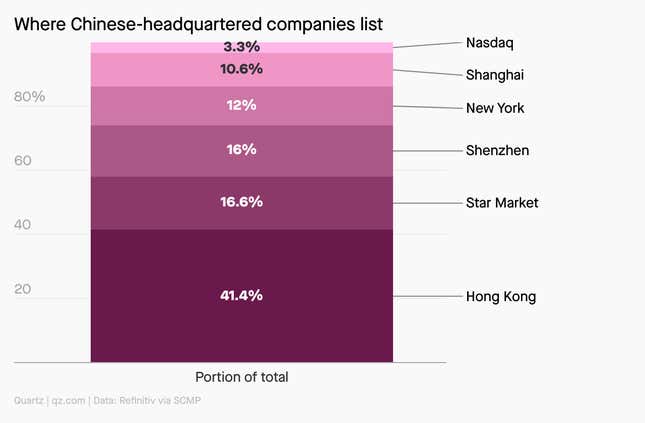 Quartz's latest Forecast email looks at China's crackdown on its tech unicorns, including the impact on where and how they list. ✦ Get the Forecast and other exclusive emails in your inbox by becoming a member—take 40% off with code QZEMAIL40.
What we're reading
🌾  A rapid switch to organic farming has sparked an economic crisis in Sri Lanka. A new rule banning chemical fertilizers is having far-reaching consequences.
👩‍🏫  US schools are losing teachers at an unprecedented rate. The pandemic has prompted many educators to consider early retirement or a new career.
⏱  ByteDance is getting ahead of China's crackdown on tech for teens. The company will limit the usage of its app to 40 minutes a day for children under 14.
📈  Why is natural gas so expensive right now? Cold winters, hot summers, and lackluster output from renewables are driving prices to record highs.
🙌  Keeping employees motivated during the pandemic is the "challenge of a lifetime." But simply being there for them can be enough.
🎢  US-China tensions didn't dampen the opening of Universal Studios' Beijing theme park. It's a sign Hollywood's bet on China is paying off.
---
Surprising discoveries
Vaccinations in India magically tripled on Narendra Modi's birthday. Most likely, the numbers were artificially deflated leading up to the date.
A first edition of the US Constitution is up for sale. It's one of only 11 in existence and can be yours for somewhere around $20 million.
Google is very into chip puns. It's marketing its Tensor system with Google-branded potato chips in Japan.
Cardboard beds get a new mission. The notorious Olympic Village furniture will be reused by Covid-19 patients in Osaka.
Venetian musicians performed on a floating 39-foot violin. The concert was nearly stymied by bureaucrats—may we suggest a concert for them courtesy of the world's tiniest violin?
---
---
Our best wishes for a productive day. Send any news, comments, giant musical instruments, and tech-branded novelty snacks to hi@qz.com. Get the most out of Quartz by downloading our iOS app and becoming a member. Today's Daily Brief was brought to you by Hasit Shah, Tripti Lahiri, Michael Coren, Manavi Kapur, Jane Li, Susan Howson, and Liz Webber.