Good morning, Quartz readers!
Was this newsletter forwarded to you? Sign up here. Forward to your greenest friend.
---
Here's what you need to know
Evergrande missed a key payment to overseas bondholders. The deadline was yesterday, and the Chinese company hasn't said anything about why it failed—as widely expected—to pay more than $80 million, as its crisis continues.
Supply chain issues restricted Nike revenues in the most recent quarter. Demand is high, the company says, and revenues did increase 16% to $12.25 billion between June and August, but there are production problems in Asia and its shares fell.
The US Centers for Disease Control approved Covid vaccine boosters. The agency joins the Food and Drug Administration in endorsing the additional shots for vulnerable people, but warns the bigger problem is still the deliberately unvaccinated.
Narendra Modi meets Joe Biden. The Indian prime minister and US president are discussing bilateral issues in Washington today, in person for the first time.
The UK faces energy and transportation chaos. Some gas stations are closed, there's a truck driver shortage, and climate protesters have blocked a major port. All this while energy companies collapse over high natural gas prices.
Nevermind is 30 years old today. The legendary Nirvana album changed the world, and that's not even an exaggeration.
What to watch for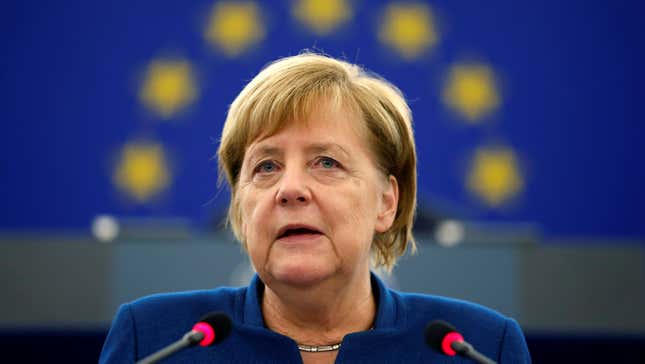 Germans head to the polls on Sunday to vote for a new chancellor. Angela Merkel, their first female leader, has in the past 16 years seen Germany through numerous financial crises, including the 2008 economic collapse and the 2015 Greek bailout.
One of the most memorable moments in Merkel's tenure was when she committed to taking in 1 million refugees fleeing war and conflict in 2015, insisting, "We can do it." While the decision was applauded by many on the international stage, it caused political backlash back home. In 2017, German voters put a far-right party, Alternative for Germany (AfD), in parliament for the first time since World War II.
Whoever takes over from Merkel (it's likely to be her deputy, Olaf Scholz) will have big shoes to fill when it comes to maintaining Germany's positive image abroad. According to a Sept. 22 Pew Research poll, a majority of people have confidence in the chancellor to do the right thing in world affairs.
---
Are cloth masks good enough?
Will cloth masks adequately protect us from the delta variant?
At the start of the pandemic, people were urged to save surgical-style masks for those on the healthcare front lines, and instructed instead to purchase or make cloth masks. It's now the era of the much more contagious delta variant. Supply seems to have caught up to demand, and surgical masks as well as the higher protection N95 masks are now readily available. But perhaps you don't want to give up your Chanel-branded face covering for a less sexy, single-use, surgical mask.
Here are some questions to ask yourself:
Is my cloth mask multi-layer? One study's results indicate that three layers—a combination of polyester/nylon and cotton/linen—provide the most protection.
Does it fit well? Both mouth and nose should be covered, and you should be able to feel warm air coming through the mask, not out its sides.
Are you heading into a risky situation? Do you need to be in somewhat close quarters with potentially unvaccinated people, like, say, an airport? The more you can upgrade your mask, the more you mitigate your risk. Read more about what mask research has uncovered.
---
Who funds the United Nations?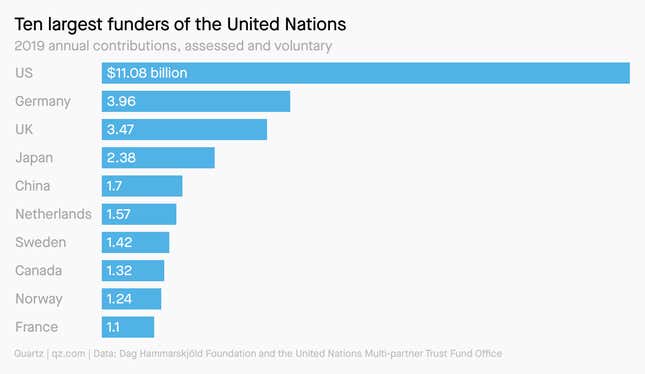 In 2019, the United Nations' revenue totaled $56.9 billion. It's the most recent year for which there is data, and is roughly the same amount as Uruguay's GDP in 2020. With that kind of money floating around, it pays to understand at least the basics of how the UN is financed. Amanda Shendruk illustrates how the funding works and why the equations used to get there are so controversial.
What we're reading
🤝 Can the United Nations help Afghan women without supporting the Taliban? UN agencies do have some leverage to work with.
🛢 China is finally ready to test out its state crude oil reserves. It's the first time the country has released supplies from its strategic inventory.
🎓 "Forced" entrepreneurs have a lot to teach us. Namely, how to pivot, adapt, and succeed.
🌜 NASA is shaking up its bureaucracy to shoot for the moon. Will it mean a policy shift?
👺 There's been a spike in unruly-passenger incidents on US flights. And Washington is alarmed.
📸 Linda Evangelista speaks out. The 1990s supermodel says she disappeared from the public eye because of a cosmetic procedure called CoolSculpting.
---
Surprising discoveries
Taking an Uber is worse for the climate than driving in your own car. It's also not great for traffic congestion and public safety.
Humans were in the Americas much earlier than previously thought. Newly discovered footprints are 10,000 years older than other tracks.
Japan's newest professional esports team is made up entirely of older players. They range in age from 61 to 73.
The designer of the US Space Force dress uniforms is (probably) big into sci-fi. The jackets are eerily familiar to fans of Battlestar Galactica.
The 60-year-old vice president of Suriname played a professional soccer game. Ronnie Brunswijk owns Inter Moengotapoe; his team lost 6-0.
---
---
Our best wishes for a productive day. Send any news, comments, Uber receipts, and favorite TV space uniforms to hi@qz.com. Get the most out of Quartz by downloading our iOS app and becoming a member. Today's Daily Brief was brought to you by Hasit Shah, Amanda Shendruk, Courtney Vinopal, Susan Howson, and Liz Webber.