Good morning, Quartz readers!
Was this newsletter forwarded to you? Sign up here. Forward to the friend who loves a good glass of fresh milk.
---
Here's what you need to know
Officials from the US met Taliban representatives in Doha. Discussions revolved around Covid-19, terrorism, human rights, and safe passage out of Afghanistan for Americans and other nationals. The talks were "candid and professional," a State Department spokesperson said.
An AstraZeneca drug succeeds against mild Covid-19. In a study, the drug—an injected cocktail of antibodies—halved the risk of mild Covid turning into serious illness or death. AstraZeneca has applied for emergency-use authorization for the drug in the US.
Big-box retailers are chartering their own ships. Walmart, Costco, Target, and Home Depot are hiring ships to sidestep disruptions in the global supply chain, and to ensure they can import products in time for the holiday season.
Australia wants to make social media giants responsible for defamatory postings. Prime minister Scott Morrison called social media "a coward's palace" during a debate over the country's libel and defamation laws.
Britain and Ireland argued about Brexit on Twitter. The spat kicks off a week of important discussions between the EU and the UK over trade rules.
The Nobel prize in economics is announced today. On Friday, the peace prize was awarded to journalists Maria Ressa and Dmitry Muratov to honor their work fighting for press freedom.
---
What to Watch For
Starting today, fully-vaccinated Indians arriving in the UK will no longer have to self-isolate or take a Covid test, as long as they have received a UK-approved vaccine.
Approved vaccines include a complete course of the jabs from AstraZeneca, Pfizer BioNTech, Moderna, or Johnson & Johnson. And after some controversy, that list now allows for Covishield—a version of AstraZeneca's jab that is produced domestically and is the most common jab in the country. The second-most common jab, Covaxin, is not approved for UK travel.
Britain initially refused to recognize Covishield, but decided to add the formulation to the approved list in September. However, it didn't add India to the exempt-from-quarantine list. Delhi retaliated by imposing a mandatory quarantine for fully vaccinated British nationals.
Starting Monday, the UK's "red list" countries will be reduced to seven: Colombia, Dominican Republic, Ecuador, Haiti, Panama, Peru, and Venezuela. Even if fully vaccinated, travelers arriving from these countries must quarantine in a managed hotel and take two Covid-19 tests.
---
How much should grocery delivery cost?
While grocery delivery has existed for decades, the pandemic sparked a surge in popularity, forcing grocers to rapidly scale up their operations.
Stores and delivery services are still trying to find the delicate balance between what they need to charge to cover their costs, and how much customers will pay before deciding to go inside a supermarket themselves.
Data from Bain & Company show shoppers around the world already recognize that delivery fees should be higher. Take the US for example: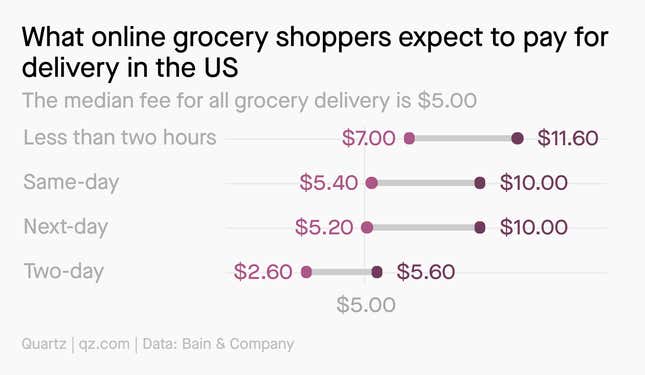 For grocery delivery to be profitable in the long run, delivery fees will likely have to be raised. Industry experts see delivery fees between $5 to $10 per order as the norm in the future.
---
How to Say "No"
In a busy world where time is limited, saying "no" is an exercise in making space for what's most valuable. Ultimately, learning how to say "no" more is about emotional and physical freedom.
Boundaries like not looking at—or sending—email after hours aren't just work constructs. They're the point between "when one person stops and another person starts," and allow us to protect our energy in all settings and relationships, according to Penny Jones, a UK-based career coach. To help create them, Jones suggests starting with a "boundary audit," which might look like this:
❓Ask yourself: What's the behavior or context preventing me from functioning in the ideal way I'd like?
🗣 Articulate for yourself "exactly what you find unacceptable, and the request you're making."
🙅‍♀️ Then, communicate your boundary clearly, and as soon as possible.
🤔 Finally, consider the consequences for your boundaries being overstepped.
Boundary setting doesn't have to be an outright no. It can be approached as a negotiation, using what's described as "can/if" thinking. Either way, it's a conversation over what's desirable, rather than what's possible, says Jones.
Read all the expert's advice on saying "no" more.
✦ You'll need a Quartz membership to access this piece, but here's a deal that's hard to say no to: Get a 40% discount today with code QZEMAIL40.
---
Handpicked Quartz
💰 Mukesh Ambani joins Musk, Bezos, and Buffett in club of world's richest
🥛 Where your milk comes from if you live in America's most populated cities
🥇 Maria Ressa's Nobel peace prize win is an indictment of Facebook
🏆 Even after winning the Nobel Peace Prize, internet trolls still hound Maria Ressa
💰 Global minimum corporate tax is a win for multilateralism
🚢 Japan minted a new economic security minister to fix supply chain disruptions
👩‍⚕️ Investment in mental health treatments is beginning to catch up to the demand
---
Surprising discoveries
A notorious art forger is selling NFTs based on the world's most valuable painting. Wolfgang Beltracchi, convicted in 2011 of faking 14 famous artworks, has produced 4,608 original, digital artworks derived from Da Vinci's "Salvator Mundi".
A 16-million-year-old tardigrade was found preserved in amber… The "once-in-a-generation" discovery allows scientists to explore the evolutionary changes of this nearly indestructible microscopic animal also known as a water bear.
…and a million-year-old hippo was found in the UK. Fossils of the extinct species show hippos roamed Britain earlier than previously thought.
John broke up The Beatles. Or at least, that's what Paul is now saying.
Two men from Solomon Islands were rescued after spending 29 days lost at sea. They were found 400 km away after rough weather and a broken GPS left them adrift.
Schitt's Creek got its own edition of Monopoly. Which token will you choose: David's sunglasses, Ted the Turtle, or Moira's wig?
---
---
Our best wishes for a productive day. Send any news, comments, hippo fossils, and Monopoly winnings to hi@qz.com. Get the most out of Quartz by downloading our iOS app and becoming a member. Today's Daily Brief was brought to you by Samanth Subramanian, Amanda Shendruk, Michelle Cheng, Jackie Bischof, and David Yanofsky.