Good morning, Quartz readers!
Was this newsletter forwarded to you? Sign up here. Forward to the friend with the greenest thumb.
---
Here's what you need to know
Netflix employees will walk out today. At least 1,000 are expected to participate in the protest of management's response to concerns about comedian Dave Chappelle's recent standup special. Meanwhile, Netflix beat expectations for subscriber growth in its latest earnings report.
Pressure escalates on Stephen Bannon. A House committee investigating the Jan. 6 attack on the US Capitol has recommended a contempt charge against the former presidential advisor, in a test of the limits of executive privilege.
Alibaba rallies. The release of a new server chip and reappearance of founder Jack Ma abroad has buoyed the tech giant, which saw its shares surge 7%, and announced new plans for the expansion of its cloud business. Uncertainty still hangs over the firm's future however, including its botched IPO.
Evergrande tabled a plan to sell part of its property services unit. The Guangdong provincial government didn't approve of the $2.6 billion, 51% stake sale, Reuters reports.
Facebook is piloting its digital wallet in the US and Guatemala. The much ballyhooed Novi wallet is missing a key feature: Facebook's promised Diem cryptocurrency. Meanwhile, the company will pay up to $14.25 million to settle claims it prioritized non-American workers for some US jobs.
Bitcoin closed in on a record high after the first US bitcoin ETF started trading. With more than $625 million of intra-day trading volume, ProShares' fund ranks as one of the most popular ETF launches on record.
---
What to watch for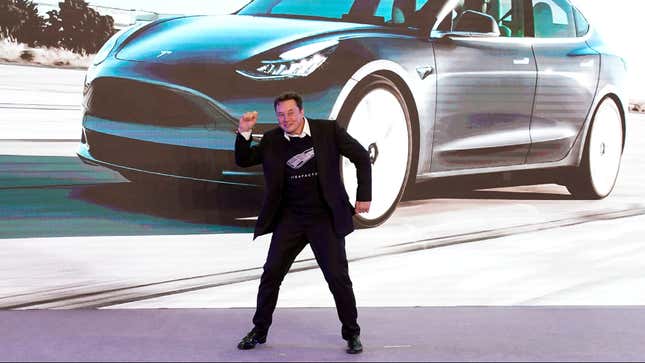 Tesla is expected to post ebullient earnings despite the ongoing chip shortage. The company won't post its full revenue figures until after markets close today, but it has already revealed its most important metric: Tesla sold 241,300 electric cars last quarter, up 20% from the one previous. It's the sixth straight quarter in which Tesla has broken its own sales records, thanks, in part, to a pandemic-fueled bump in demand for cars.
The electric vehicle giant has so far managed to dodge the supply chain woes that forced other automakers to cut production. When Tesla couldn't find the right semiconductors for its cars, it rewrote the software and swapped in alternate chips.
Those kinds of improvisations have allowed Tesla to open two new factories in Austin and Berlin while other carmakers have shuttered plants. But CEO Elon Musk says the chip shortage—combined with shipping bottlenecks—could still derail Tesla's growth.
---
Is Intel Apple's toxic ex?
Well, it's complicated.
At Apple's Unleashed event Monday, the company said it will use its own homegrown processors in its MacBook Pro laptop, effectively ending its relationship with Intel.
It's not exactly a surprise:
💖 Intel and Apple hook up in 2006 for processors
🤫 Rumors swirl around how long the couple will last
🔼 A 2019 truce between Apple and Qualcomm entangles things 
💔 Apple ends its 15-year fling with Intel in 2021…
💘 … and Intel says it will "fight hard to win" Apple back
But with the number of Intel Macs left in Apple's lineup fizzling, the production of Apple's own chips may be one area where Intel could still win over the Silicon Valley behemoth.
---
It's an everything shortage
Cars, computers, chicken wings… at this point, it might be easier to point out what's not in limited supply. We've put together a guide to the Everything Shortage—it's only available to Quartz members, but here are some of the most compelling digits:
10: Companies that control 82% of global shipping
215%-240%: Expected increase in profits of Maersk, the world's largest shipping company, in 2021 compared to pre-pandemic levels
76 seconds: Average time it takes for a crane to load or unload a shipping container in North America
27 seconds: Average time it takes for a crane to load or unload a shipping container in Asia
2022-2023: Experts' best guesses as to when supply chain issues will end
✦ Want to get the full experience? Good news, we'll never run out of memberships. Sign up today and get 40% off with code QZEMAIL40.
---
Handpicked Quartz
🚢 What does a zero-carbon shipping fleet look like?
🏠 Why Zillow had to stop buying new homes
🔮 Xi Jinping's vision for China does not involve workers "lying flat"
🍱 How free school lunches lower grocery prices for everyone
😱 Traveling to the UK is a UX design nightmare
🕹 Back from the dead, G4TV looks to cash in on the gaming craze it helped create
---
Surprising discoveries
Bogotá's anti-machismo hotline is a success. Organizers weren't sure if men would actually call in to discuss their role in violence against women.
The solar system is surrounded by a "magnetic tunnel." Astronomers believe two rope-like structures on either side of the sky are connected.
Seville, Spain is going to start naming its heat waves. Why should hurricanes and winter storms get all the attention?
Manure methane sales have been a windfall for California dairy farmers. The byproduct, which is used to produce energy, is more lucrative than milk.
A robot server helped human waitstaff earn more in tips. Restaurant workers had more time to spend schmoozing with customers.
---
---
Our best wishes for a productive day. Send any news, comments, celestial ropes, and heat wave name ideas to hi@qz.com. Get the most out of Quartz by downloading our iOS app and becoming a member. Today's Daily Brief was brought to you by Jackie Bischof, Nicolás Rivero, Ananya Bhattacharya, Morgan Haefner, Susan Howson, and Liz Webber.