Good morning, Quartz readers!
Was this newsletter forwarded to you? Sign up here. Forward to the friend who knows it's OK to be bored sometimes.
---
Here's what you need to know
Tesla saw record quarterly earnings. The formerly unprofitable-but-valuable company has now increased its profits for the third quarter in a row, on the back of strong sales in China.
Leaked documents appear to show major countries lobbying against phasing out fossil fuels. According to BBC News, Saudi Arabia, Japan, and Australia are among those asking the UN to modify its policies.
PayPal is in talks to buy Pinterest. The deal would value the furniture-and-hairstyle social media company at $45 billion, Bloomberg reports.
Facebook is changing its name. The announcement is expected next week, but perhaps the company really needs new people.
Spanx is now worth $1.2 billion. The shapewear company's deal with Blackstone, which bought a majority stake, was brokered by an all-female team.
There was a protest outside Netflix HQ in Hollywood over Dave Chappelle. But only about 100 people turned up, and it's not clear how many were Netflix employees.
What to watch for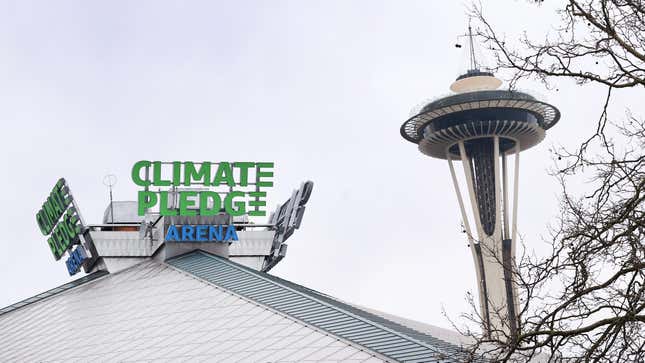 On Friday, the doors will open at Climate Pledge Arena, the new home base for the NHL's Seattle Kraken and the WBNA's Seattle Storm. It purports to be the world's first net-zero arena; when Amazon CEO Jeff Bezos announced that his company had bought the stadium's naming rights in June 2020, he said the name was meant "as a regular reminder of the urgent need for climate action."
0: Fossil fuels that will be consumed on-site at the arena (even the Zamboni is electric)
15,000 gallons: Capacity of the cistern the arena will use to capture rainwater to turn into ice for the hockey rink
35,000 metric tons: Annual CO2 emissions from waste generated by fans at NHL, NFL, NBA, and MLB games combined
500,000: The Tokyo Olympics' carbon footprint was equal to a year's worth of emissions from this many cars
19%: Increase in Amazon's carbon footprint during the pandemic
Next month, Quartz is headed to a different climate pledge arena—the UN climate conference COP26, where countries are expected to put the finishing touches on the Paris Agreement. Join us (vicariously) in Glasgow, Scotland by signing up for our Need to Know: COP26 newsletter.
---
Stablecoin's future gets wobbly
The US is cracking down on stablecoins, cryptocurrencies that are tied to certain government-backed currencies or precious metals like silver or gold.
Here's what happened:
💵 The US government took its first major shot at Tether, fining the popular stablecoin $41 million for allegedly misstating its reserves.
⚓️ Is Tether actually tethered to anything? The stablecoin, which is the most valuable in the world with a market capitalization of $69 billion, said it has enough money in reserves. But the US said Tether's reserves have relied on unregulated entities and third parties.
🔍 The fine signals the US is watching closely, and it's likely the beginning of a push for consumer protection and transparency from stablecoins, says Charley Cooper, a former chief operating officer of the US Commodities Futures Trading Commission.
---
Speaking of futures…
The finance of the future is decentralized. DeFi—decentralized finance—is a new breed of financial services built on a blockchain and capable of stripping out traditional banks. (The aforementioned stablecoins are part of the DeFi ecosystem.)
Right now, decentralized exchanges and lending systems use blockchains like the Ethereum network, and most decentralized apps run on Ethereum. But as the speed of transactions on Ethereum slows and their costs rise, the network's competitors are growing in market value.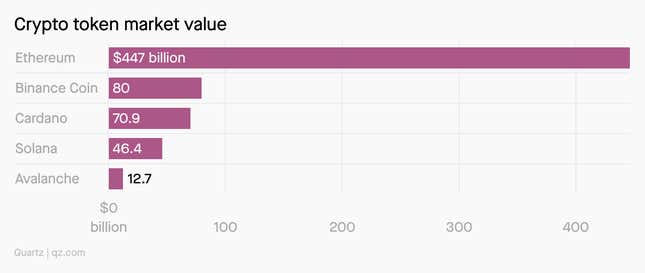 ✦ We went deep into DeFi in the latest issue of The Forecast, a weekly email only for Quartz members. And while we can't give you psychic abilities (we wish), the Forecast will give you a clearer view into the future of all sorts of things. 🔮 Sign up today to get 40% off with code QZEMAIL40.
Handpicked Quartz
🤒 India's second wave of Covid-19 may have protected it from a devastating third
💉 The vaccine mandate for New York City workers no longer includes an option to test
💵 A shocking number of US nurses are quitting, but a majority would stay for more money
🚻 Foreign brands are getting caught in China's online gender wars
🥱 A bit of boredom can help us fight our burnout epidemic 
---
Surprising discoveries
A human successfully received a pig kidney transplant. It could change organ donation as we know it.
Your interest in environmental concerns could be genetic. A study showed evidence that identical twins were more likely to have the same views on the climate crisis than non-identical twins.
Queen Elizabeth II said she's not eligible for an "Oldie of the Year" award. "Her Majesty believes you are as old as you feel" said the polite rejection letter.
The Wiggles are throwing an adults-only reunion tour. The Australian group's original lineup is hoping to cash in on the nostalgia of the grownups they delighted as children.
A venomous viper stowed away in a shipping container from India. It's not what the UK stonemasonry company ordered, but at least it got there on time.
---
---
Our best wishes for a productive day. Send any news, comments, snake charmers, and charming rejection letters to hi@qz.com. Get the most out of Quartz by downloading our iOS app and becoming a member. Today's Daily Brief was brought to you by Hasit Shah, Tim McDonnell, Scott Nover, John Detrixhe, Morgan Haefner, Susan Howson, and Liz Webber.