Good morning, Quartz readers!
Was this newsletter forwarded to you? Sign up here. Forward to the friend who prefers to fly solo.
---
Here's what you need to know
Alec Baldwin fatally shot a cinematographer with a prop gun. The actor fired at two people on a film set in New Mexico, police say, killing Halyna Hutchins and putting director Joel Souza in hospital.
Evergrande actually paid a debt. The Chinese property firm, deep in the red, reportedly wired an $83.5 million interest payment to bondholders. (See more below.)
Queen Elizabeth spent the night in hospital. The 95-year-old British monarch is now back home at Windsor Castle.
WeWork made a comeback. Shares rose by more than 11% after the company went public through a special-purpose acquisition (SPAC) merger with BowX.
Google is reducing its cut for in-app subscriptions. Starting Jan. 1, the company will charge a 15% commission for all apps, after receiving pushback from global regulators and developers.
The US won't impose tariffs on countries that target American tech giants. It reached an agreement with several European states for them to eventually drop their digital services taxes, as a global 15% minimum-tax deal moves forward.
What to watch for
Indebted Chinese developer Evergrande has reportedly wired funds for a key $83.5 million interest payment on an international bond, bringing some relief to the firm's investors, customers, and other creditors. The company would officially have been in default on Saturday if it hadn't delivered the payment.
In the 30-day grace period since the company's first missed payment on Sept. 23, Beijing still hasn't stepped in, and Evergrande's own efforts have so far yielded few results. The company announced on Wednesday that a deal to raise $2.6 billion had collapsed. Its shares, which resumed trading in Hong Kong yesterday after a 17-day hiatus, closed down 12.5%. But even if the $83.5 million payment is confirmed, the company still has two other upcoming deadlines for coupon payments on Oct. 29 and Nov. 11.
China's third-quarter GDP numbers showed the efforts to reduce unmanageable debt in the real estate sector are weighing on the economy. Evergrande's own missed payments to offshore bondholders now total $275 million. But Beijing, while making the occasional reassuring noise, hasn't blinked.
---
Amazon Air takes off
The pandemic hasn't just changed consumer shopping habits. It changed Amazon's too. The retailer went on a buying spree in the summer of 2020 for a particular item: planes.
The binge marked the fastest expansion yet of Amazon's air fleet. Now, fueled by an increase in e-commerce demand and supply chain chaos, Amazon Air's ambitions (and its number of daily flights globally) are cruising upward.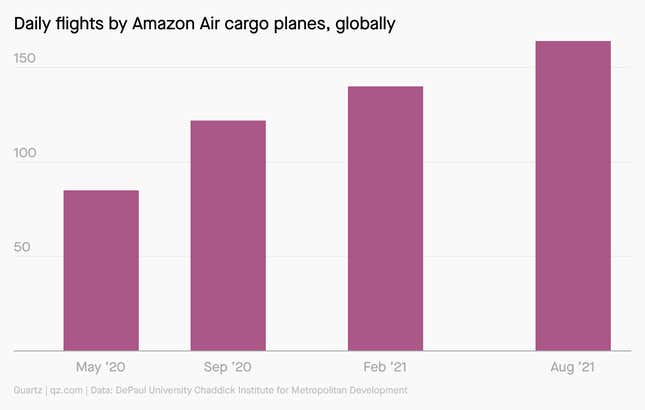 Amazon's air freight investments aren't just an urgent effort to move goods faster as the holiday shopping season approaches. Analysts who watch the company believe it will be one of the first steps toward competing directly with incumbent couriers like FedEx and UPS as a global delivery service.
---
Make yourself supply-crisis-proof for the holidays
Well, as close as you can get anyway. In our upcoming members-only How To email, we'll give you some advice that could help you circumvent the whole situation. Holiday: saved.
Here are some tips from the email, sent from us to you with no delay:
📚Embrace the concept of secondhand, whether from a store, an online seller that's not too far away, or just your own stash of books.
🔇 Lower your volume, by reducing the amount of recipients on your list (they'll be OK) or just make your family agree to attempt to make at least a portion of their gifts by hand.
🔮Shop year-round in the future, and every holiday season you'll thank yourself for stocking good, thoughtful gifts that, fingers crossed, your loved ones will still want by the time they open them.
✦ Of course, your global economy-minded friends with the highest pun tolerance will always appreciate a year of Quartz membership. Sign someone up today and get 40% off with code QZEMAIL40.
---
Handpicked Quartz
🏁 Small rocket firms are outsourcing their engines in their race to orbit
🏀 A single tweet is once again putting pressure on the NBA's China business
✨ Kat Norton's spiritual journey to becoming a Microsoft Excel influencer
🧮 Tesla's new insurance uses an owner's car to decide how likely they are to crash
💡 China is both unleashing and restricting market forces to secure its energy supplies
😬 Netflix wants you to actually play Squid Game
Surprising discoveries
Hong Kongers in need of some shut-eye can take a "sleeping bus tour." The five-hour ride includes a sleeping mask and earplugs (BYO pillow and slippers).
We now know Vikings made it to North America as early as 1021. A new method for dating artifacts gave researchers a more precise date.
Beware the job postings at Bastion Secure. The fake company—which uses the logo BS—is actually the ransomware group whose software was used in the Colonial Pipeline hack.
A dealmaking company won't let employees say the word "deal." Private equity firm Partners Group charges partners $1,000 for each violation (the money goes to charity).
A US court recognized animals as legal persons. Specifically, the descendants of drug lord Pablo Escobar's hippos, which the Colombian government has been trying to cull.
---
---
Our best wishes for a productive day. Send any news, comments, synonyms for "deal," and nonhuman legal persons to hi@qz.com. Get the most out of Quartz by downloading our iOS app and becoming a member. Today's Daily Brief was brought to you by Hasit Shah, Tripti Lahiri, Nicolás Rivero, Morgan Haefner, Susan Howson, and Liz Webber.