Good morning, Quartz readers!
Was this newsletter forwarded to you? Sign up here. Forward to a friend who could use a boost.
---
Here's what you need to know
Facebook's internal reports detailed its dire impact on India. The latest documents to surface in the Facebook whistleblower leak show how the company failed to combat misinformation, hate speech, and calls for violence in India, its largest market.
China's delta outbreak has spread to 11 provinces. Some cities are suspending bus and taxi services, while marathons in Beijing and Wuhan were canceled or postponed.
Beijing passed a law limiting homework and online tutoring. The new law puts local governments in charge of relieving the "twin pressures."
US and Taiwanese officials met to discuss how the island can "meaningfully participate" in the UN. The talks are another indicator of the international community's increasingly vocal support for Taiwan.
Colombia captured the world's "most-feared" drug trafficker. Dairo Antonio Úsuga, known as Otoniel, was also wanted in the US for international cocaine distribution and other charges.
Saudi Arabia announced plans to reach net zero emissions by 2060. But the world's top oil exporter is resisting pressure to limit its fossil-fuel investment.
---
What to watch for
As Facebook navigates one PR crisis after another, the social media giant has a busy week ahead.
🇬🇧 Whistleblower Frances Haugen testifies on Monday to the UK parliament's Online Safety Bill committee, which is putting together legislation to regulate social media.
📈📉 Facebook also reports its third-quarter earnings after the market closes on Monday. The company's shares dropped 5.1% on Friday after Snap blamed its own lower-than-expected revenue on Apple's recent privacy changes, which could affect Facebook's mobile advertising business as well.
🤖 CEO Mark Zuckerberg will talk about his favorite topic, the metaverse, at the virtual Facebook Connect event on Thursday.
❓ On Thursday, or possibly earlier, the company will reveal its new name—part of a broader effort to improve its image.
---
Amazon unseats FedEx
Amazon just surpassed FedEx as the third-largest package courier in the US. That's even more striking considering that Amazon only got into delivery in 2014.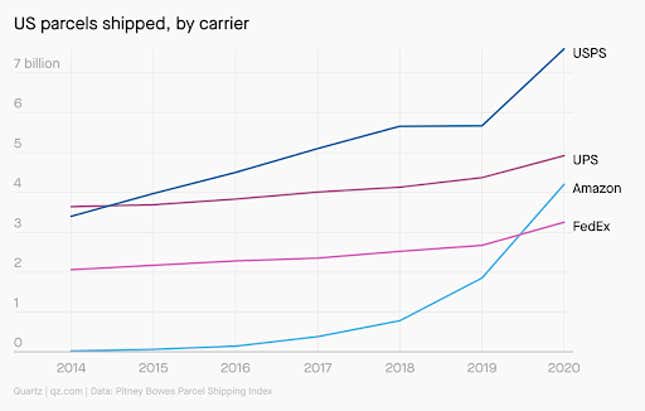 So far, Amazon Logistics has failed to catch up to its US package delivery rivals in terms of revenue. But that may only be because it offers below-market rates to its primary customer, its parent company Amazon.
---
Mind the climate gap
The Gambia is the smallest country in mainland Africa, and it produces less than 0.01% of global annual emissions. But it's still taking steps to decarbonize—making it perhaps the only country on Earth where those steps match its contribution to the problem.
That's according to new analysis from the nonprofit Climate Action Tracker, which crunches data on national climate plans and compares them to a country's "fair share" of the global decarbonization effort.
The analysis shows there is still a massive gap between countries' stated climate targets and what's needed to reach the goals set by the 2015 Paris Agreement. While the Gambia is all alone in being "Paris-compatible," Nepal, Kenya, and Ethiopia aren't too far behind.
✦ Quartz's climate economy obsession is all about highlighting the solutions that can help countries and companies cut back on carbon emissions. To read more about new developments in sustainable energy, try a Quartz membership for free.
Handpicked Quartz
🎧 These 715 songs are known to give people the chills
🪙 High bitcoin trading fees may soon be a thing of the past
📌 PayPal and Pinterest could build the digital shopping mall
& An important type foundry's sale to a PE-backed giant has rattled the font industry
🐄 The UK published a climate report recommending taxing beef and flights—and then deleted it
🦴 A TikTok-famous elderly pug is a mascot for burned-out workers
---
Surprising discoveries
A wealthy Argentinian community is clashing with cute-but-huge capybaras. The luxurious villas were built on the capybaras' wetland habitat.
The head of NASA thinks extraterrestrial life is likely. Given the vastness of the universe, he says it's likely there are "other planet Earths out there."
The art of mummification is even older than we thought. A recently discovered mummy suggests ancient Egyptians were using sophisticated techniques 1,000 years earlier than previously established.
Leos are more likely to get vaccinated than any other Zodiac sign. Analysis by officials in Salt Lake City, Utah, also found that Scorpios are the least likely to get a jab.
Japanese vending machines selling frozen fish are a pandemic hit. Customers looking to avoid Covid exposure can simply press a button to get their filets.
---
---
Our best wishes for a productive day. Send any news, comments, capybaras, and frozen fish to hi@qz.com. Get the most out of Quartz by downloading our iOS app and becoming a member. Today's Daily Brief was brought to you by Sarah Todd, Tim McDonnell, Amanda Shendruk, Nicolás Rivero, and Katherine Bell.