Good morning, Quartz readers!
Was this newsletter forwarded to you? Sign up here. Forward to a friend with the best taste in music.
---
Here's what you need to know
A cyber attack hit Iran's gas stations. State media reported consumers were unable to buy subsidized gasoline, while social media posts showed signs that had purportedly been hacked to display messages like "Khamenei, where is our gasoline?"
Alphabet's ad business is doing just fine. On top of stellar quarterly results, Google's parent company reported increases in search and YouTube advertising revenue, apparently indicating it wasn't adversely impacted by Apple's privacy update.
TikTok testified in the US Senate. An executive danced around questions about the app's collection of biometric data, while assuring senators it's not sharing information with the Chinese government. Representatives from YouTube and Snap were also grilled about their policies for kids and teens.
Joe Biden announced $100 million in funding for Southeast Asian nations. The money will go toward pandemic recovery, healthcare, a climate initiative, and education.
China Telecom lost its ability to operate in the US. The Federal Communications Commission voted to revoke licenses held by the company's Americas unit over security concerns.
Manufacturers warned the chip shortage will affect supply through 2022. European automakers said they'll be making fewer cars and GE expects a hit to its healthcare segment, although its jet-engine business is recovering quite nicely.
IKEA is taking over an iconic central London building. The Swedish furniture giant paid £378 million ($520 million) for retail space in the former Topshop flagship store.
What to watch for
Rent the Runway, the rental clothing e-commerce company, is planning to start trading on Nasdaq today. The pandemic brought wardrobe refreshes to a screeching halt, but growing online shopping interest and a college-educated female workforce—the majority of the company's subscribers—point to trends in the company's favor.
The company has also expanded from special occasion garb to a range of clothes including athleisure, making it a lot more appealing for teens and college students.
$1.5 billion: The valuation the company is hoping for in its IPO
126,841: Total subscribers in the six-month period ending July 31, up from 108,752 a year ago, but still below 2019 numbers
$157.5 million: Revenue in 2020, down from $256.9 million in 2019
$171.1 million: Net loss in 2020, up from $153.9 million in 2019
$395 billion: Expected value of the US apparel market in 2025, up from $286 billion in 2020, of which 49% is expected to be online
---
VCs are throwing cash at climate tech
In the past five years, venture capital investment in global climate tech has grown more than five-fold. Investment hit $6.6 billion in 2016, but has since climbed to $32.3 billion in the first 10 months of 2021, according to not-for-profit London & Partners and Dealroom.co, a data provider on startups.
The amount of VC funds varies significantly by country. In a list of the top 10 countries with the highest investments, there's a clear front-runner: the US.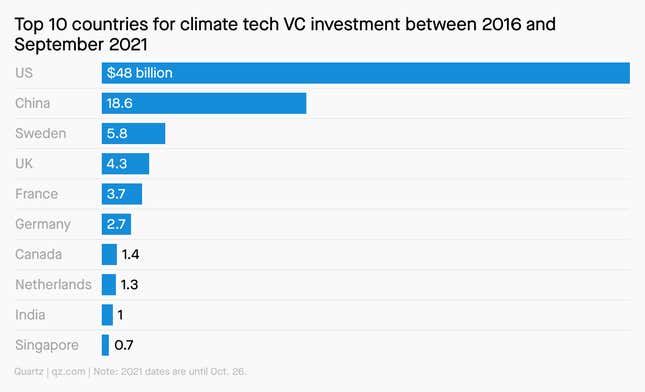 Despite fresh cleantech cash, most countries aren't making good on their Paris Agreement promises. In fact, The Gambia, though it has one of the world's smallest carbon footprints, is the only country pulling its weight.
This Sunday, world leaders will meet at COP26, the biggest climate summit since the Paris Agreement. Get on-the-ground insight throughout the conference from Quartz's Need to Know: COP26 email.
---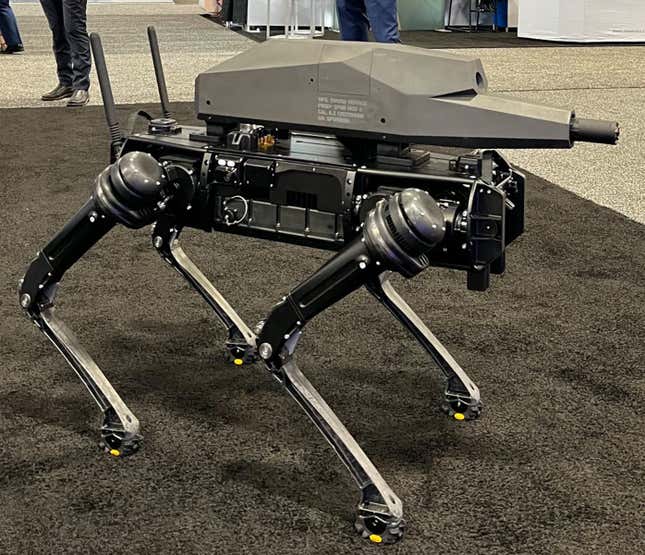 Killer robots vs. AI supremacy
Gone are the days of Sega's iDog. Robots have come a long way, especially those of the canine variety. An era of music accompanied by LED lights seems far from our new reality of Ghost Robotics and Sword Defense's machine-gun-laden hound.
Pooches aside, the US military sees autonomous weapons, so-called "killer robots," as the next evolution of warfare, with China and Russia unlikely to sit idle. But some US tech workers are objecting to companies that may use artificial intelligence to kill or surveil, and some fear an arms race could be afoot.
But in a killer robot arms race, the key to AI supremacy may be their ban, as discussed in the latest Forecast email. ✦ Quartz members get access to this weekly email, which looks at emerging trends in the global economy. Sign up today and take 40% off with code QZEMAIL40.
Handpicked Quartz
📛 Facebook's name change is not enough to fix its reputation…
🕶 …But its metaverse is key to its survival strategy
📶 Sudan shuts down the internet after a military coup
😨 10 key questions for anyone worried about China's economy (according to state media)
🙊 Why does India's Hindu right-wing hate the Urdu language so much?
👀 Scientists are closely watching a new mutation of the delta variant
Surprising discoveries
Saturn may have a sister. Astronomers have spotted what's possibly the first exoplanet in the distant Whirlpool Galaxy that shares a size with our sixth planet.
Researchers believe they found the world's oldest modern-looking crab. The 100 million-year-old, amber-preserved specimen may also be the oldest evidence of the crustacean's journey on land.
Tokyo says goodbye to the floppy disk. Yes, the central government was still using the technology (it "almost never broke and lost data"), but reluctantly bid adieu because of costs and inefficiencies.
Speaking of wildly outdated tech… The screenplay for the 2021 movie Dune was written in MS-DOS.
Spend less than $200 on meals for a year. You just need to live near a theme park with a membership plan—you should also plan to live near a decent doctor's office.
---
---
Our best wishes for a productive day. Send any news, comments, creative meal solutions, and spice to hi@qz.com. Get the most out of Quartz by downloading our iOS app and becoming a member. Today's Daily Brief was brought to you by Tim Fernholz, Ananya Bhattacharya, Michelle Cheng, Liz Webber, Susan Howson, and Morgan Haefner.