Good morning, Quartz readers!
Was this newsletter forwarded to you? Sign up here. Forward to the friend who's most likely to survive the zombie apocalypse.
---
Here's what you need to know
Shell was pressured to break up. The hedge fund Third Point, which has a roughly $750 million stake in the massive fuel company, said separating its legacy oil business from its greener ambitions would benefit shareholders, Reuters reports.
Merck will share its covid-19 pill formula with 105 countries. A licensing agreement with a United Nations-backed organization will get the treatment to the world's poorest nations faster.
The EU fined Poland. The country has to pay €1 million ($1.2 million) a day for not suspending a disciplinary chamber in its Supreme Court that the bloc says breaks EU law.
Facebook Connect is today. This year's event is about the metaverse, there may be an announcement about a new company name, and it comes as the US Federal Trade Commission is reportedly amping up scrutiny of the social media giant.
Boeing's 737 Max is on its way back to China. The country has grounded the plane since 2019, but is working with the US company to clear the model for commercial flights by 2022.
Hong Kong has a new film ban. Anyone that breaks the China-influenced censorship law faces up to three years in prison and $130,000 in fines.
---
What to watch for
The earnings bombardment continues today with a slew of food and drinks businesses. So, what's in store?
☕️ Starbucks: Office re-openings and people venturing out more in general have hopefully been a good thing for the coffee chain. Starbucks has also been expanding its global footprint, announcing Monday it's expanding its drive-thrus and stores in India. It expects to open 1,100 new locations this year.
🌮 Yum! Brands: Investors are looking to restaurant brands to gauge the effect of global supply chain hiccups on expansion plans. Yum!, which operates brands like KFC and Taco Bell, has been investing in loyalty programs and delivery to entice customers.
🍻 AB InBev and Molson Coors: The beer manufacturers are dealing with higher costs around transportation, commodities, and packaging. But continued investments in e-commerce and other trendy refreshers like hard seltzer and CBD beverages are expected to have fueled growth.
---
Baguette prices are rising in France
Crop losses in Russia and Canada, which suffered from freezing temperatures, followed by drought and extreme heat, have pushed global wheat prices to multiyear highs since August. Factor in spiking energy costs and a labor shortage, and French boulangeries will likely be forced to raise prices on the country's beloved baguettes in the coming weeks.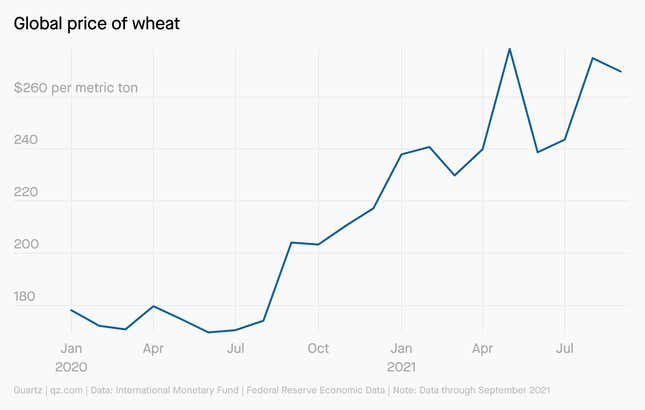 The increases could range from €0.05 to €0.10 ($0.06 to $0.12), ​​said Dominique Anract, president of the French Confederation of Bakeries and Pastry Shops. A €0.10 hike would be a lot, considering that the average price of the baguette only rose by €0.23 in the past 20 years.
---
How to ask for your old job back
Quitting your job may have seemed like a great idea—but what happens if it wasn't? Many of those who left positions during the Great Resignation are now having second thoughts, whether because they've recovered from their burnout, realized the old job wasn't the thing that was making them miserable, or discovered their shiny new gig isn't what they'd hoped it would be.
Whatever the cause, it can feel humiliating to go to your old boss and admit that you made the wrong decision and you'd like to come back after all. Just remember: The worst they can do is say no. Follow Quartz at Work senior reporter Sarah Todd's template for reaching out to your former employer (a tried-and-true email that paved the way for her to be rehired at a previous job) so you can go back to getting that bread.
✦ Quartz members can read all of the career advice from Quartz at Work without ever hitting a paywall. Sign up today and take 40% off with code QZEMAIL40.
---
Handpicked Quartz
🌴 The pandemic forced 3 million of America's baby boomers into unexpected retirement
💻 The next phase of remote work will be even more disruptive
⚡️ US bitcoin miners doubled their power consumption in four months
✈️ India's airports may not be ready for a post-covid revival in air travel
💵 Why cash incentives and lotteries for covid-19 vaccinations failed
👑 China's Xie Zhenhua is the most important person attending COP26
Psst…Quartz will also be attending COP26, the UN climate conference that starts this weekend. Follow along by signing up for our Need to Know: COP26 newsletter.
---
Surprising discoveries
A Japanese startup is selling $700,000 hoverbikes. A.L.I. Technologies, which also makes drones, promises flyers a 40-minute ride at speeds up to 100 kph (62 mph).
People want pools made from shipping containers. The cargo pools are recycled, can be installed in a few hours, and are often cheaper than other in-ground designs.
Supposed mummified migrants are actually Chinese locals. DNA from the 4,000-year-old bodies were linked to indigenous farming groups, not groups from the West as expected.
Spiders can be scared of spiders. An "arachno-arachnophobia" study found jumping spiders leap away from bigger, hairier predators.
A Shanghai Costco is an influencer magnet. Covid-19 restrictions have kept Chinese travelers from Los Angeles, so they're pretending to be stateside by posing outside of the big box store.
---
---
Our best wishes for a productive day. Send any news, comments, reduced price baguettes, and your best Costco photos to hi@qz.com. Get the most out of Quartz by downloading our iOS app and becoming a member. Today's Daily Brief was brought to you by Michelle Cheng, Courtney Vinopal, Sarah Todd, Liz Webber, and Morgan Haefner.