Good morning, Quartz readers!
Was this newsletter forwarded to you? Sign up here. Forward to a friend who loves a good shopping spree.
---
Here's what you need to know
Americans keep spending, even as prices rise. Despite inflation reaching 6.2% in October, US retail sales rose by 1.7% in the same month.
Inflation has been good for Walmart. Its lower-cost goods attracted shoppers as prices went up elsewhere, helping the company beat analysts' expectations in its latest earnings report.
Pfizer's covid-19 pill will be available for licensing. The agreement will allow poor countries to make the drug, while Pfizer has also asked the US for emergency use authorization.
Intense smog forced Delhi to shut schools. The Indian government also closed down five coal-fired power plants near the capital, just days after insisting on only "phasing out" coal at the COP26 climate summit.
Amazon will no longer accept Visa credit cards in the UK. The retailer blames "high fees."
Miramax is reportedly suing Quentin Tarantino over his Pulp Fiction NFT plans. The studio is this close to sending in the Wolf, the Wall Street Journal says, because the director wants to auction unused scripts as digital tokens.
LA's Staples Center has a new name. The home of the city's basketball and hockey teams is to be called the Crypto.com Arena.
---
What to watch for
Inflation has become a global phenomenon as the lingering pandemic continues to create snags in supply chains and push up prices for goods. Today, the euro zone, UK, and Canada each release consumer inflation reports.
Prices in all three places have been rising briskly. But the increases are unlikely to top the US's 6.2% annual rate increase seen in October. The UK's inflation rate surged to 4.2% on the back of rising energy prices.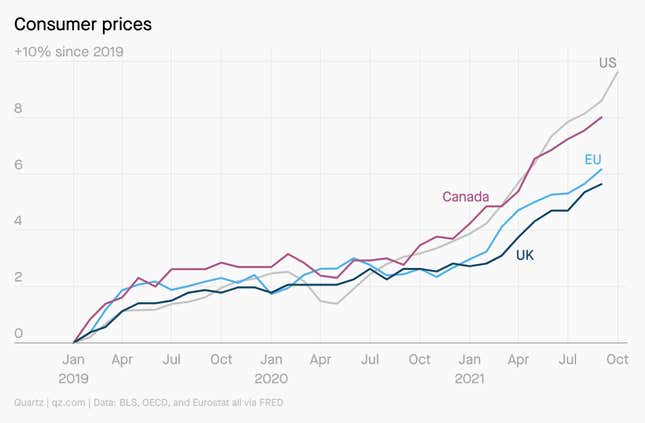 Pressure is mounting on central bankers to raise interest rates. Markets are expecting the Bank of England to be the first of the three regions to act. But, so far, European Central Bank president Christine Lagarde has said she doesn't see a rate hike in 2022. Bank of Canada governor Tiff Macklem, meanwhile, has said inflation is transitory.
---
Coming to US roads: Teen truckers
The truck driver shortage in the US, largely driven by retention issues, got a lifeline. A new law signed by president Joe Biden on Nov. 15 includes an apprenticeship program that would allow trucking companies to hire drivers as young as 18.
21: Previous minimum long-haul driving age
25,000: Number of young drivers that could be certified per year
240: Hours of supervision needed with an older driver
83%: Share of truck drivers who don't want the age change
The US's trucker shortage has been particularly worrying in the middle of a global supply chain crisis when there aren't enough drivers to haul goods out of jam-packed ports. While the industry got a win, it's unclear how many experienced drivers will want to take on an apprentice, or what it will mean for road safety.
---
The great kudzu mistake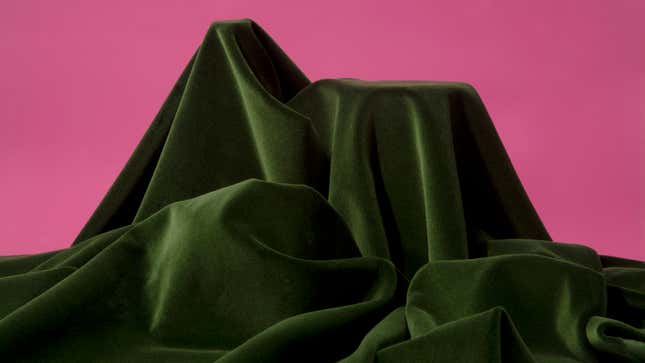 Which of the following cannot be said of kudzu, the leafy vine imported from Japan that now blankets the southeastern US?
Its delicate purple flowers make a tasty jelly
Kudzu may smother entire ecosystems, but it's at least offsetting carbon emissions
It's coming for you
Find out in the latest episode of the Quartz Obsession podcast, which tells the cautionary tale of the South's most visible invasive species.
🎧 Listen to all this season's episodes on Apple Podcasts | Spotify | Google | Stitcher
Sponsored by American Express
✦ You don't need to be a member to listen, but we've got a whole lot of other Quartz products for those who join up. Celebrate Members Week with us by grabbing a membership for 50% off with code MEMBERSWEEK21.
Handpicked Quartz
🇮🇳  India's startup ecosystem doesn't need China
📱  Nigeria is punishing loan apps that abuse user data
✍️  Is the Paris Climate Agreement legally binding?
🎬  Hollywood's streaming strategy is killing its releases in China
😬  How do you resolve conflict in the hybrid workplace?
💰  The US' wealthiest 1% are pulling further away
---
Surprising discoveries
A roadrunner hitchhiked from Nevada to Maine. The desert bird hopped onto a moving van for the four-day trip.
A lost teddy bear returned home after a year. The treasured toy, which had been inadvertently left at Montana's Glacier National Park, was kept safe by a park ranger.
Japanese originated in northeast China around 9,000 years ago. Farmers brought a version of it to Japan about 3,000 years ago.
A second person has defeated HIV naturally. The woman didn't receive any treatment for the infection, which offers hope that a cure can be found for other patients.
A hypothesized mineral was found trapped inside a diamond. The rare, never-before-seen Davemaoite only forms in high pressure environments deep inside the Earth.
---
---
Our best wishes for a productive day. Send any news, comments, avian hitchhikers, and misplaced toys to hi@qz.com. Get the most out of Quartz by downloading our iOS app and becoming a member. Today's Daily Brief was brought to you by Hasit Shah, Nate DiCamillo, Susan Howson, Liz Webber, and Morgan Haefner.