Good morning, Quartz readers!
Was this newsletter forwarded to you? Sign up here. Forward to the friend who always has to have the latest thing.
---
Here's what you need to know
The US government will boycott the Beijing Olympics. It won't be sending officials to the 2022 Winter Games, though athletes, as of now, will still attend.
Aung San Suu Kyi was partially pardoned. Myanmar's former state counselor had her four-year sentence reduced to two by the leader of the ruling military. Meanwhile, victims of human rights abuses in the country sued Facebook.
Vladimir Putin and Joe Biden will meet virtually about Ukraine. On the heels of the Russian president's arms agreements with India, the US leader is expected to strongly oppose any plans Putin may have to invade.
Tesla regained speed after news of a regulatory probe. The US Securities and Exchange Commission's investigation into defective solar panels briefly pushed the automaker's stock down by over 6%.
New York City announced the first private sector vaccination mandate in the US. Details are hazy around the law's implementation, which happens days before the city has a new mayor.
BuzzFeed's IPO shook confidence in media companies' mergers with SPACs. Shares sank as much as 17% at its Nasdaq debut.
The euro is getting a facelift. In a push to become more relatable, the EU's central bank, with input from the public, will choose a new banknote design by 2024.
---
What to watch for
Today the US Census Bureau and the US Bureau of Economic Analysis will release data on the balance between US exports and imports for October. Meanwhile, the General Administration of Customs is releasing China's export and import data for November.
As the pandemic changed the composition of US consumer demand away from services and toward goods, it increased a longstanding trade deficit that the US has with China. In September, the global US trade deficit hit what economists think was its peak. Preliminary data have shown that US exports in food, autos, and other goods picked up in October. In the same month, China had a record monthly trade surplus.
Ahead of the new reports, here are where a few key numbers stand:
-$80.9 billion: US trade balance in September
$84.5 billion: China trade balance in October
–$98.2 billion: US goods deficit in September
---
If inflation isn't transitory, what is it?
US Federal Reserve officials have described rising prices as part of a pattern of transitory inflation. But chair Jerome Powell has said he wants to retire "transitory" for a clearer adjective.
The chief problem with "transitory" is that the word "doesn't communicate how persistent something can be," according to Riccardo Trezzi, a former economist at both the Fed and the European Central Bank.
Instead, Powell could favor these adjectives:
not chronic: It means inflation is not systemic and won't persist for a long time.
al ratito: In Spanish, it means "in a little while," but it's technically indefinite.
vorübergehend: It means "over-going" in German, and suggests brevity, but isn't strictly implied.
---
Insuring the insurers
One thing that's becoming less transitory and more persistent is natural disasters due to climate change. But as the severity and cost of catastrophes increase, insurance companies need to get bailed out, too.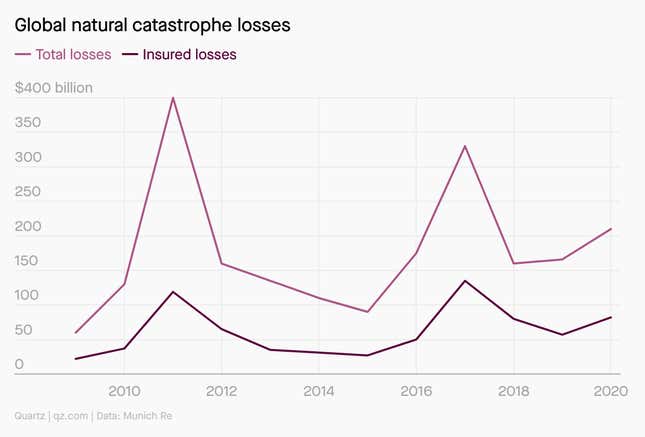 Enter reinsurance, the global economy's last backstop for the costs of climate chaos. In many cases, those costs fall to Swiss Re, the world's second largest reinsurer by value of premiums written. But even as premiums rise globally, an S&P analysis found that reinsurers are likely underestimating climate risk by 33-50%.
Can Swiss Re and its peers cover their bases? ✦ The dilemma was discussed in our latest Company email, which offers Quartz members a closer look at the companies changing business. Try a free membership for a week.
---
Handpicked Quartz
💉  Is it time to change the definition of "fully vaccinated"?
🍟  Disposable culture is diminishing the power of brands
👩🏾‍💻  Girls Who Code CEO Tarika Barrett on what causes tech's gender gap
🚫  These are the US states with laws ready to ban abortion
🚢  Why fewer ships are anchoring at the Port of Los Angeles
🛢  Oil billionaire Mukesh Ambani explains why data is better than oil
---
Surprising discoveries
New York City is running out of cream cheese. Only a few days remain until dry bagels.
Michael Sheen is now a not-for-profit actor. The British star is tired of accumulating wealth.
An Italian man tried to get a vaccine in a fake arm. The health worker was offended, but not fooled.
Researchers are arguing about the artistic intent of 200,000-year-old handprints. What will researchers say about us in 200,000 years?
Japanese whisky has its own signature cocktail. The recipe may be simple, but the spirit's place in the global economy is complex. Learn more—including how to make the Japanese whisky highball—in the latest episode of the Quartz Obsession podcast.
🥃  Drink up all this season's episodes on Apple Podcasts | Spotify | Google | Stitcher
---
---
Our best wishes for a productive day. Send any news, comments, two-ingredient cocktail recipes, and cream cheese stashes to hi@qz.com. Get the most out of Quartz by downloading our iOS app and becoming a member. Today's Daily Brief was brought to you by Nate DiCamillo, Samanth Subramanian, Tim McDonnell, Susan Howson, and Morgan Haefner.