Good morning, Quartz readers! Sorry we're late, but we also got caught up in the Amazon Web Services outage (see below).
Was this newsletter forwarded to you? Sign up here. Forward to the friend who never grows tired of superhero films.
---
Here's what you need to know
An Amazon Web Services outage knocked out major internet apps and services. These include Netflix, Disney+, Robinhood, and Amazon's own shopping site.
Weibo shares fell 7% in its Hong Kong debut. The Chinese social media giant—which is also listed in the US, where its stock prince has plunged alarmingly—raised $385 million in Hong Kong.
Samsung replaced its CEOs and reorganized. Kyung Kye-hyun will run the components division, while Han Jong-hee will lead the newly combined mobile and consumer-electronics unit.
Evergrande and Kaisa failed to make payments. The Chinese property developers' latest missed deadlines could trigger defaults on their other bonds, according to Reuters.
The United Arab Emirates is moving its weekend. The government said it will shift to Saturday and Sunday, with a half-day of rest on Friday, to align better with global business norms.
---
What to watch for
Today Adam Mosseri, the head of Instagram, will testify before the US Senate Commerce Committee about the safety and wellbeing of teens and children on the Facebook-owned (or, Meta-owned) app.
Instagram came under scrutiny for trying to build a so-called Instagram Kids, a version of the app intended for children under 13. Mosseri said on Sept. 17 that those plans were postponed, a decision that came in the wake of the Facebook whistleblower Frances Haugen's initial document leaks to the Wall Street Journal. One internal report allegedly found that Instagram made teen girls who already had self-image issues feel worse about themselves.
Ahead of the testimony, Instagram announced yesterday new parental controls and the ability for teens to opt out of being tagged or mentioned in posts.
---
More trouble for Big Tech…
In a rare move, the British government last week moved to nix a deal between Facebook and Giphy over antitrust concerns. It comes after nearly two decades of unchecked growth for Big Tech.
Here's a snapshot of tech M&A during that time:
1,000: Firms Alphabet, Amazon, Apple, Meta, and Microsoft bought in the past 20 years
97%: Portion of those deals regulators didn't assess
85%: Portion of about 600 Big Tech deals that fell under the US Federal Trade Commission's financial reporting threshold in the past decade
451: Pages in a 2020 US report alleging the firms abused market power
The Facebook-Giphy breakup—which Meta plans to appeal—further suggests this regulation-light era is sunsetting as new standards emerge in the global antitrust arena.
---
We're obsessed with office chairs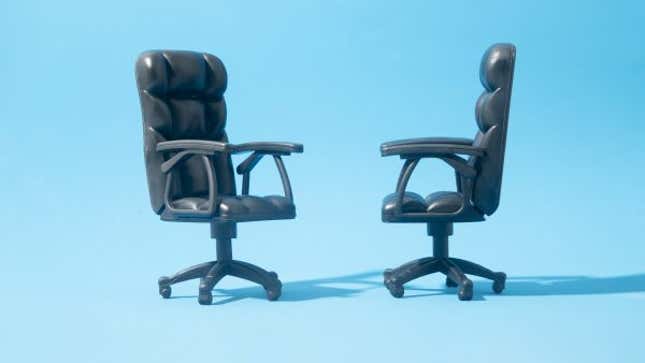 Quartz At Work reporter Anne Quito has been researching office chairs for seven years. So what does she sit on now that she works from home?
A Herman Miller Aeron chair (so iconic, so mesh)
An exercise ball (good for the core)
A stepladder (sometimes, you just have to get creative)
Learn about the fascinating history of office chairs and how they've molded to fit both our physical needs and our social whims. The newest episode of the Quartz Obsession podcast is here.
✦ This is the last episode of Season 1, unless you're a member! Sign up for a free 7-day membership trial today to receive a special bonus episode next week.
🎧 Sit back and listen to all of this season's episodes on Apple Podcasts | Spotify | Google | Stitcher
Sponsored by American Express
---
Handpicked Quartz
💵  Why Elon Musk is no longer a fan of government subsidies for electric cars
🎓  Harvard is the first Ivy League university to recognize caste-based discrimination
🌴  The spoils of Miami's tech boom are not distributed equally
🦸🏻‍♀️  Audiences are tiring of superhero movies. Will Hollywood care?
🙅🏻‍♂️  "Lying flat" is officially one of China's top memes of 2021
🇨🇭  Switzerland is dropping travel restrictions while everyone else freaks out
---
Surprising discoveries
Astronomers discovered a planet where a year lasts 7.7 hours. Surface temperatures likely reach 2,700°F (1,500°C), due to GJ 367 b's proximity to its star.
A 13-year-old found a Bronze Age ax in England with a metal detector. Once they started digging, her family located another 65 artifacts.
Researchers and artists made a "black box" for Earth. It will keep a record of climate change news and research to track the planet's possible demise.
China's Moon rover took a photo of something that looks like a hut… It's likely just an upended boulder, but Yutu 2 is on its way to investigate.
…and this tiny camera's photos rival those taken by your smartphone. The entire apparatus is the size of a grain of salt.
---
---
Our best wishes for a productive day. Send any news, comments, Bronze Age goodies, and less alarming time capsules to hi@qz.com. Get the most out of Quartz by downloading our iOS app and becoming a member. Today's Daily Brief was brought to you by Hasit Shah, Scott Nover, Liz Webber, and Morgan Haefner.