Good morning, Quartz readers!
Was this newsletter forwarded to you? Sign up here. Forward to the friend who orders from ghost kitchens.
---
Here's what you need to know
Evergrande was labeled a defaulter. The Fitch ratings agency is the first to impose the classification on the Chinese property giant, which has struggled to pay its huge debts.
Italian authorities fined Amazon $1.3 billion. The punishment is for alleged abuse of market dominance, and is one of the largest fines imposed on US tech companies in Europe.
More countries joined the US diplomatic boycott of the Beijing Olympics. Canada, Australia, and the UK won't send officials to the Winter Games either, but China said the UK had never been invited.
The defense rests in the trial of Elizabeth Holmes. The Theranos founder, who denies fraud, testified yesterday that she'd "never" lied to investors.
Indian farmers called off their year-long protest. The government dropped three controversial farm laws last month, and agreed to compensate families of farmers who died during the agitation.
The last Quartz at Work (from anywhere) workshop of 2021 is today. Join us at 4pm GMT for a conversation on how to work social impact into your career.
What to watch for
Over the weekend, Beijing published a white paper on the virtues of its democracy, followed by a report the next day on the terminal malaise of the US political model. The main takeaway—that China is more democratic than the US—comes conveniently just before US president Joe Biden hosts the two-day Summit for Democracy (China wasn't invited).
According to the NGO Freedom House, which annually gives countries a freedom rating from 0-100 based on citizens' individual rights, the US scores 83, while China, with a score of 9, is among the world's least free. Of course, some of Biden's invitees also fall in that category.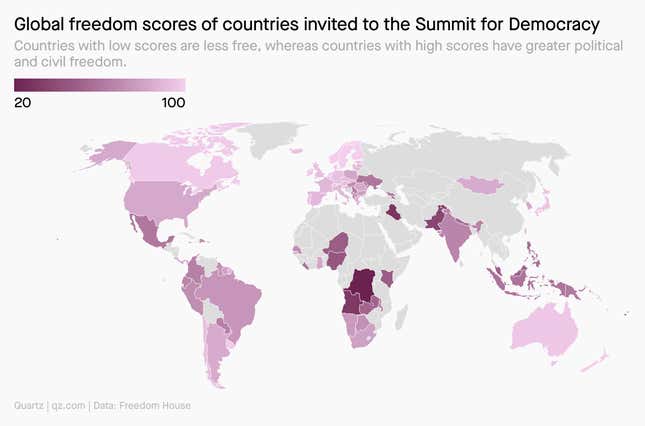 But China "strategically manipulates the discourse about democracy" to legitimize authoritarian rule, Tsinghua University political scientist Yue Hu wrote in a 2018 paper. Beijing is also wagering that putting its own stamp on democracy will help in its strategic competition against the US for global influence.
---
Another type of global report card
The Carbon Disclosure Project (CDP), a UK nonprofit that acts as a gold-standard clearinghouse for corporate climate data, issued its latest evaluations of corporations' climate strategies on Dec. 7. To score an "A," companies must have science-based net zero targets, disclose their emissions and have those audited by a third party, and provide proof of year-over-year progress on reducing emissions and increasing the use of renewable energy.
13,000: Companies that disclosed some form of climate data and strategy in 2021
64%: Global market capitalization represented by that group
200: Companies that scored an A
4,000: Companies—including Chevron, Exxon Mobil, and Volvo—that scored an F because they hadn't disclosed climate data to CDP in spite of a request to do so
---
How did charts help you in 2021?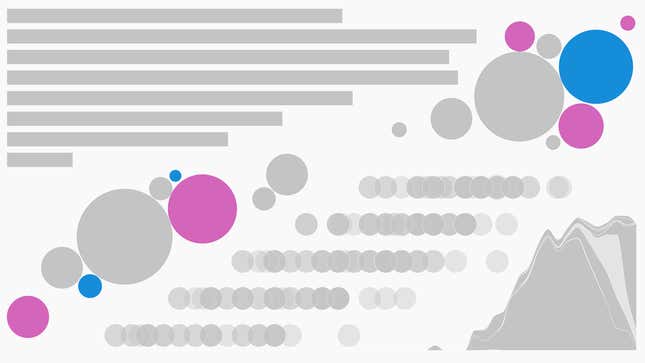 Did a chart—at Quartz or elsewhere—help you better understand the world? Perhaps one that perfectly represented your thoughts in a visual way, so much so that your friends asked you to stop sending it, please?
We're rounding up the charts that you loved in 2021. Send us a screenshot or link, along with a couple of sentences about why you like it, to reply@qz.com.
(Can't remember how to find it, exactly? If you're thinking of a Quartz chart, we can probably get our hands on it if you give us a brief description.)
💌 In return, we'll send you a special code for 40% off a membership, which will give you access to the best charts of 2021 and a whole lot more. Want to see exactly how much more? Try it today.
---
Handpicked Quartz
😬 A total Amazon cloud outage would be the closest thing to the world going offline
💉 India's largest vaccine maker threatens to cut production by half
✨ Why signs of an improving supply chain are an illusion
🥽 Snap is already delivering on the future Meta is promising
🤔 All the ways White House press secretary Jen Psaki was wrong about rapid testing
🇮🇳 India is among the world's most unequal countries—and it's getting worse
Surprising discoveries
Canary Island bees sealed themselves in their hives after September's volcanic eruption. They were buried under ash for weeks and survived by eating stored honey.
Some sea creatures are making their homes on plastic garbage islands. It sounds like another tale of resilience, but scientists warn about the spread of invasive species.
Wine made from grapes tainted by wildfires was turned into vodka. While a smoky flavor may not work for California reds, the spirit is "very easy to sip."
Saudi Arabia disqualified more than 40 entrants at its camel beauty pageant. With $66 million in prize money on the line, it's no wonder some owners resort to Botox and face lifts.
There's a right and a wrong way to shop for office chairs. In the latest episode of the Quartz Obsession podcast, reporter Anne Quito explains her "zoom in, then zoom out, then zoom even further in" strategy.
🎧 Sit back and listen to all of this season's episodes on Apple Podcasts | Spotify | Google | Stitcher
---
---
Our best wishes for a productive day. Send any news, comments, bee survivors, and repurposed alcohol to hi@qz.com. Get the most out of Quartz by downloading our iOS app and becoming a member. Today's Daily Brief was brought to you by Hasit Shah, Mary Hui, Clarisa Diaz, Tim McDonnell, Liz Webber, and Susan Howson.