Good morning, Quartz readers!
Was this newsletter forwarded to you? Sign up here. Forward to the friend who's always wondering what could have been.
---
Here's what you need to know
European gas prices jumped 30%. The increase comes amid ongoing concerns about Russia sending more of its supplies eastward.
Covid lockdowns intensified in China. Thirteen million Xi'an residents have been home-bound since Dec. 22 and are having trouble getting food and medical care. Meanwhile, another 1.1 million people in Yuzhou face similar shutdowns.
China's zero-covid policy is at the Olympics. A bubble for staff—into which 3,000 athletes will eventually enter—was sealed Tuesday. Separately, Beijing is working to launch its digital yuan for use at the games.
India's third covid wave arrived. Fueled by omicron, the country saw over 37,000 new covid infections Jan. 3, the highest since September. In the US, daily cases topped 1 million after a holiday reporting backlog.
Toyota overtook General Motors as the US's best-selling carmaker. US sales for the Japanese automaker grew 10% last year, while GM's sales sank 13%.
Google bought an Israeli cybersecurity firm. The $500 million deal for startup Siemplify signals the US tech giant is expanding its security offerings, according to Reuters.
---
What to watch for
Omicron, you may have heard, is raging. But that hasn't stopped the annual Consumer Electronics Show (CES) from plowing forward. After a completely virtual 2021 event, it expects its in-person comeback to host 75,000 attendees and 2,200 exhibitors, even with a long list of companies that have opted to pull out, including Meta, Amazon, and Twitter.
Conference-goers can expect the on-stage conversation to hit on some familiar themes:
🚗 Electric and autonomous vehicles (GM, John Deere)
🕵️‍♂️ Crypto and NFTs (Coinbase, UTA)
📶 5G (Verizon, Oracle)
🔮 Future of the workplace (Citrix, HTC)
🦾 Cybersecurity (USTelecom, Samsung)
And, of course, the metaverse and web3 will be unavoidable buzzwords during the event—popping up in conversations around virtual reality (VR), augmented reality (AR), cloud technology, computing power, broadband, and crypto.
---
Americans will be swimming in rapid covid tests
The scarcity of rapid tests in the US, paired with the super-contagious omicron variant, has touched off a bullwhip effect in the testing supply chain. Unfortunately, at-home covid tests are likely to flood pharmacy shelves and Americans' mailboxes just after the first omicron wave has passed.
Abbott, the maker of BinaxNow rapid covid tests, saw a slump in sales after vaccinations took off last spring. So it shut down one of the factories where it had produced at-home tests, laid off thousands of workers, and directed its remaining workers to destroy 8.6 million unused test cards.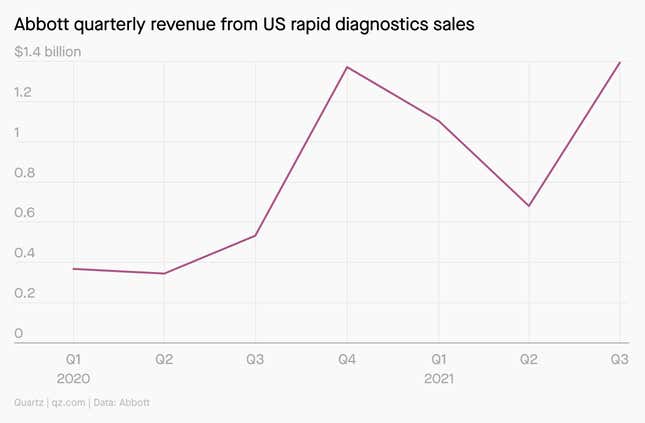 Well, at any rate, the lessons learned from this particular supply crisis shouldn't be wasted. During the next pandemic, Americans just might be able to expect a better testing infrastructure.
---
Tell us your perspective
We're on a mission to help readers navigate the global economy and deliver perspectives you won't find anywhere else. How are we doing? Complete our survey, and you'll be entered for a chance to win a $250 Amazon gift card.
---
Handpicked Quartz
📈  The US quits rate returned to a record in November—and that was before omicron…
📈 📈 …But this year, minimum wages are going up across the US
🤑  How you could have made $1.3 trillion by perfectly trading the S&P 500 in 2021
⛔️  The US has removed three African countries from a tariff-free trade program
🆙  The real enemy in Don't Look Up is Big Tech
---
Surprising discoveries
Taiwan's government is sharing rum recipes with the public. It has to use the 20,400 bottles it bought from Lithuania that China was going to block.
The hottest commodity of 2021 was lithium. We expected it to be coffee too.
Good luck getting a colored tattoo in the EU. Thanks to a new ban, the ink became much tougher to come by.
A Paraguayan presidential aide died in a deer attack. The animal ran an antler through the man's chest.  
Crystal Pepsi is back (kind of). If you have a bad photo from the 1990s, it could win you some of the clear cola no one wanted.
---
---
Our best wishes for a productive day. Send any news, comments, government-sponsored cocktails, and regular Pepsi to hi@qz.com. Get the most out of Quartz by downloading our iOS app and becoming a member. Today's Daily Brief was brought to you by Scott Nover, Morgan Haefner, and Susan Howson.