Good morning, Quartz readers!
Was this newsletter forwarded to you? Sign up here. Forward to a friend who lives for the drama.
---
Here's what you need to know
Economists are optimistic about the latest US jobs data. The monthly figures are released at 8.30am US eastern time, and up to 400,000 jobs may have been added, a survey suggests, compared to 210,000 last month.
GameStop is reportedly getting into NFTs and crypto. According to the Wall Street Journal, last year's favorite meme stock is planning to consolidate its comeback with a foray into new tech.
Samsung expects fourth-quarter profits to jump more than 50%. The world's biggest chip maker thinks it has recovered, and estimates it made $11.5 billion in that period.
The Philippines threatened to arrest unvaccinated people. President Rodrigo Duterte said he is "appalled" at the number of Filipinos who have not taken the jab.
Australia is investigating more tennis players' visas. While Novak Djokovic awaits a court hearing on Monday, officials are checking others who may not have met vaccine-related requirements ahead of the Australian Open.
Coca-Cola knows you like Fresca with booze. A new line of increasingly popular canned cocktails, made in partnership with Constellation, is another step away from the "too-sweet, neon-colored offerings" of yore.
---
What to watch for
The US Supreme Court will hear oral arguments today against two covid vaccine mandates. One requires companies with 100 or more workers to ask for proof of vaccination or test employees weekly, and another mandates vaccination for workers at healthcare organizations that get government funds.
Challenges against the mandates come from business and religious groups, as well as Republican-led states, that argue the rules are an overreach of power. But most Americans support vaccine mandates, and other countries are taking even stronger actions (just look at Australia and the Philippines above). Here's a reading list to catch you up:
1️⃣  Emmanuel Macron wants to exclude the unvaccinated from nearly everything
2️⃣  Almost 70% of Americans want vaccine mandates
3️⃣  New York City's new vaccine mandate is the US private sector's strictest yet
4️⃣  A history of legal vaccine mandates shows they are successful
5️⃣  How to take the politics out of vaccine mandates in the workplace
---
Is the Amazon-Rivian deal still on?
Amazon is giving investors in electric vehicle maker Rivian reason to be a lot more incredulous. The e-commerce giant said it would be the first commercial customer for the Ram ProMaster electric van, which Stellantis plans to launch in 2023.
Amazon said it plans to put thousands of the Stellantis vans on the road as part of the long-term agreement. If you think that sounds an awful lot like Amazon's order for 100,000 electric delivery vans from Rivian, so do investors.
Amazon and Rivian both insist their deal, which Amazon is not obliged to keep, is still on. But that didn't keep Rivian's stock from falling by 11% when the Stellantis order was announced on Jan. 5.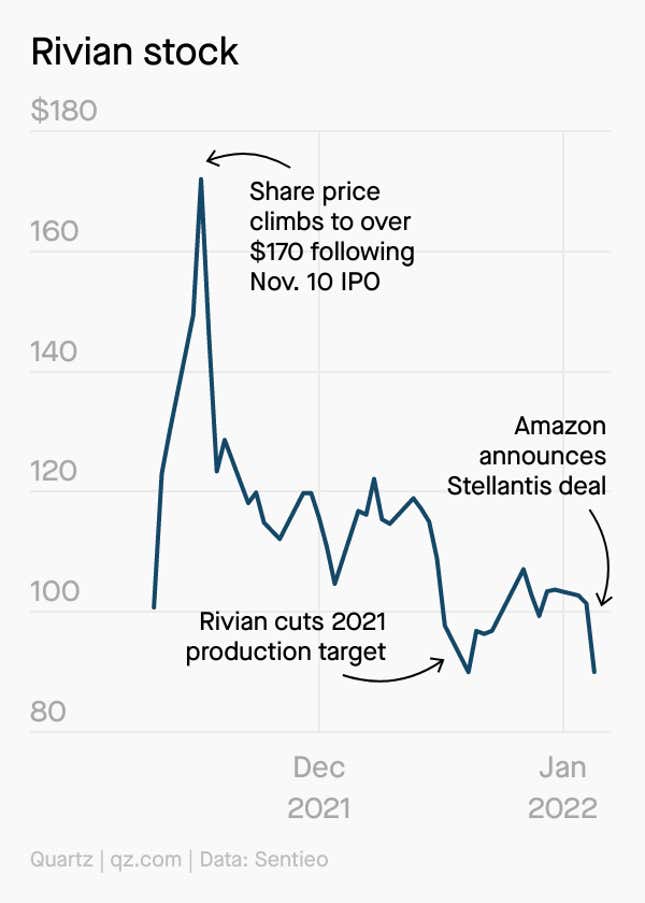 Handpicked Quartz
🩸  The Theranos trial was a pop culture phenomenon
🚢  Maersk is no longer the world's largest shipping line
📱  Right-wing Indians have their own app to manipulate WhatsApp and Twitter
🎾  Novak Djokovic is spending the weekend in an immigration detention center
⚽️  How covid-19 could disrupt the Africa Cup of Nations
---
Surprising discoveries
A South Korean presidential candidate has promised government payments for hair loss treatment. The platform is very popular with bald voters.
A hand-drawn map shared on social media helped a man find his birth mother. Li Jingwei was abducted at age 4 but still remembered details of his village.
Psychedelic Southern Comfort posters mailed in 1971 finally arrived. A Florida family tracked down their home's previous owner with the affinity for the sweet spirit.
Azteca ants repair holes in their trees. Researchers speculate it's a selfish behavior to protect the colony's young.
A few prehistoric geniuses created many of humanity's big technological innovations. And not all of them were Homo sapiens.
---
---
Our best wishes for a productive day. Send any news, comments, late packages, and niche campaign promises to hi@qz.com. Get the most out of Quartz by downloading our iOS app and becoming a member. Today's Daily Brief was brought to you by Hasit Shah, Courtney Vinopal, Liz Webber, and Morgan Haefner.