Good morning, Quartz readers!
Was this newsletter forwarded to you? Sign up here. Forward to the friend who always wanted toy rockets.
---
Here's what you need to know
Violence intensified in eastern Ukraine. Cease-fire breaches—which Russia-backed separatists and authorities in Kyiv pitted against each other—led to schools getting hit by mortar shells. The tension hasn't been good for stocks.
Tesla is being probed. US officials are fielding complaints about false braking in vehicles. Meanwhile, CEO Elon Musk sparred with the government over a civil securities settlement.
Hong Kong is considering city-wide covid testing. New cases are up 60-fold this month.
Walmart reported earnings. Thanks to inflation, the retail giant is seeing more price anxiety among its shoppers.
India has big green hydrogen plans. The country wants to produce 5 million metric tons (5.5 million tons) of the cleaner fuel by 2030 to meet its climate goals.
An Olympics official made a controversial Uyghur comment. Yan Jiarong, a spokesperson for the Games, called claims of human rights violations against the Muslim population "lies."
❄️ It's not too late to get up to speed with the Olympics, we promise! Sign up for our Beijing 2022 email using the button below.
---
What to watch for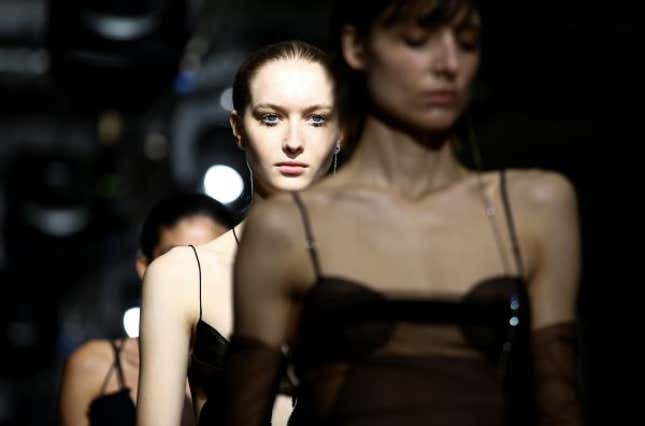 London Fashion Week kicks off today. Burberry, the week's traditional anchor, will be absent alongside some big names like Victoria Beckham and Mulberry. It was a similar story in New York last week with Tom Ford, who didn't manage to show because much of his team was down for the covid count.
But, out of the big four fashion weeks, London is best known for launching new talent. Emerging favorites like maximalist Richard Quinn and last year's LVMH prize winner Nensi Dojaka (whose work is pictured above during London Fashion Week 2020) are hot tickets.
The luxury sector in general is looking fine. Hermes reports full year results today, and recent earnings reports from LVMH and Kering, globally the two most dominant luxury groups, saw record revenue in 2021. The former saw revenue jump 44% compared to the year before and Kering rose 35%, both well over 2019 levels.
---
Dude, where's your semiconductor?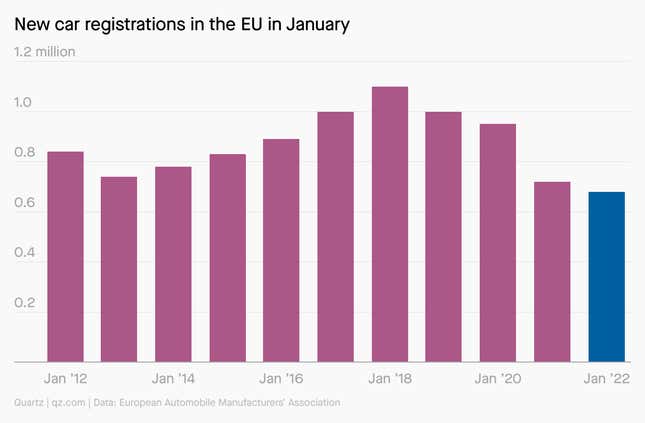 European car sales fell for a seventh straight month, thanks to the seemingly endless chip shortage. Just 680,000 new cars were registered across the EU last month—a new historic low for every January since the European Automobile Manufacturers' Association (EMEA) first started keeping track in the 1990s. The traditional European companies—Volkswagen, which owns Audi, Skoda, and Porsche; Stellantis, which owns Peugeot, Fiat, and Citroën; Renault; BMW; Mercedes-Benz—all registered drops in sales compared to January 2021.
January wasn't so bad for everyone: Asian manufacturers are weathering the semiconductor storm better, thanks to sturdier supply chains. But Toyota and Honda have acknowledged that their chip stores are nearing exhaustion and have signaled a tougher year ahead.
---
The business of being cool
A lack of chips may be slowing car manufacturing, but elusivity can increase (or even create) a luxury item's cool factor. Mid-century modern furniture designer Herman Miller built its whole brand on selling a fantasy—and its rampant success means it's had to deal with its fair share of imitators. ✦ Members get a deep dive into one company that's impacting the global economy each week. Try a free week of membership for the full experience.
Handpicked Quartz
💵  🌍 The world spends 6,000 times more on environmentally harmful subsidies than on carbon offsets
💵  🚀 SpaceX's latest innovation is letting a billionaire pay to be a test pilot
💵  🏥  The average out-of-pocket expense for covid hospitalization in the US is now $4,000
💵  🏠  Even with pandemic aid, more US renters aren't able to pay on time
⛑  Microsoft is adding user safety measures to its AltspaceVR platform
🤷‍♀️  Why aren't consulting firms held to the same standards as their clients?
---
Surprising discoveries
A meteorite struck a dog house. So, naturally, the tin enclosure is being auctioned off for $200,000.
Peloton wants you to feel like you're on Rainbow Road. The company's new video game is landing better than its recent earnings. 
A green bean stick bug made history. It's the first to be half male and half female.
Middle schoolers are getting extreme with note-passing. A class in New Hampshire sent their inscriptions to a class in Norway via a miniboat.
A new edition of Google Docs won't have page breaks. Add that to the long list of ways the program has completely changed collaborative work. Unconvinced that Google Docs are revolutionary? Listen to the latest episode of the Quartz Obsession podcast.  
☁️ Listen on: Apple Podcasts | Spotify | Google | Stitcher
---
---
Our best wishes for a productive day. Send any news, comments, dogs that survived meteorites, and trans-Atlantic greetings to hi@qz.com. Get the most out of Quartz by downloading our iOS app and becoming a member. Today's Daily Brief was brought to you by Tiffany Ap, Samanth Subramanian, Morgan Haefner, and Susan Howson.