Good morning, Quartz readers!
Was this newsletter forwarded to you? Sign up here. Forward to the friend who refuses to go back to a sad desk salad.
---
Here's what you need to know
Russia bombed a Ukrainian maternity hospital. An air strike on Mariupol reduced the facility to rubble with patients inside. At least three people, including one child, were killed.
Foreign ministers from Ukraine and Russia met in Turkey. It's the first time Ukrainian foreign minister Dmytro Kuleba and his Russian counterpart Sergei Lavrov have met in person since the war began. Kuleba said his expectations were low.
Moscow may soon not be able to pay its debts. A credit ratings agency said that loan defaults by the Russian government are "imminent." Iconic Russian automaker Lada is also feeling the effects of sanctions, halting production in its factories.
Chelsea football club owner Roman Abramovich was sanctioned. The oligarch was among the most recent group to have assets frozen and a travel ban imposed by the UK government.
Amazon will be withholding its services from Russia. Customers in the country will no longer be able to watch Prime Video, and Amazon won't make retail deliveries in Russia or neighboring Belarus.
Hong Kong shifted to reducing covid deaths and severe cases. Chief executive Carrie Lam announced that universal testing would be postponed.
Yoon Suk-yeol will be South Korea's new president. The conservative People Power Party's candidate beat the ruling Democratic Party's Lee Jae-myung, who conceded early this morning.
What to watch for
Today and tomorrow, the EU will officially discuss Ukraine's membership request, alongside Georgia's and Moldova's. The crisis gives strong symbolic weight to Kyiv's bid, but it's not easy to become the new kid on the bloc. New states wishing to be included must:
☑️ Apply
🔲 Obtain official candidate status
🔲 Satisfy political, economic, and institutional criteria, including adopting thousands of laws
🔲 Be approved by all members, and the European Parliament
🔲 Get every state to ratify the membership
It's likely the EU will just grant Ukraine candidate status—granting fast-track approval would require a member vote to amend procedures. Further, the recent inclusion of Poland, Hungary, Romania, and Bulgaria show hasty admission can come at the price of having members that don't end up meeting legislative or political standards. Not to mention, with Ukraine in the EU, NATO involvement in the war would likely happen faster.
---
What happens when a Russian oligarch's yacht is seized?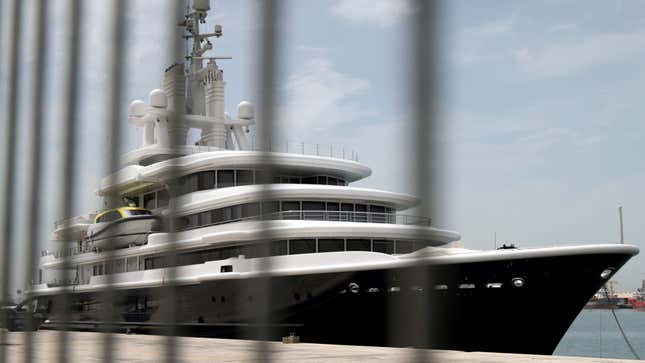 French customs officers boarded the Amore Vero—the $120 million, 289-foot yacht believed to be owned by Russian oligarch Igor Sechin—during the night of March 2-3 and seized the vessel in accordance with the EU's sanctions on Russia. So, what happens now?
Seized superyachts like the Amore Vero are expected to remain in the custody of the harbor where they were detained. Since the owners are sanctioned, they can't pay the crew, mooring fees, or hefty maintenance costs, which annually can run up to 10-15% of the ship's value. Depending on how long sanctions are enforced, the yachts may be treated like captured warships, kept and maintained at a minimum level to keep them from sinking and polluting the surrounding waters.
---
How to keep a healthy news diet
For anyone interested in knowing more about the war in Ukraine and its consequences, a healthy news diet is essential. But with an ocean of information to drown in, it's important to know what to consume, and what to avoid. ✦ News editor Hasit Shah explains how to get started. You'll have to be a Quartz member to read his tips; start your seven-day free trial today.
---
Handpicked Quartz
🇮🇳 Why do many Indians want to join Ukraine's fight against Russia?
💉 Lithuania canceled its vaccine donation to Bangladesh
📈 Why the surge in nickel prices is bad for a Chinese nickel giant
🛢 How the US's oil ban will affect the global economy
🥗 Salad chain Sweetgreen says it'll be fine without a full return to offices
Surprising discoveries
Endurance has been found. Antarctic explorer Ernest Shackleton's legendary wooden ship is shockingly well-preserved.
The pig heart transplant didn't take. The subject of an experimental organ transfer has died after two months.
Tinder will let you dig deep before swiping right. In an effort to increase safety, the dating app will now let users perform a background check right on their phones.
It's about to rain giant spiders on the US east coast. If you suddenly stop receiving Daily Briefs, you'll know why.
Disco was named after discotheques, not the other way around. Find out why you should give the history as well as the music itself a closer look with the latest episode of the Quartz Obsession podcast.
🕺 Listen on: Apple Podcasts | Spotify | Google | Stitcher
---
---
Our best wishes for a productive day. Send any news, comments, Donna Summers song recs, and spider umbrellas to hi@qz.com. Get the most out of Quartz by downloading our iOS app and becoming a member. Today's Daily Brief was brought to you by Annalisa Merelli, Aurora Almendral, Clarisa Diaz, Hasit Shah, Susan Howson, Liz Webber, and Cassie Werber.