Good morning, Quartz readers!
Was this newsletter forwarded to you? Sign up here. Forward to the friend who never left Tumblr.
---
Here's what you need to know
Russia wants to seize assets of departing companies… The country said it could take temporary control of firms with at least 25% foreign ownership, a move the White House called "lawless." Burger King, Goldman Sachs, and JPMorgan have joined the exodus of Western countries leaving.
…and its foreign minister sees no economic future with the West. Sergey Lavrov told CNBC that sanctions won't cripple the country's finances, though the Kremlin said Russia's economy is in shock.
The EU rebuffed Ukraine's fast-track membership. Leaders in Western Europe want to deepen their relationship with the country, but cautioned against moving too quickly. Meanwhile, ceasefire talks between Russia and Ukraine failed as the crisis in Mariupol worsened.
US inflation rate hits 7.9%. That's the biggest year-to-year increase since 1982, pushed by rising prices for energy, food, and raw materials.
Congress passed a budget to avert another government shutdown. The legislation, which now goes to president Joe Biden, includes $13.6 billion in emergency aid for Ukraine.
The CDC said 98% of Americans can stop wearing masks indoors. 94% of US counties are experiencing low enough rates of Covid transmission that they're no longer needed, the agency said. Meanwhile, United Airlines said it will allow unvaccinated employees to return to work on March 28.
JD.com had its first annual loss in three years. The e-commerce giant saw its Nasdaq-listed shares drop as much as 18% on the results.
Peloton will try subscriptions. The stationary bike company will couple fees for equipment and content into one monthly payment in select US stores.
---
What to watch for
Today is the second anniversary of the moment at which the World Health Organization called the spread of a troubling novel coronavirus a "pandemic." While some areas of the world are shedding mitigation efforts at a rapid clip, others are struggling with bigger waves than they've ever seen before.
Let's take a look at two regions on opposite ends of the spectrum:
📈 Hong Kong's death rate surpassed the US's worst day… 
🧳 …And its lockdown is driving an exodus
🧐  In a very American fashion, the US is following a "test to treat" plan 
🤷‍♀️  (But good luck finding a location)
---
Don't look up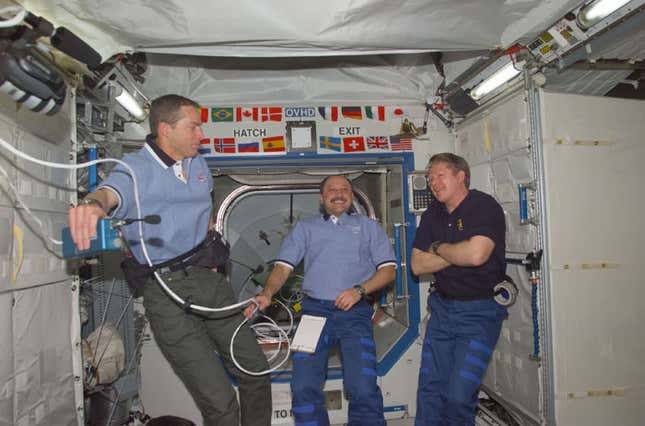 The International Space Station traditionally serves as an example of how countries can work in harmony (pictured above, from left to right, astronaut James Wetherbee, cosmonaut Yury Usachev, and astronaut Bill Shepherd catching up after the US Space Shuttle Discovery arrived in March 2001.)
But now the 15-nation project is experiencing its largest ever divide between two major partners, the US and Russia. Russia's top space official—known for overblown Twitter rhetoric on his best days—has suggested that due to sanctions, Russia would abandon the ISS and let it crash into Earth. In reality, it's more complicated.
If Russia declined to participate in the ISS and went so far as to unhook its modules, the rest of the nations involved could keep the station in orbit, with time, money, and effort. Plus, Russia has plenty of incentive to continue its participation.
Get a weekly glimpse at the economic possibilities of the extraterrestrial sphere by hitting the button below to sign up for Space Business. It's weekly, it's free, and it's out of this world.
---
Funding the expansion of African culture
Through music, film, and a lot more, African cultures have long inspired the world. Finally, investors, international companies, and social media platforms are showing a huge appetite for the space, driven by the continent's youthful demographic, expanded internet connectivity, and high mobile usage. As a result, local companies are receiving record funding. Here's a rundown of how it's changed in the past few years:
Less than $1 million: Amount invested by local and foreign venture capital firms into African entertainment in 2018
Less than $1 million: That figure for 2019
$13.9 million: 2020…
$11.6 million: …and 2021
But there are still challenges to overcome. Learn more in the latest issue of the Quartz Africa Member Brief. That one's free, but you'll need a Quartz Africa membership to read them in the future. Get the Quartz Africa Member Brief in your inbox—and unlimited access to all of Quartz Africa's journalism by signing up today!
Handpicked Quartz
🍾  Indian stock indices react to the big win for Modi's BJP in state polls
🤐  How companies are hiding inflation without charging you more
🏢  With the ability to work, Ukrainian refugees may remain in EU countries for the long haul
🛑  Why some global retailers say they're staying in Russia
🍔  Russia's regression to the Soviet era, as told through the Big Mac
😯  The surprising boon for Africa's exporters from the Ukraine invasion
---
Surprising discoveries
Sleep with… two eyes open? New Zealand's draughtsboard shark does, and grips its pillow tight, too.
Russia wants its paintings back from Italy. "Young Woman With a Feathered Hat" is one of the pieces on loan in Milan that's returning to St. Petersburg.
A 5-cent coin in the US is now worth more than 10 cents. The nickel that makes the coin of the same name is more valuable, thanks to soaring metal prices.
Pigs talk a lot, we just don't know how to listen. A new algorithm is trying to help farmers decode emotion from oinks.
You can't kill disco. Chicago rock DJ Steve Dahl tried to with a record burning in 1979, but the genre's staying alive. Find out why we wouldn't have artists like Dua Lipa and Doja Cat without disco in the latest episode of the Quartz Obsession podcast.
🕺 Listen on: Apple Podcasts | Spotify | Google | Stitcher
---
---
Our best wishes for a productive day. Send any news, comments, a bag of nickels, and transcribed pig stories to hi@qz.com. Get the most out of Quartz by downloading our iOS app and becoming a member. Today's Daily Brief was brought to you by Tim Fernholz, Carlos Mureithi, Morgan Haefner, Tim McDonnell, and Susan Howson.