Good morning, Quartz readers!
Was this newsletter forwarded to you? Sign up here. Forward to the friend who'd rather keep an item than deal with returning it.
---
Here's what you need to know
Russia hit a military base near Ukraine's border with Poland. At least 35 people were killed in a missile attack outside the city of Lviv as Russia steps up its offensive.
Russia is depending on China to fend off sanctions. But the US, which is meeting today with China for their first high-level talks since the war started, has already told Beijing not to help. Separately, India relocated its Ukrainian embassy to Poland.
The UK government will pay households £350 ($456) a month to host Ukrainian refugees. The plan will allow people with spare rooms or properties to sponsor named Ukrainians for at least six months.
China shut down Shenzhen. The business hub's 17.5 million residents will undergo three rounds of testing as covid-19 cases continue to rise on the mainland and in Hong Kong.
Uber added a surcharge for high gas prices. The fees, which range from $0.45 to $0.55 per ride in the US and Canada, will last for at least two months and go to drivers.
Yum China may have to delist from the New York Stock Exchange. The owner of KFC, Taco Bell, and Pizza Hut in China is stuck in an auditing dispute between Beijing and Washington.
Didi stopped working on its Hong Kong stock listing. The Chinese ride-hailing firm wasn't able to satisfy cybersecurity regulations.
---
What to watch for
Instagram is dark in Russia today. At midnight on Sunday, its service was cut off to the platform's 80 million Russian users. The ban is pre-emptive: Russia said it would block Instagram—as it has already blocked Facebook and Twitter—because it disagrees with what the platform allows users in Ukraine to post.
Instagram, which is owned by Facebook parent company Meta, drew the ire of Russian legislators by deciding to waive its hate speech rules and allowing besieged Ukrainians to share their fury with Russian invaders. Instagram's sudden absence from Russia is part of two intersecting patterns: On one hand, more Western companies are exiting Russia as Vladimir Putin wages war. On the other, Russians are becoming ever more isolated, bereft of information, and subject to the messaging of a single regime.
---
What imports will be affected by Russia's G7 suspension?
On Friday, US president Joe Biden said the Group of Seven industrial nations plans to revoke Russia's status as a "most favored nation." The move still has to be approved by Congress, but it sets the stage for the US and other G7 members to rack up more tariffs and trade barriers against Russia.
The countries behind the new measure are huge buyers of Russian products, from oil and gold to fertilizer and fish. Restricting access to those items, particularly in the EU, will put further economic pressure on Russia's main revenue streams.
Here are G7 countries ranked by the percentage of Russian exports they buy: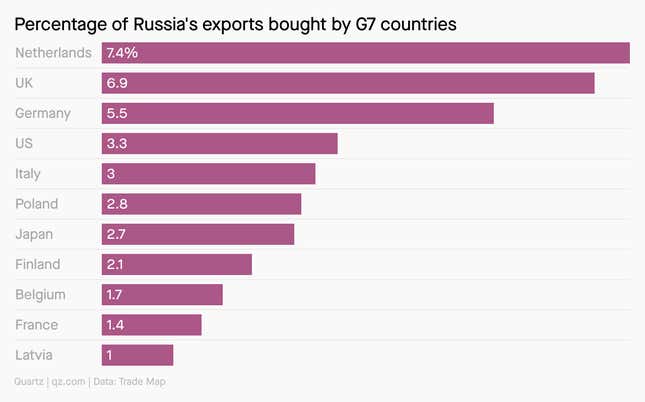 ---
Best companies for remote workers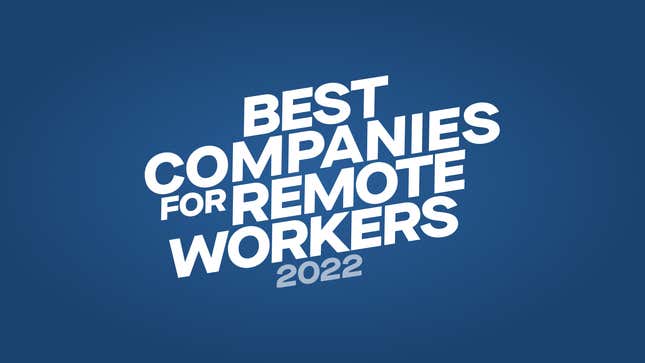 Don't miss your chance to tell us how your company is leading the way for its remote workforce. The deadline for registering for recognition in our Best Companies for Remote Workers ranking is March 16.
Submit your company today. You don't have to be all-remote to be eligible. It's free to enter, and registration takes a few minutes.
Handpicked Quartz
📦 DoorDash wants to return your packages for you
🩲 Rihanna's lingerie IPO could add another billion to her fortune
🚫 Can you refuse to return to the office?
🥽 Meta is forcing Apple into virtual reality
💪 The US has room for inflation to go even higher
🕺🏿 How TikTok became a digital dance floor
---
Surprising discoveries
Should dhaniya (coriander) be India's national herb? One of the country's most popular chefs is petitioning for the garnish to get its due.
Museums and churches in Lviv, Ukraine, are sending artifacts underground. Curators and directors want to preserve the city's heritage from Russian shelling.
There's a new tortoise on the block. DNA evidence suggests the giant reptiles living in the Galápagos erroneously share the name with a species that's extinct.
Do look up. An asteroid the size of a bus safely flew by Earth yesterday.
The Sesame Street puppets released a disco album in 1978. Sesame Street Fever shows just how intertwined the genre was with culture. Hear how disco went mainstream in the latest episode of the Quartz Obsession podcast.
🕺 Listen on: Apple Podcasts | Spotify | Google | Stitcher
---
---
Our best wishes for a productive day. Send any news, comments, crushed dhaniya, and original copies of Sesame Street Fever to hi@qz.com. Get the most out of Quartz by downloading our iOS app and becoming a member. Today's Daily Brief was brought to you by Cassie Werber, Heather Landy, Nate DiCamillo, Clarisa Diaz, and Morgan Haefner.