Good morning, delegates! Welcome to Davos.
We hope that the most snow in 60-odd years didn't disrupt your journey too much. Welcome, also, if you're following from a distance, probably somewhere without 1.75 meters (5.7 feet) of snow on the ground.
Anyway, this daily email from Quartz is your guide to all the news and chatter from the World Economic Forum's annual meeting. The theme of the Alpine jamboree this year is "Creating a Shared Future in a Fractured World," so let's team up and put those pieces back together.
I'm Jason Karaian, your Davos correspondent for the week. Also joining me are Quartz's editor-in-chief Kevin Delaney and reporters Jenny Anderson, Eshe Nelson, and Heather Timmons. Email us your news, tips, and spare soirée invites.
Mercifully, the snow will subside today, with the sun steadily emerging as the day goes on. With a high of just 2°C (36°F), it could get slick out there—the ice doesn't care what kind of badge you have, so tread carefully.
What to watch for today
Make it here. Narendra Modi's first trip to Davos features a prime morning keynote slot, where the prime minister is expected to tout "Make in India," his still-unrealized push to attract global manufacturing. He is backed up by India's largest-ever delegation at the forum, with more than 130 bankers, bosses, and other bigwigs in tow, surrounded by prominent India-themed branding throughout the Congress Center and beyond.
The prodigal Davos Man returns. After a year away, Justin Trudeau returns to deliver an address in one of the final sessions of the day. He will focus on Canada's G7 agenda, a progressive slate of empowering women, fighting climate change, and spreading peace. Will he be greeted with the same unbridled enthusiasm as in 2016, or will France's Emmanuel Macron, who speaks tomorrow, steal his crown as the liberal darling of the global elite?
Who runs the world? Away from the Congress Center, programming also begins today at the Equality Lounge, run by The Female Quotient at the Panorama Hotel. For three days, a packed schedule of high-profile names will tackle gender equality at work and in finance, leadership, and tech. Today, Quartz's Heather Timmons will moderate a session on attracting talent, at 11am. Later in the day, Davos fixture will.i.am will discuss "the connection between technology and equality."
This and that. Quartz's Kevin Delaney is hosting a 4pm panel in the Congress Center about "Saving Globalization from Itself" with eBay CEO Devin Wenig, Colombia's minister of finance Mauricio Cardenas, London School of Economics director Minouche Shafik, BCG CEO Rich Lesser, general secretary of the International Trade Union Confederation Sharan Burrow, and Chanda Kochhar of ICICI Bank. Other notable sessions include a panel on "Gender, Power and Stemming Sexual Harassment" and all seven female co-chairs sharing the stage at the Congress Hall at the end of the day. As far as parties go, the Wine Forum's tasting of 100-point vintages at the Hotel Europe will be a sought-after ticket, and the Phil Mickelson golf simulator at KPMG's reception at the Belvedere sounds intriguing.
What everyone is talking about
Snow. So much snow! Precarious pavements and snarled traffic mean that it's wise to build some buffer time into your schedule. (Or, take advantage of the conditions as a catch-all excuse for cancelling meetings you weren't keen on in the first place.) And although the slopes are even more tempting than usual, consider that the avalanche risk is currently rated a 5 out of 5 across this part of the Alps.
Everything is awesome. Captains of industry have a spring in their (slushy) steps at the forum this year. Stock markets are soaring and economic growth is broad-based. Yesterday, the International Monetary Fund upgraded its forecast for global GDP and said tax cuts will boost the US economy (which will be felt around the world) for the next few years. This won't last, the IMF warns, but higher deficits won't slow things down until 2022, and who wants to plan that far out? "The overarching risk is complacency," the IMF's chief economist said. Oh.
Crypto-curious. Once on the fringes of the forum, the crypto crowd is out in force at Davos this year (including on the official program). In prime position on the Promenade, CryptoHQ (no. 67) and the Ethereal Lounge (no. 69) will host a series of presentations and panels during the week. If you can't tell ether from litecoin, but you still think blockchain is a big deal, Blockchain Central at the Hotel Ameron will host presentations about the broader applications of cryptocurrencies' underlying technology. You will end up in conversations about this stuff during the week, so read up on it.
Reports, reports, reports! The start of the forum is always met with a welter of reports, surveys, and white papers. A selection of noteworthy studies, summarized in five words or less: Trust the experts again; CEOs are feeling fine; Make green by being green; The Trump bump is temporary; Automation is bad for women; Norway is inclusive.
Where in the world?
This year's forum has attracted an impressive array of world leaders, including the heads of six of the seven G7 nations. (Shinzo Abe apparently has better things to do.)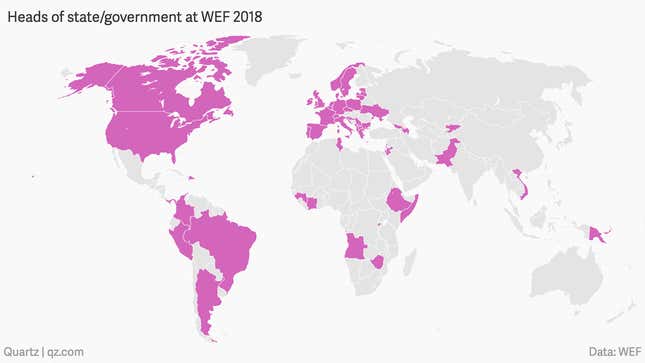 Seen and heard
"This makes no sense… these are some of the richest people in the world!"—a disgruntled delegate at the slow-moving buffet line, explaining the time value of money.
Buzzword bingo: A strong economy isn't enough, so the new marker for economic success is "inclusive" growth, a term we heard in a variety of settings across Davos. Try to work inclusive, inclusion, and other variations into conversation to show that you're in tune with the zeitgeist.
A champagne cork loudly hit the roof in the middle of a presentation about rising CEO confidence, briefly disrupting the proceedings in a perfectly appropriate way.
That's cold: Eying the snow outside from a shuttle bus, one Indian banker turned to another and said, "Well, Donald Trump will be happy. Everything is white!"
Flashiest footwear of the day goes to Yara's Svein Tore Holsether, whose electric orange slip-on galoshes are a stylish way to get grip on the ice without taking off your brogues. (From his native Norway, he's quick to note.)
Enjoying this email?
This is a special edition of the Quartz Daily Brief produced for attendees and others interested in the World Economic Forum in Davos. If you were forwarded this newsletter by a colleague, head of state, or Klaus Schwab himself, you can get your own copy for free by clicking here. And follow all of Quartz's coverage from the forum during the week here: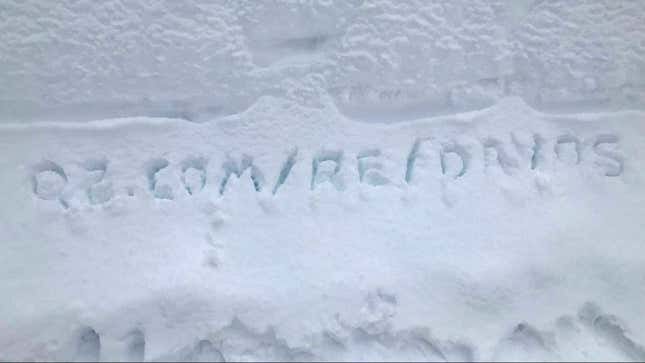 News from around the world
Trump imposed steep import tariffs on solar panels and washing machines. While the targets are manufacturers in China and South Korea, respectively, the duties apply to all countries (paywall). Trump will likely take more such actions as he implements his "America First" policy, despite fears of trade wars and higher prices for US shoppers.
The US senate voted to reopen the government. Lawmakers agreed to a stopgap budget solution extending through Feb. 8, which Trump signed into law. That followed majority leader Mitch McConnell pledging to allow an immigration vote soon, with Democrats demanding protections for young undocumented immigrants brought to the US as children.
A South Korean delegation inspects North Korea's ski venues. On a three-day visit they'll examine the Masik Pass resort and other venues. The inspections will facilitate joint training for the upcoming Winter Olympics in the South, with the collaboration between the nations expected to ease tensions on the Korean peninsula.
Matters of debate
Blockchain platforms will make us happier. Peer-to-peer technologies can move us away from a world of slow, cumbersome, and expensive decision-making.
Are Google and Facebook monopolies? Economist Tyler Cohen says no, since they let people advertise at a relatively low price. But his colleague Luigi Zingales argues Zuckerberg might be the new Rockefeller.
GDP is an insufficient measure of national performance. For a broader look at economic progress and well-being, consider the WEF's "inclusive development index."
Surprising discoveries
Team USA will wear self-heating Ralph Lauren parkas for the Olympic opening ceremony. At a full charge, the coats provide five hours of heat on the high setting, and 11 hours on the low.
An American beauty brand tried to trademark #MeToo. Hard Candy, sold exclusively at Walmart, has faced public outrage and withdrawn its application.
Fifty years ago, North Korea seized a US spy ship. The country imprisoned and tortured its American crew, humiliated Washington, and turned the ship into a tourist attraction.
Our best wishes for an inspiring day at the forum. Please send any news, tips, glamorous galoshes, and bitcoin wallets to me, Jason Karaian. Today's newsletter was made possible by tire chains, Lauren's snow boots, and directions from friendly locals.