Good morning, delegates!
We're past the halfway point now. Those solutions don't synergize themselves, so what are you waiting for?
Expect a high—if you can call it that—of -8°C (18°F) today, with periodic dustings of snow.
What to watch for today
George Soros holds court. Looking back, the hedge-fund legend's fiery speech against Facebook was probably the most consequential thing to come out of Davos last year. This year, we hear he may go after China, with all guns blazing, at his annual dinner at the Seehof. Retaliation by Sheryl Sandberg is one thing, getting on the wrong side of the People's Liberation Army is another.
Alibaba's next step. At 9am, Daniel Zhang, CEO of Chinese retail behemoth, will discuss the "transformation of digital retail in China." He is taking over as executive chairman from founder Jack Ma later this year, a touchy time for the company so closely associated with its creator's vision. For more on the future of the sprawling digital conglomerate, read Quartz's recent members guide.
Where we're at. At 9am, Quartz economics reporter Eshe Nelson interviews UN secretary-general António Guterres, broadcast on Facebook Live. Then, at 9:30am, Quartz at Work editor Heather Landy moderates a panel at the FQ Lounge on women and boards. And we're just getting started! At 11am, Quartz editor in chief Kevin Delaney leads a Congress Centre session on the new space age, while at the same time Quartz finance editor Jason Karaian geeks out about trade finance and the blockchain at the Ethereal Lounge.
This and that. At 9:15am, Saudi Arabia's finance and economy ministers discuss "next steps" for the kingdom following, er, "geopolitical and economic headwinds in 2018." At 10am, Microsoft CEO Satya Nadella talks "digital trust and transformation." The "American Economic Power" session at 4pm was originally going to feature US treasury secretary Steven Mnuchin, but, you know, the shutdown. At 5:15pm in the Congress Hall, South Africa's Cyril Ramaphosa and Rwanda's Paul Kagame talk continental leadership. Away from the Congress Centre, a seven-strong panel of ministers, industrialists, and financiers close out the programming at Russia House. The burgeoning field of esports is the topic du jour at the Seehof.
And now for something completely different. At Canada Cannabis House, Anthony Scaramucci interviews former Israeli prime minister Ehud Barak, who is now chairman of a medical marijuana company called InterCure, at 3:30pm.
Clean-living Davos. Starting at 8am, Juliana leads 30 minutes of yoga at Ukraine House, "including invigorating stretches and breathing exercises."
Party planner. For the olds, the hottest ticket will be Sting at the Salesforce nightcap. For the youngs, it's Ellie Goulding at the Cloudflare lounge. For something else, there's former Guns N' Roses drummer Matt Sorum at Blockchain Central.
Who won day two?
The world's youngest female head of state has thoroughly thawed the hearts of this year's Davos crowd. Across three panels in two days, New Zealand prime minister Jacinda Ardern has shown it's possible to include compassion and sustainability in politics.
At a session yesterday morning on "more than GDP," Ardern explained her plan for a "wellbeing budget," which will require government departments to show how they are going to improve living standards in order to spend public money. She kept up the wellness message in an afternoon panel on mental health, where she shared the stage with the UK's Prince William. The day before, she appeared with Al Gore and Sir David Attenborough to discuss safeguarding of our planet.
Ardern has all the makings to become the WEF's next Justin Trudeau. The Canadian prime minister is a rockstar in Davos, where his speeches in years past cemented his role as global standard bearer of a progressive worldview. Ardern made waves of her own on the international stage last year when she brought her three-month-old baby to the UN General Assembly. We wouldn't be surprised if she was offered a main stage solo slot at Davos 2020.
More highlights from yesterday
Apple in the Alps. There were whispers at the start of the week, and then photographic evidence emerged confirmed that Apple boss Tim Cook made his way to Davos this year. He stayed away from the public program—and didn't appear in the list of participants—but was seen sporting a white badge at dinner with Brazilian president Jair Bolsonaro, along with Microsoft's Nadella, and others. Apple became a member of the WEF in the past year, a coup for Professor Schwab.
Still hasn't found what he's looking for. Bono returned to Davos seeking more private-sector investment in the developing world. To get it, he said, "we have to just ask ourselves deeper questions about where we are with the project called capitalism." By the way, it's a project he supports. "Capitalism isn't immoral," the U2 frontman said. "It's amoral. It requires our instruction. Capitalism has taken more people out of poverty than any other -ism, but it is a wild beast, and if not tamed it can chew up a lot of people along the way."
Throwing his weight around. Both Bono and BIll Gates joined a VIP crowd in the out-of-the-way Davos golf course clubhouse for a post-dinner Goalkeepers party. Bono jokingly said Salesforce founder Marc Benioff looked like an 800-pound gorilla, praising him for using his (figurative) heft to push good causes. Jane Goodall also spoke fondly of her first meeting with Benioff. "Was meeting me similar to meeting the gorillas?" Benioff asked. "He's got it wrong," Goodall replied. "They were chimpanzees."
Woe is Europe. Germany's Angela Merkel made the case for the reform and revival of the international order that emerged after WWII, arguing that the growing clout of organizations like the Asian investment bank are a wake-up call to the West. Italy's Giuseppe Conte warned of a despair at home that needed to be fixed with "urgent interventions," such as a basic income. And Spain's Pedro Sánchez encouraged attendees not to forget the lessons from the financial crisis—and their political impact. Today, it will hard to avoid Brexit chat. A 10:45am panel in the Congress Hall on "The New Impetus for Europe" features, among others, Irish prime minister Leo Varadkar and UK finance chief Philip Hammond—we're taking bets on who says "backstop" first.
The future of work and the future of finance. New research from PayPal, UC Berkeley, and the Indian Institute of Management tied together two topics often discussed in isolation. The global survey found that over three-quarters of the workers most vulnerable to automation had little or no concern about it, and had little savings to rely on if they lost their jobs. More access to micro-savings and micro-credit services are among the solutions proposed.
Legitimately newsworthy. In a brief statement broadcast from Davos, the leaders of Brazil, Peru, and Colombia recognized Venezuelan opposition leader Juan Guaidó as the country's legitimate president, following Donald Trump's lead. At a rally in Caracas, Guaidó had declared himself leader of the broken, hyperinflationary country earlier in the day.
Chart interlude
The Davos 2019 status rankings, as revealed by Google search activity.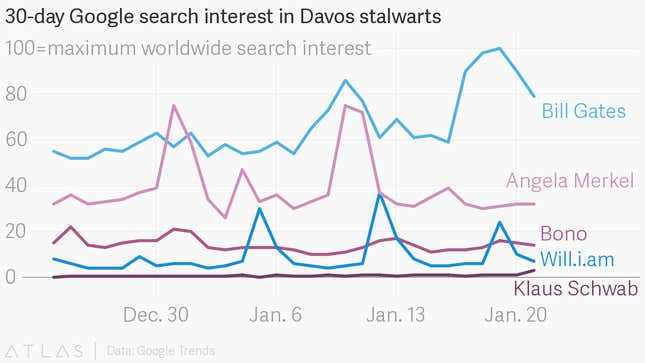 Seen and heard
"You have me today, haven't you? So you should be happy with what you have."—German chancellor Angela Merkel
"Choose love," reads a large sign facing the Promenade in Facebook's Davos HQ. Positive thinking!
Crimes against metaphors: "One bad apple harms the game," said a finance exec, confidently.
Accenture's Ellyn Shook is out peddling an idea for a new C-suite title in the age of automation: chief HR and machines officer. There are no takers yet, not even at Accenture, where Shook is chief leadership and HR officer.
"AI. AI. AI. I'm sick of AI."—an exasperated delegate unwinding at the Belvedere
"Yesterday, I mostly ate coffee."—overheard along the Promenade
Line-of-succession correction: In yesterday's brief, we should—of course—have referred to Prince William as Britain's future king, not its "next" monarch. Apologies to HRH The Prince of Wales, who doesn't look a day over 70.
Enjoying this email?
This is a special edition of the Quartz Daily Brief produced for attendees and others interested in the World Economic Forum in Davos. If you were forwarded this newsletter by a colleague, head of state, or Klaus Schwab himself, you can get your own copy for free by clicking here. And follow all of Quartz's coverage from the forum during the week here.
News from around the world
Venezuela's opposition leader declared himself interim president, with US backing. After Juan Guaidó called on the military and thousands of protesters to oppose Nicolás Maduro, he was immediately recognized by Donald Trump. Other Latin American governments (paywall), and countries including Canada and Georgia, followed suit. Maduro retaliated by breaking off relations with the US and expelling all American diplomats.
China blocked Bing. The Financial Times reported (paywall) that the Chinese government had ordered the block. Microsoft confirmed that its search engine, the last major foreign search-engine to still be available in China, is currently unaccessible in the country.
Nancy Pelosi nixed Donald Trump's State of the Union speech. The Democratic speaker of the House revoked her customary invitation for the US president to give his State of the Union address to Congress next week, saying he was not welcome until the government shutdown ended. Trump said he would deliver the address once the shutdown is over.
Matters of debate
Join the conversation with the new Quartz app!
Retraining US workers displaced by robots could cost an estimated $34 billion. Taxpayers will bear most of the cost.
Regulations will never stop "designer babies." A Crispr crackdown won't hold back a technique that's already being used.
Makeup is the new workout gear. The beauty industry is taking a cue from the athleisure boom.
Surprising discoveries
Boeing successfully tested a flying car. The first flight of the autonomous Passenger Aerial Vehicle (paywall) will accelerate the race to build air taxis and delivery drones.
Competitive farming is big in e-sports. "Farming Simulator," a PC game where players grow crops, breed livestock, and sell their produce, is getting its own competitive pro league in Europe.
Scientists are using facial recognition to fight chimpanzee trafficking. The "ChimpFace" algorithm searches through social-media posts for the faces of stolen apes.
Our best wishes for an inspiring day at the forum. Please send any news, tips, Tim Cook sightings, and moderating opportunities to me, Jason Karaian. Keep up with the news while you're on the go this week with the Quartz app for iPhone and Android.