Good morning delegates!
It's the second day of the forum, and judging by some of the scenes around town last night, it's going to be a long one for some of you. FYI, doctors recommend no more than four cups of coffee per day.
Today is even warmer and sunnier than yesterday, with a high of 5°C (41°F). Is it okay to enjoy warmer winters amid climate change? It's a fraught ethical question.
What to watch for today
Talking AI with Pichai. WEF founder Klaus Schwab talks to Alphabet CEO Sundar Pichai at 10:15 am, fresh from the tech boss's recent call for more concerted regulation of AI. It's a popular topic today. Expect Microsoft CEO Satya Nadella to address it at an 11:15 am panel about "the role of the new industrialists" (the firm's president, Brad Smith, called for AI regulation on stage yesterday), and IBM CEO Ginni Rometty is endorsing "precision regulation" of AI, in a side event in the afternoon. For another perspective on things, Huawei founder Ren Zhengfei compared fears about AI to those about atomic energy decades ago, saying AI is "not as damaging as atomic bombs." So there's that.
Where's Tim Cook? The Apple boss came to Davos for the first time last year and kept a low profile, mostly meeting with world leaders behind the scenes. He's back this year—and following a similar strategy, meeting with a host of European leaders yesterday (oh, to be a fly on the wall when "taxes" came up) and breakfasting with Donald Trump today.
Speaking of tech taxes… European Commission president Ursula von der Leyen gives a special address at 11:30 am, followed by European Parliament president David Sassoli. Von der Leyen met with Trump yesterday, as trade tensions between the EU and US eased after French president Emmanuel Macron agreed to suspend a proposed digital tax on US tech companies in exchange for a delay of threatened tariffs on French imports. French finance minister Bruno Le Maire is due to meet US Treasury secretary Steve Mnuchin in Davos today, to hammer out a "definitive" deal.
The lesser-spotted British cabinet minister. UK chancellor of the exchequer Sajid Javid appears on a 10:30 am panel in the Congress Center about the future of the financial markets. His boss, British prime minister Boris Johnson, banned the rest of the cabinet from attending Davos this year, insinuating that such swanky summitry doesn't square with his "people's government" schtick. But if you want to talk about the state of post-Brexit British politics, you're still in luck: there are no fewer than three former UK prime ministers in Davos this week (Tony Blair, Gordon Brown, and David Cameron, all here with various foundations), a former deputy prime minister (Nick Clegg, now of Facebook), and a former foreign secretary (David Miliband, who now runs the International Rescue Committee).
Who runs the world? These people do, and they're appearing in various venues around the Congress Center: Mongolia's Khaltmaagiin Battulga and Azerbaijan's Ilham Aliyev (together at 10:30 am); Spain's Pedro Sánchez (11 am); Singapore's Lee Hsien Loong (11:45 am); Colombia's Ivan Duque (2:00 pm); Afghanistan's Mohammad Ashraf Ghani (2:15 pm), Hong Kong's Carrie Lam (also 2:15 pm); Estonia's Jüri Ratas (2:45 pm); Pakistan's Imran Khan (3:45 pm); Finland's Sanna Marin (4 pm); Ukraine's Volodymyr Zelensky (4:15 pm); Slovenia's Marjan Sarec (4:45 pm); Iraq's Barham Salih (6 pm).
Going to the chapel. The last 10 years brought huge changes to how, when, and where people work. What will the next decade bring? At the second of Quartz's "farsighted lunches" held at the Hard Rock Chapel, we'll get predictions from Wharton's Adam Grant, PwC chairman Tim Ryan, economist Alexandra Mousavizadeh, and Infosys president Ravi Kumar.
Party planner. We hope you're hungry, because it's time to hit the buffets at the always-bustling Japan Night at the Central Sporthotel, Indonesia Night at the Morosani, and the TCS Reception at the Panorama. If you haven't overindulged too much, hit the dance floor at the McKinsey Nightcap at the Belvedere, the funkiest party thrown by a management consultancy this evening.
Who won day one?
In Davos last year, disability advocate Caroline Casey had three CEOs crying on stage in the Congress Center as they pledged to do more to promote the inclusion of disabled workers. This year, it was Casey who got teary recounting what's happened since.
More than 240 companies in 24 countries with a combined workforce of more than 9.8 million have signed up for the Valuable 500, the Paul Polman-endorsed, Virgin Media-supported campaign she kicked off last year in Davos. The group wants 500 global corporations with at least 1,000 employees to make a promise on disability inclusion—and be held accountable for it. Lenovo and MasterCard added their names to the list yesterday, becoming signatories 241 and 242 within hours of the press conference where Casey provided her update on the campaign. On the same day, the Valuable 500 was named an official WEF platform partner.
The pace of progress for the Valuable 500 is a testament to the idea that good things actually can get done at Davos—and also a bit of a head-scratcher, considering Casey reached out to 2,800 companies, implying a response rate of less than 10%. "It was a hard year," Casey tells Quartz. "Every time a company would sign, it was, 'Don't give up yet, don't give up yet.' And now, it's not 'don't give up yet,' it's, 'OK, how do we double this shit?" The Valuable 500 closes its membership on Sept. 15, coinciding with the UN General Assembly. For showing how the forum can be harnessed to genuinely change the world for the better, the winner of Davos on day one was Caroline Casey.
More highlights from yesterday
"A roaring geyser of opportunity." The US president showed up late to his much-anticipated address, then delivered a low-spirited, rambling campaign speech, mostly lauding his economic achievements at home. His defiant hubris and optimism did not fit with the generally more subdued mood at the event where climate change is the dominant issue. In fact, Trump called climate activists "prophets of doom," though he did say the US would commit to the trillion-trees initiative, the only part of the speech that was interrupted by applause. WEF founder Klaus Schwab thanked Trump for "injecting optimism" into the event.
Fired up. Trump's appearance was bookended by morning and afternoon appearances by teenage climate activist Greta Thunberg, who drew a sharp distinction between being heard and being listened to. "I'm being heard all the time," she said at a session with other youth activists. Holding a megaphone hasn't cured her frustration, though. "Our house is still on fire," she told the delegates, continuing a theme she brought to Davos a year ago. "Your inaction is fueling the flames by the hour."
Don't believe the hype
Each day, we're asking a different delegate whether the following people, things, and ideas are overhyped, underhyped, or properly hyped. Today's contestant: Jeroen Tas, chief innovation and strategy officer at Philips.
Blockchain: Overhyped. "I think there's a role for blockchain but it requires huge resources and lacks transactional performance."
Greta Thunberg: Properly hyped. "What she's doing is great."
A four-day workweek: Slightly overhyped. "It's grounded in something we're not ready for."
Crampons: Overhyped. "A pain to put on and take off."
Job titles with "strategy" or "innovation" in them: "Totally overhyped."
Enjoying this email?
This is a special edition of the Quartz Daily Brief produced for attendees and others interested in the World Economic Forum in Davos. If you were forwarded this newsletter by a colleague, head of state, or Klaus Schwab himself, you can get your own copy delivered directly to your inbox for free by clicking here. And follow all of Quartz's coverage from the forum during the week here.
Chart interlude
Progress, of sorts. The ranks of women among Davos delegates has been growing for the past six years, but slowly. The companies that pay the WEF a six-figure annual fee to become "strategic partners" can buy four of the coveted white badges to attend the Davos forum, or five if one of the people they bring is a woman. The current share of female delegates, at 24%, isn't far above the ratio that results if every company does the minimum possible on gender diversity in order to maximize their number of badges.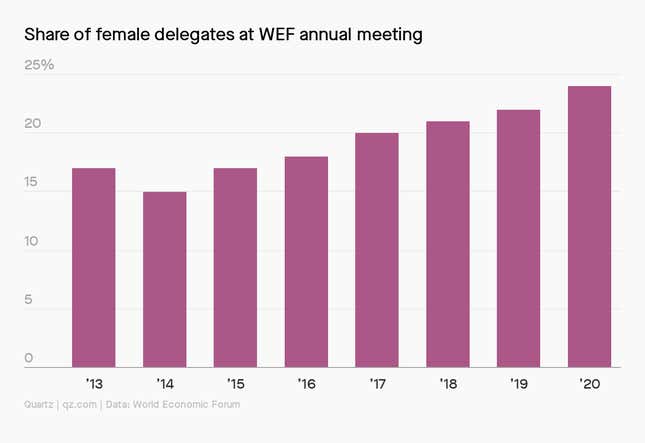 Seen and heard
"But I'm on TV!"—broadcast anchor at the Congress Center security check, trying to carry in a bottle of hairspray larger than the permitted 100ml.
We spotted a restaurant offering "fondu chinoise"—presumably meaning Chinese-style hotpot—for those who are craving a bit more culinary diversity in Davos. It will set you back a not-so-hot 58 Swiss francs ($60) per head.
"Is growth an illusion?" reads the provocative slogan in neon lights at Deutsche Bank's building along the Promenade. Judging by the beleaguered German bank's recent earnings, the answer is yes.
"I'm borderline a mechanic, and I'm just looking at mechanical things."—Ray Dalio, billionaire founder of hedge fund Bridgewater Associates, who recently wrote that "the system of making capitalism work well for most people is broken."
The scene: two exec-types walking through the Congress Center
Exec 1: "I got a speaking slot, finally"
Exec 2: "Do you know what you're speaking about?"
Exec 1: "Kinda"
News from around the world
A message from the Saudi crown prince hacked Jeff Bezos's phone. The Amazon founder was on WhatsApp with Mohammed bin Salman in 2018, when he received an unsolicited file, after which data was sucked out of his phone. The hack occurred five months before the killing of Washington Post columnist Jamal Khashoggi, and raises fresh questions about the role of the future Saudi king in the journalist's murder. Saudi Arabia dismissed the report.
The US impeachment trial started its engines. Democrats scored a victory when senate majority leader Mitch McConnell made some key procedural changes; a debate ensued about the rules of engagement; and senators were warned that they had to remain silent or face imprisonment.
Boeing warned the 737 Max won't fly until mid-2020. Regulators stressed that there's "no timeframe" for the beleaguered jet's return to flight, but Boeing told customers it now expects to be airborne in June or July. Shares fell about 5% on the news that the saga would drag on months longer than expected.
Quartz membership
"When you play a game you are taking on a problem that doesn't exist and trying to solve it." Professor and game designer Ian Bogost shares his thoughts on the problems gaming can help solve—and the problems the gaming industry itself faces—in an interview with Quartz contributor Mary Pilon.
Matters of debate
Banning facial recognition misses the point. It's just one of the many tools that governments and corporations use to spy on people.
Transport costs should factor into a city's affordability. Sprawling suburbs' cheap housing belies the cost of interminable commutes in private cars.
China's political system has low immunity to viruses. A system built around censorship has difficulty commanding the trust needed to fight an outbreak.
Surprising discoveries
A new living, microscopic robot can eavesdrop on a cellular level… It's made of frog cells, and might further our understanding of how cells interact.
…while a harpoon-wielding robot is tackling Florida's lionfish problem. The remotely-operated vehicle is a better alternative to diving humans.
Direct-to-consumer orthodontia is now a thing. Its rise in the US over the past decade is a practical—if not entirely risk-free—solution to terrible dental insurance.
Our best wishes for an inspiring day at the forum. Please send any news, tips, AI rules, and oversize haircare products to the Davos Daily Brief crew. Keep up with the news while you're on the go this week with the Quartz app for iPhone and Android.