Welcome back! If you're new, sign up here to receive this free email every week. 
---
Hello Quartz readers!
For the past few weeks I've been reporting a series of articles for a Quartz membership field guide about the future of banking, which will publish starting Sept. 3. After interviewing more than a dozen people—bankers, analysts, investors, academics—one of the things that has become clear is that people are worried about banks!
They aren't worried that big banks are going to spin out of control like they did a decade ago. They're worried about how they're going to make money. You can see this in a range of indicators, from stock returns to price-to-book ratios, which show that the market values of many of the world's big banks at less than the sum of their parts.
One of the people I spoke with is David Ellison, a portfolio manager for bank stocks at Hennessy Funds, which oversees $4.8 billion. He said he wants to see banks taking chances and trying new things, because what they are doing now isn't cutting it for equity investors. As interest rates decline toward zero, it can be harder for banks to profit from the spread between their deposits rates and the rates they get from lending money. They also face pressure from a legion of specialized firms, from boutique investment banks to algorithmic trading companies.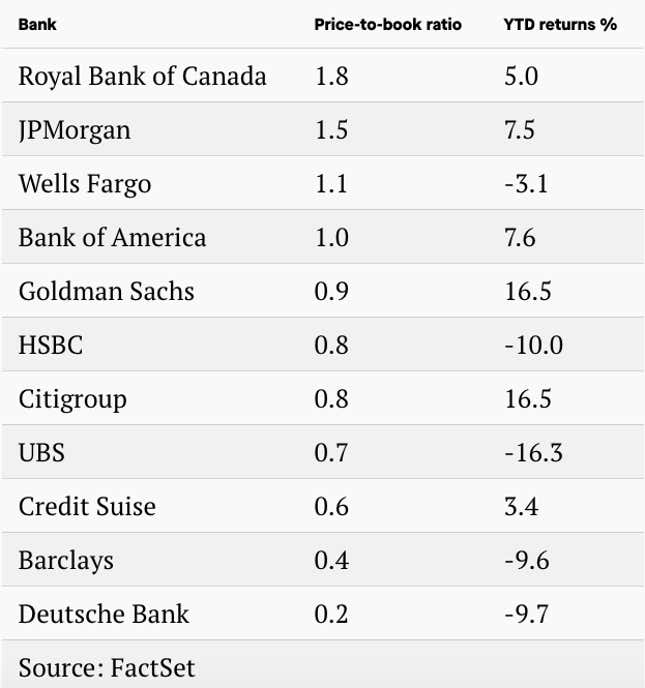 Trying new things also means failing, of course. This means that out-of-favor banks need to embrace their inner Amazon, which Jeff Bezos has called "the best place in the world to fail." He told Business Insider's Henry Blodget in a 2014 interview, "What really matters is, companies that don't continue to experiment, companies that don't embrace failure, they eventually get in a desperate position where the only thing they can do is a Hail Mary bet at the very end of their corporate existence."
The word "failure" has much different connotation in Silicon Valley than it does on Wall Street, where troops of regulators sit inside the banks to keep them from doing anything crazy and, well, failing. The challenge for banks is to make the right kind of bet: entrepreneurial failures are good; financial engineering failures are bad.
In the Silicon Valley sense, one bank that appears to be doing things right is JPMorgan. The company recently jettisoned its Chase Pay app, which was perhaps usurped by Apple Pay. This summer, JPMorgan also shut down Finn, its mobile banking app targeted at millennials.
The question is whether these things didn't work out simply because lots of new ventures fail, or whether there's something specific to the culture or politics at the biggest US bank that prevented them from succeeding. Karen Mills, a senior fellow at Harvard Business School, questioned whether JPMorgan, one of the few truly global universal banks, is trying to do too many things at once.
"I think it's good that they're failing and pulling out, as opposed to sticking with," Mills, a former official during the Obama administration who wrote Fintech, Small Business, & the American Dream, said in a phone call. "The question with them is whether they've got enough strategic leadership."
Which leaves banks with another thing to figure out: Where should they fail next?
---
If you'd like to support my work, and read our upcoming series on the future of banking that publishes on Sept. 3, you can become a Quartz member here. You'll get 50% off Quartz's annual subscription if you use the promo code JD2912 at the checkout. This is not investment advice, but that is clearly a great deal! 
---
This week's top stories
1️⃣ For online lenders, it's tough to out-bank the banks (paywall). Established lenders have a lower cost of capital, and they don't have to spend all their money on marketing. Shares in Amigo, which provides loans on the basis of friends and family guarantees, recently dropped by more than 50%.
2️⃣ Facebook's WhatsApp aims to launch mobile payments in Indonesia. Reuters reports that the messaging service is in talks with multiple digital payment firms, potentially becoming a platform for those digital wallets.
3️⃣ Why haven't mobile payments caught on in the US? One reason is that payment cards work just fine.
4️⃣ Singapore plans to start issuing licenses for new digital banks by the middle of next year. Grab and Razer are among companies that have reportedly considered applying.
5️⃣ The UK is taking steps to protect cash. Britain's ATM network says it will make sure there's a free cash machine on the high street of every town and village.
---
The future of finance at Quartz
Africa's largest bank is aiming to bring the continent's small and informal businesses into its fold. Standard Bank invested in Nomanini, a firm that connects banks and distributors ​​​​​​​to informal merchants.
Facebook is launching a public bug bounty program for its Libra cryptocurrency. The social network is hoping security researchers will help it find vulnerabilities before—or, let's be honest, if—Libra is released into the wild.
The rich have an additional reason to lament financial crises: academic research suggests they end up with higher taxes afterwards. Separately, a Nobel Prize-winning economist thinks he has devised a way of detecting the probability of a financial meltdown.
---
Always be closing
---
I hope your week has been a profitable one (pick your own metric). Please send any failures, tips, and suggestions to jd@qz.com.