Welcome back! If you're new, sign up here to receive this free email every week. 
---
Hello Quartz readers!
This week I wrote about The Big Issue, a magazine that is equipping its street vendors around the UK with iZettle contactless card readers. The publisher is keen to help its sellers accept card payments because fewer people carry cash (pdf, p. 10) in Britain these days. This suits companies that promote digital payments because they are probably keen to have political cover.
The Big Issue helps homeless people earn an income by selling them the magazine for £1.25 ($1.60) per issue, which they can turn around and sell on the street for £2.50. This gives people in financial difficulties a chance to become micro entrepreneurs. The publisher has been working to help vulnerable people get bank accounts and boost financial inclusion, and the magazine says an earlier pilot showed that the card-reader program gave sellers an increase in sales.
The program also gives political cover to PayPal-owned iZettle. Financially vulnerable people are more likely to rely on cash, which is why the UK government wants to make sure notes and coins are accessible. Meanwhile PayPal, as CEO Dan Schulman has said, is at war with cash (paywall), and the card networks have the same ambition. Just about anything they can do to undermine paper notes and metal coins will boost their profits. But it comes with the risk of backlash from the public and elected officials.
As such, Mastercard is another payment company that may have been looking to fortify its political cover this week. The card network said it will pay shops in the UK a small fee each time customers request cash back at the till using a Mastercard debit card. The press release said Mastercard is seeking to "boost access to cash."
But boosting access to cash is the exact opposite of a card network's business model. Firstly, it's worth noting that cash back requires the debit card user to make a purchase. In addition, Visa controls around 97% of the UK debit card (pdf, p. 5) market. This suggests Mastercard has little to lose and that, rather than promoting cash, it is trying to promote its cards over Visa's.
And finally, the 12 pence Mastercard will pay for cash back at the register is much less than the fee that is paid to an ATM operator, according to Ron Delnevo, executive director for the ATM association ATMIA. If consumers get their cash from a cash register instead of an ATM, this could increase the profit pressure on Britain's cash machine network, which is already shrinking. Fewer ATMs is a pretty sure way to boost profits at Visa and Mastercard. Delnevo also claims that ATMs dispense more than four times more cash each month than most convenience stores have in sales during that period, meaning the shops simply can't replace a cash machine once it's gone.
"All these people queuing up to praise it is a sure indication it is PR hype, rather than the beginnings of a game changer," he said.
There are many entrenched interests in the world of payments. But it's clear that there's much more to some financial inclusion promotions than the headlines suggest.
---
This week's top stories
1️⃣ Passive stock funds officially eclipsed active ones. Assets in index-tracking US equity funds have risen to $4.271 trillion, compared with $4.246 trillion for stock-pickers, according to Morningstar.
2️⃣ Lenders are looking to unusual sources of data (paywall), such as magazine subscriptions and high school grades, to make credit decisions. US consumer debt, meanwhile, is higher than ever.
3️⃣ Square is testing a stock brokerage service, according to Bloomberg. The stock-trading feature would put the company's Cash App in direct competition with Robinhood.
4️⃣ Revolut's revenue jumped more than 300% last year to £58.3 million. The company's increase in sales has far surpassed other money transfer services in the UK, according the FXCintelligence newsletter: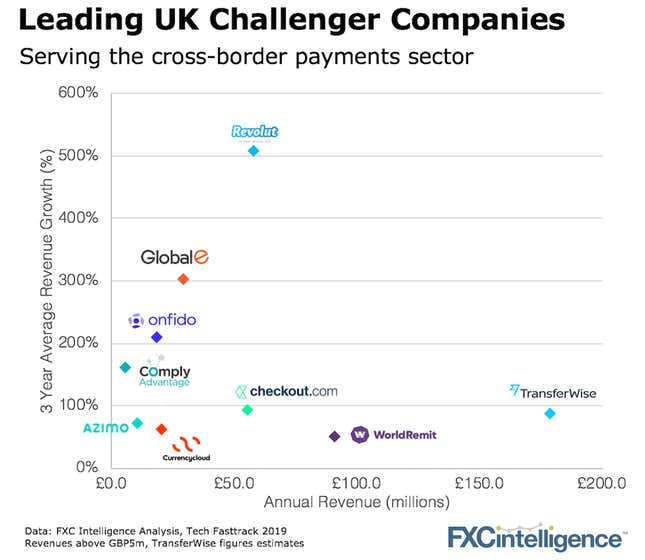 5️⃣ France says it will block Libra, the Facebook-backed cryptocurrency. Finance minister Bruno Le Maire said it cannot move ahead in Europe until concerns about monetary sovereignty and consumer risk are tackled.
---
The future of finance at Quartz
The Hong Kong Exchange's attempt to buy London Stock Exchange Group, a symbol of the country's financial prowess, was especially audacious. Such takeovers were contentious in the era before Brexit and are even more so now. The LSE board unanimously rejected the offer today and said it saw "no merit in further engagement."
The US doesn't have a student loan problem—it has a tuition problem: "The government essentially serves as an ATM for colleges and universities by paying whatever the institution asks for."
Alexander Hamilton and Satoshi Nakamoto debated bitcoin. The event was set up by LinkedIn co-founder Reid Hoffman, who hired actors to stage a rap battle about the future of money.
---
Choose our next adventure
Last week I asked for your ideas on my next reporting project and also suggested a few of my own. To my surprise, most people voted for reporting on how farmers and other rural businesses are getting financing, as bank branches decline and online lending increases. I am excited! A colleague and I have started reaching out to small business groups in the US and UK. If you have any tips or suggestions, I'm always open to them: jd@qz.com
As part of that reporting, I came across this interesting Federal Reserve chart, which suggests business owners like online lenders because they are more likely to say "yes," they make decisions quickly, and they don't require collateral. What could possibly go wrong?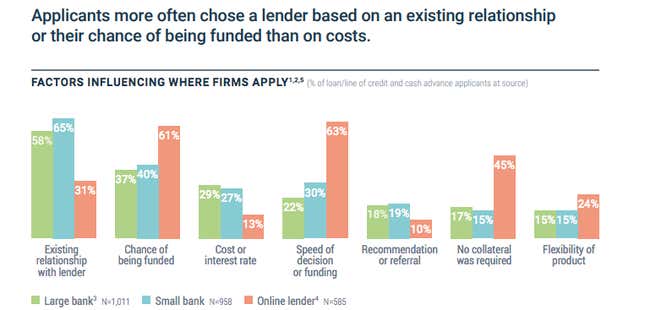 If you'd like to support my work, you can become a Quartz member here. You'll get 50% off Quartz's annual subscription if you use the promo code JD2912 at the checkout. 
---
Always be closing
---
I hope your week has been a profitable one (pick your own metric). Please send war-on-cash strategies, tips, and other ideas to jd@qz.com.