Hi Quartz readers!
Opening ceremony performers are in rehearsals, athletes are in the Olympic Village, and cotton swabs are in nostrils. It all starts this Friday, but here are some preliminary thoughts while you wait.
---
Highlight reel
---
Time's up
It's a well-known trope of the working world that when things seem to be impossible, a woman suddenly gets "promoted" to fix the situation. Why would the Olympics be any different?
In March, the 2020 Olympics planning chief Yoshiro Mori became better acquainted with Japan's feminist movement after he suggested women have an "annoying" habit of talking too much at meetings. The Games were four months away, and the organizing committee had to choose a new leader ASAP. Enter Seiko Hashimoto.
A former Olympic speedskater who medaled at the 1992 Winter Games, Hashimoto has a harder job than any Olympics organizing chief in recent history—planning an event that has seemed in danger of cancellation at any moment, that faces enormous public hostility in Japan, and that risks becoming a public health disaster.
Yet she's managed to make time for a parallel agenda—better representing women in Japan's Olympic planning by adding 12 women to the committee's executive board. Hashimoto has said she sees her appointment as "an opportunity to change unconscious bias, to change the mindset of the entire nation."
These spectator-less Olympics may not be the triumphant occasion Japan had hoped. But they did achieve a rare reckoning with everyday sexism, and the elevation of a woman who clearly deserved the opportunity. —Tripti Lahiri
---
By the digits
12: Age of the Tokyo Games' youngest Olympian, Syrian table tennis player Hend Zaza
100: Age of Hungarian gymnast Agnes Keleti, the world's oldest living Olympic champion
10: Record for most Olympic appearances, held by Canadian equestrian Ian Millar
$135 million: Amount Asahi Breweries paid to be the Olympics official beer sponsor in Japan
0: Number of Olympic-related ads Toyota plans to run in Japan given low support for the Games
$1.28 million: Cost of emergency repairs to Tokyo Bay's Sea Forest Waterway, which will host canoeing and rowing events, following an infestation of oysters
---
What to watch for
Olympic opening ceremonies can be truly spectacular. In 2008 in Beijing, 5,000 years of Chinese history unfolded in music and dance. In 1992 in Barcelona, an archer lit the Olympic cauldron with a flaming arrow. This year will be smaller, but the important elements—VIPs, athletes, the Olympic oath, and plenty of 🔥—will still be present.
🇬🇷👟🇯🇵 The procession: Tradition dictates that Greece will be first, Japan last, and the other countries will process in alphabetical order of the local language, the first time ever for Japanese katakana this year.
📉Guest list: Originally the ceremonies would have hosted 10,000 VIP guests and dignitaries; that number is now just a meager 1,000.
🔥 Then what happens?: Pigeons will fly into the air (hopefully not to their doom), the cauldron will be lit, and then, of course, the Olympic oath.
---
Quotable
"Our common target is safe and secure Games. For everybody—for the athletes, for all the delegations, and most importantly also for the Chinese people…Japanese people." —Thomas Bach, president of the International Olympic Committee, during his first public comments after arriving in Japan last week. It's a rather unfortunate gaffe considering a significant number of Japanese people would prefer the Games not happen at all. 
---
A community comes together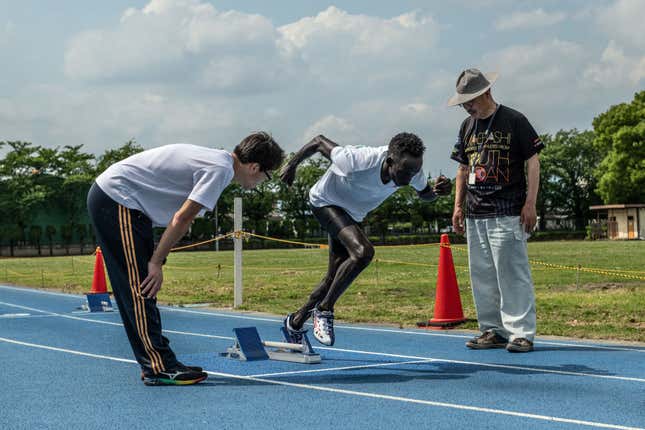 The Japanese city of Maebashi, located about 100 km (62 miles) outside Tokyo, has been hosting four South Sudanese track and field athletes and their coach since November 2019. When the Games were postponed last year, Maebashi residents raised $300,000 in taxes and donations so that the three Olympians and one Paralympian could stay and continue their training. Japanese translators and coaches have volunteered their time, while the athletes from the world's youngest independent nation have been able to take language and computer classes. "They don't seem like strangers in Maebashi—it's more like they are members of the community," Shunya Miyata, a coordinator at the Japan International Cooperation Agency, told CNN. "I think they're viewed like superheroes."
---
Instant replay
🦚 NBC's Peacock streaming service will have its Olympic moment
🚻 Sex testing at the Olympics has always been wrong
🩲 The newest Olympic swag: underwear by Kim Kardashian
☁️ Even under a dark cloud of Covid, brands can't quit the Olympics
---
🎵 This email was produced while listening to John Williams's "Olympic Fanfare and Theme."
---
Our best wishes for an inspiring day. Get in touch with us at needtoknow@qz.com and live your best Quartz life by downloading our iOS app and becoming a member. Today's email was brought to you by Tripti Lahiri, Annaliese Griffin, Susan Howson, and Liz Webber.