Hi Quartz readers!
The Games are underway, and we are following every minute of them to share the most exciting details with you. Although Quartz won't be handing out any gold medals for reading this newsletter, we can offer 40% off a membership if you use the code QUARTZGOLD. And now, on to the main event. 
---
Highlight reel
---
Parade of fashions
Fashion, of a sort anyway, has become part of the Games through the national uniforms teams wear for the opening and closing ceremonies. In Tokyo, companies such as Ralph Lauren (for the US), Armani (Italy), and Lacoste (France) dressed the Olympians of their respective countries, while other teams enlisted well-known foreign names to create their looks.
It wasn't always that way—standardized dress didn't really begin to appear until the 1908 Games. It would be a long time still before fashion got involved, and then it was just occasional, with designers such as André Courrèges, Halston, and Valentino Garavani merely dipping in during the 1970s and 1980s.
Since at least 2002, though, the financial opportunity for clothing companies has been clear. During the winter Olympics that year, Roots, the Canadian apparel maker, said every day it sold up to 25,000 of the berets worn by the US team. By 2006 companies were competing to get in on the publicity the Games afforded.
While not all countries are outfitted by globally recognized fashion companies, such deals have become common. In 2008, when the US gave the job of making its uniforms to Polo Ralph Lauren, the company reportedly agreed to pay a royalty of about 10% to the US Olympic Committee on sales of Olympic-branded products. Polo estimated it would cost less than $10 million to outfit the US team. It received some backlash when it debuted the uniforms though. On the front of the suit jackets it designed was a giant Polo logo. —Marc Bain
---
By the digits
33: Sports represented at the Tokyo Games
339: Number of gold medals that will be awarded
11,500: Total number of athletes competing
205: Countries that are participating
49%: Women's participation in Tokyo, the highest yet
329: Women on the 2020 US Olympic team, a record for any country
8: Months Australian Wimbledon winner (and Olympic hopeful) Ash Barty will spend away from home this year due to her country's travel restrictions
6: Polish swimmers who were sent home from Tokyo due to an administrative error
---
What to watch for
This year's Games include four brand-new sports and one that's returning after a hiatus. Over the next two weeks, we'll go into more details on what to expect—and which athletes, events, and potential controversies you should definitely keep your eye on—but here's a quick rundown of what's coming:
⚾️ Baseball/softball: Last seen in Beijing in 2008, both men's baseball and women's softball will be a competition among teams from just six nations.
🥋 Karate: Men and women will compete in kata (forms) and kumite (sparring) events.
🛹 Skateboarding: Athletes will show off their skills in two areas: street, which has features like stairs and railings, and park, a mostly concrete course.
🧗‍♀️ Sport climbing: Rock climbing (on human-made structures), but make it a race.
🌊 Surfing: Competitors will use shortboards (vs. longboards); weather and wave conditions will be major factors in the schedule.
---
Quotable
"Faster, Higher, Stronger—Together." —The updated Olympic motto. The final word was added this week to highlight the need for unity during the pandemic.
---
Old phones are Olympic gold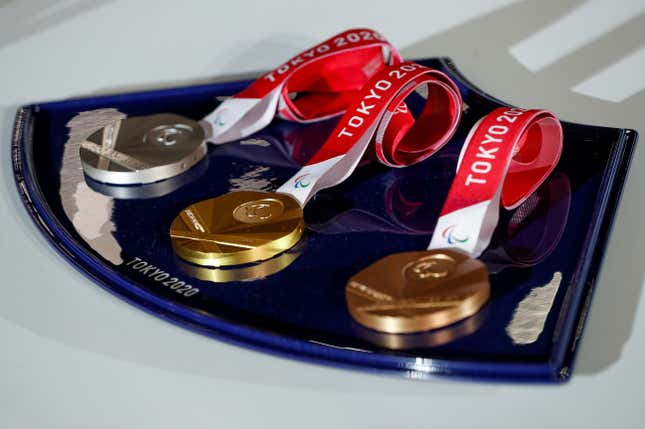 Back in 2017, Tokyo organizers decided all 5,000 medals awarded at these Games would be produced from recycled bronze, silver, and gold. In the years since, the amount of the three precious metals they've managed to scrape together weighs as much as an elephant. It's all sourced from more than 6 million phones, computers, cameras, and the like, from local recycling authorities and electronics retailers around Japan.
The medals (which the winners will have to don themselves) are meant to draw attention to the tidal wave of electronic waste that the digital era has unleashed, which in 2019 amounted to 53 million metric tons globally. The waste poses pollution hazards, and necessitates further mining in low-income countries that is often associated with corruption and human rights abuses.
---
Instant replay
🔥 Naomi Osaka was a meaningful pick to light the Olympic cauldron
👾 Video game themes are the soundtrack to the Tokyo Olympics
🛏 Yes, cardboard beds can be sexy
💪 The challenges and historic opportunities for female athletes at the Tokyo Olympics
🤑 Betting on the Olympics is open for the first time to millions of Americans
🗳 ​​Brisbane 2032 is the first test of the Olympics' new host-city bidding system
---
🎵 This email was produced while listening to John Williams's "Olympic Fanfare and Theme."
---
Our best wishes for an inspiring day. Get in touch with us at needtoknow@qz.com and live your best Quartz life by downloading our iOS app and becoming a member. Today's email was brought to you by Marc Bain, Tim McDonnell, Jordan Weinstock, Susan Howson, and Liz Webber.