Hi Quartz readers!
Simone Biles has withdrawn from the women's gymnastics individual all-around final. Her journey shows why it's time to place less weight on winning.  
---
Highlight reel
---
Uncool runnings
When the Games began, their champion nations were colonial powers whose belief in the primacy of the white male was steadfast. "An Olympiad with females would be impractical, uninteresting, unaesthetic, and improper," Baron Pierre de Coubertin, the father of the Olympic movement, said before the first Games in 1896. And in 1908, he wished fondly (pdf) that the Olympics would bring "to perfection the strong and hopeful youth of our white race."
We've made some progress. In Tokyo, the slogan for diversity and inclusion is "Know Differences, Show Differences," and the International Olympic Committee has branded the 2021 edition as "the first ever gender-balanced Olympic Games in history." De Coubertin's ideal of a white, male world of sport has diminished.
But it hasn't died. We still see traces in the banning of swimming caps that accommodate voluminous Black hair, in the sexist remarks of Japan's erstwhile head of the organizing committee, in the IOC president's reference to the people of Japan as "Chinese," and in women being denied a chance to run because they didn't chemically alter their natural hormones.
For the first time, though, athletes can speak out about all of this at the Games—online, at press conferences, in interviews. It represents a small but solid win for the wave of activism sweeping through athletics. De Coubertin would have hated it. —Samanth Subramanian
---
By the digits
97: Years it took for the Philippines to win its first Olympic gold
33 million pesos ($650,000): Prize money weightlifter Hidilyn Diaz will receive from the Philippines for her win
127 kg (280 lb): Weight Diaz lifted in the clean and jerk event, an Olympic record
6: Grams of gold actually found in a modern gold medal—the rest is silver
11: Cities that have hosted more than one Olympics
2.6 million: TikTok followers of US Paralympic track star Hunter Woodhall
73: Olympians and Olympic teams who have appeared on the Wheaties box
14: Couples competing in the Tokyo Games
---
What to watch for
Thursday's women's gymnastics individual all-round final was expected to be the Simone Biles show, but the decorated athlete has withdrawn from the competition to focus on her mental health. Now, it could be her US teammate Sunisa Lee's time to shine, after an impressive showing in the team final following Biles's departure from that event on Tuesday, or perhaps a moment for Jade Carey, Biles's replacement in the individual all-around. But they will face stiff competition from Brazil's Rebeca Andrade, who achieved the second-highest score in the qualifiers (behind Biles, natch), not to mention Angelina Melnikova and Vladislava Urazova of the Russian Olympic Committee and twins Jessica and Jennifer Gadirova of Great Britain, whose countries took home gold and bronze, respectively, in the team final.
---
Quotable
"I didn't enjoy it at all. I thought it was very boring…and I would cry every time I went. But when I started beating the guys in practice, that's when I thought, 'I might be good at this.'" —Siobhan Bernadette Haughey, who won silver in the women's 200m freestyle, earning Hong Kong's first medal for swimming
---
Transgender athletes make history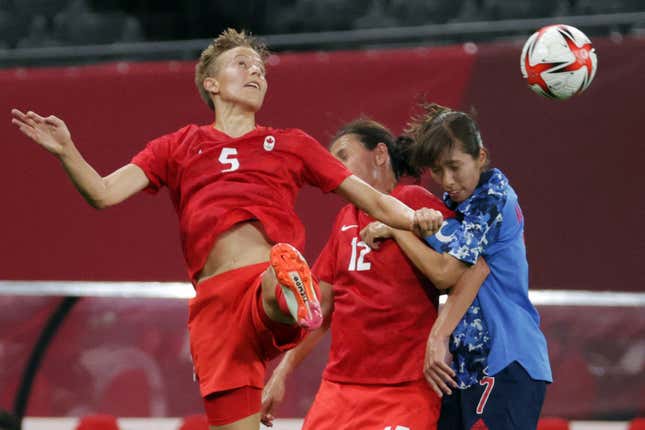 For the first time since the IOC changed its rules in 2004 to allow transgender athletes to compete, there are not one but three openly trans athletes representing their respective countries in Tokyo. Canadian soccer player Quinn, who is non-binary and uses they/them pronouns, was the first to see competition during an opening round game on July 21; you can catch them in Canada's quarter-final match against Brazil on Friday. New Zealand weightlifter Laurel Hubbard is hoping to earn a medal in the women's +87 kg category on Aug. 5. Lastly, BMX freestyle rider Chelsea Wolfe is an alternate for Team USA, although she likely won't get to compete this time around.
---
Instant replay
🥣 Every Olympic athlete who has been on the Wheaties box
🤳 Olympians are influencers now too
🥈 How Mirabai Chanu went from nearly quitting weightlifting to an Olympic silver in Tokyo
📺  The Olympics is a TV-only event, and that's bad news for TV
🔓 Unlock all of Quartz's Olympics coverage by becoming a member. Use the code QUARTZGOLD for 40% off.
---
🎵 This email was produced while listening to the overture from Dragon Quest. Just kidding, it was John Williams's "Olympic Fanfare and Theme."
---
Our best wishes for an inspiring day. Get in touch with us at needtoknow@qz.com and live your best Quartz life by downloading our iOS app and becoming a member. Today's email was brought to you by Samanth Subramanian, Annaliese Griffin, Jordan Weinstock, Susan Howson, and Liz Webber.