To modern workers everywhere,
As corporate leaders stage the "great return" to the office, we've so far been given only a few details meant to suggest a new world. The open office plan is toast. Crowded elevators belong to a bygone era. People will be invited back in stages.
Is this picture satisfying enough as more countries and regions attempt safe re-openings?
Not really. We all have pressing questions about the availability of test kits, masks, and hand sanitizer. Getting to work is a puzzle: Even if you walk or cycle, how are you protected from co-workers who take public transit? Potential issues around privacy and ethics, and liability, are even trickier to confront.
In a public letter about when its workers might return to their offices, Jefferies, the financial services firm, addressed its employees directly and pointed to a solution other companies could adopt: "We will let each of you…make the final determination based on your own personal assessments," the firm's leadership wrote. "There will be no pressure from anyone at the firm for anyone to do anything they feel uncomfortable or unsafe about."
Arguably, this is where most companies will land, even if it does require a quieting of the impulse to control and command. Giving employees autonomy now—when they have demonstrated an ability to work from home productively—is the best way to ease anxieties and empower everyone to contribute to the collective effort to curb this virus as they see fit. Perhaps it will be a stretch for C-suite leaders, but if Covid-19 has called for one thing from all of us, it's more humility. —Lila MacLellan
Five things we learned this week
Salesforce is reopening in Seoul with Disney-style ticketing for the elevators.
Companies are producing a staggering digital library of how managerial decisions get made.
H is for holacracy, in Quartz's storybook about the future of work.
India will spend 10% of its GDP to revive the economy.
Some furloughs are already turning into layoffs.
30-second case study
Doist is exactly the kind of workplace you would expect to see using an instant-messaging platform. Global, remote, and obsessed with productivity (it's the company behind the to-do list app Todoist), it indeed created a workplace of Slack addicts when it tried out the platform a few years ago.
The ability to report bugs in real time and share gifs for laughs was unparalleled. But there was a dark side to all the connectivity. "Because conversations in Slack happen on a one-way conveyor belt, our team began feeling like they had to stay constantly connected to keep up," Doist CEO Amir Salihefendić wrote in a blog post about the experience. Two years into the experiment, the company quit the platform.
The takeaway: What Doist realized it needed was to unchain people from their workplace communication and hold more conversations asynchronously, allowing staffers to block time, according to what worked best for their own schedules, to mull ideas and propose solutions in shared documents.
Salihefendić doesn't recommend doing away with synchronous communication completely—in a recent piece for Quartz at Work, he argues you need both (no doubt a relief to the many committed Slack users at Quartz). But workplaces would be wise to think through ways to cut back on the interruptions and distractions of their own making.
It's a fact
Of the 20.5 million jobs that evaporated from the US labor market in April, 11.3 million were held by women, versus 9.2 million for men. Unlike the 2008 recession, this economic downturn is a double whammy for women: Job losses are disproportionately affecting female-dominated industries like retail, leisure, and hospitality, and mothers are shouldering most of the childcare burden as schools and daycares have shuttered.
Inbox
For the duration of the pandemic, and perhaps even beyond, should companies enable personalized scheduling, the option to work weekends instead of weekdays, or shortened work weeks? Drop us an email and let us know: ✉️ Is it time to rethink the traditional work schedule?
+ Last week we asked which office perks you miss most. Maria lamented the loss of her office setup ("I really miss elevated tables that allow me to work standing and, of course, my double monitor"), the snacks, and the coffee syncs with colleagues ("Especially as a recent college grad completely new to my industry, these were really valuable," she wrote). Vicky was less nostalgic. "I don't miss any of it," she told us. "I love working remotely."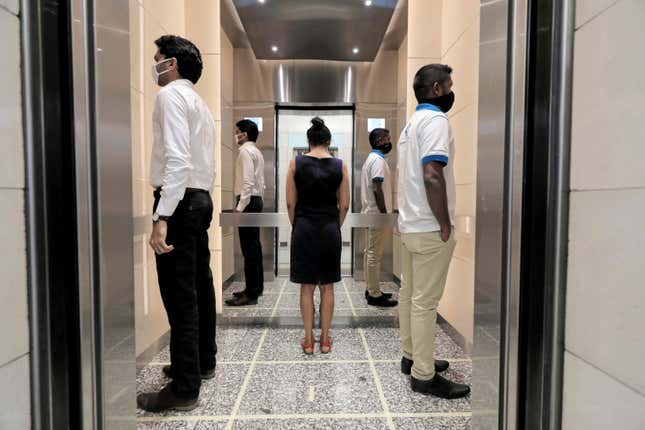 Words of wisdom
"There's no way parents can replicate what's happening in school unless they happen to be educators, and it's not fair to expect them to."—Lynne McClure, director of the nonprofit Cambridge Mathematics, which builds digital tools to help improve math curricula
+ Read Quartz reporter Jenny Anderson's story on how parents who have math anxiety can pass it to their children while trying to help them with homework. To find Quartz at Work's complete coverage of the lives of working parents, click here.
Special to Quartz members
Professional conferences are being reimagined, but it's far from clear whether online versions can become worthwhile proxies for the real thing. Quartz members have exclusive access to this deep dive from Anne Quito, who attended more than a dozen virtual events in recent weeks and found that hosting a good gathering online isn't simply a matter of live-streaming the usual fare found on the conference stage. Readers of The Memo are eligible for 40% off the first-year Quartz membership price of $99 by using the code QZFLASHSALE. Sign up for membership here.
ICYMI
Sarah Cooper has become the breakout comedian of the coronavirus era. The writer and former Google manager lip-syncs US president Donald Trump's statements about the pandemic. Her performances essentially ask, what if the trappings of leadership were removed, and a regular person were caught on video musing about, for example, whether people should use disinfectant to cure a virus? We're not surprised that Cooper can so thoroughly skewer the American head honcho. As these stories from the Quartz at Work archive reveal, she first made a name for herself in comedy by calling out the ridiculousness of office meeting culture and gender politics.
You got The Memo!
Our best wishes for a productive and creative day. Please send any workplace news, comments, middle-school math tips, or virtual conference invitations to work@qz.com. Get the most out of Quartz by downloading our app and becoming a member. This week's edition of The Memo was produced by Holly Ojalvo, Heather Landy, and Lila MacLellan.