To modern workers everywhere,
When a new leader arrives at a workplace, it can be a really exciting time. Fresh energy is infused into an existing brand or product. A surprising perspective is ushered in. It's often a period of rapid transformation and change.
But new leadership can also create long-term conditions that severely limit who gets to succeed.
That's what happened at the Condé Nast food magazine Bon Appetit a little over 10 years ago when former GQ editor Adam Rapoport became its new editor-in-chief, tasked with making the title cool and attention-worthy. His hires were based on a deeply subjective process that "favored predominantly the same white, private-university graduate demographic that Condé Nast is legendary for," observed writer Willy Blackmore in Study Hall, an online community for freelancers. "I always try to hire people who I'd want to hang out with all day," Rapoport had told him.
Rapoport's leadership, along with that of his hand-picked, all-white team of managers, is now the subject of an extraordinary multi-part series called "The Test Kitchen" for Reply All, a podcast on internet culture. Host and senior reporter Sruthi Pinnamaneni spent months producing a powerful and comprehensive look at how non-white staff at Bon Appetit were repeatedly mistreated and overlooked for promotions. The episodes center around its wildly popular Test Kitchen, where many of the magazine's high-profile, lucrative video channels were filmed. But it covers much more than that.
Pinnamaneni's extensive interviews illustrate a kind of repeated exclusion in workplaces that can be tricky to think about or tackle because of how it's built and maintained from hundreds of small and large choices. They reveal what happens when white people only think of other white people as their friends, peers, bosses, audience, and customers, as many do.
For people of color, the conversations can feel cathartic: you'll recognize all the slights that felt too minor or plausibly innocent to call out in the moment, but still make you cry when you recall them years later. White listeners, meanwhile, will be taken inside the experiences of smart, enthusiastic people whose expertise and ideas are routinely dismissed.
Rapoport resigned last summer, but the conversations around racism, inclusion, and what needs to change continues at many workplaces, including at the current version of the magazine. As with recipes, there's always room to rethink and improve the formulas we know. —Karen K. Ho, Quartz reporter
---
Five things we learned this week
Workplace romance has flourished during the pandemic. Fortunately, having an office crush can boost your productivity.
Taking mini breaks while working from home is a sound anti-burnout strategy. But you have to develop "nano transitions" know-how.
African investors say they will pour money into women-led startups. Female founders in Africa have typically been over-mentored and underfunded.
"WFA" is the new "WFH." Salesforce and Spotify are embracing "work from anywhere" policies.
Young people around the world are turning to military jobs during the pandemic. Enlistments are up in the UK, Australia, South Korea, and Canad
---
30-second case study
When it was first unveiled in 2019, it seemed inevitable that Fenty, a fashion line co-created by Rihanna and LVMH, would be a smashing success. Quartz reporter Marc Bain called it "a clear sign of the times, the first instance of the luxury powerhouse partnering with a celebrity, or a woman of color, to launch a brand from scratch." Rihanna's aesthetic vision meets branding and fashion minds behind Dior and Louis Vuitton—what could go wrong?
A pandemic, for one thing. Last week, LVMH and Rihanna announced that Fenty would be on hiatus, "pending better conditions."
It wasn't only the pandemic economy that has troubled this project, which has seen lackluster reception for its $700 satin shirt dress, $300 hoodies, and $910 hot-pink heels."Despite the success of Rihanna's previous forays into makeup and lingerie, the fashion line never generated the same excitement or quite found its place in the market," Bain writes. "Fenty Beauty, her cosmetics brand, attracted customers by catering to a wide range of skin tones. Savage x Fenty, her lingerie line, created body-positive spectacles that celebrated women of all shapes with its bras and underwear while market leader Victoria's Secret was still pushing its narrow, skinny ideal."
The takeaway: Lower-priced celebrity-designed clothing has taken hold through partnerships with major retailers, but the luxury market is not so easily won over. In high-end fashion, labels can't assume that attaching a celebrity name to an initiative will be enough to spur demand, even with a star like Rihanna, someone who is both of-the-moment and enduring. Buyers still need to feel excited by an obviously new take, a brand with a clear identity. But Fenty hardly rewrote the rules of fashion. "When celebrity-founded luxury companies have succeeded, as in the case of The Row by Ashley and Mary-Kate Olsen," Bain adds, "it's been through a focus on product and not so much the fame of the founders."
---
Quartz field guide interlude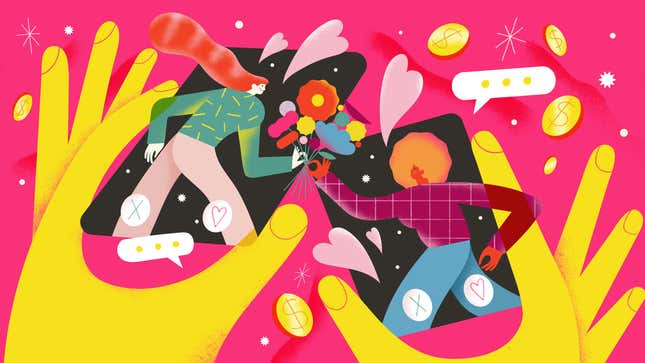 Millennials are tired of the swiping game on Tinder and its persistent reputation as a hook-up app. But Gen Z has arrived, and its members have a different attitude toward the app than their predecessors. They are more flexible in that they are looking for everything from sex, to relationships, to "situationships," to travel companions. They make matches simply for conversation, to practice flirting, or for a little self-esteem boost.
"I think that we forget that, for someone who's 18 or 19, they're not tired, they just started, and there's positivity and excitement. Because of where Tinder is in culture, [using it] is a rite of passage," says Nicole Parlapiano, the company's vice president of marketing for North America.
Tinder, which got its start on college campuses, wants to be the introduction into the world of online dating. Depending on the location, Parlapiano said, the share of 18-25 year-olds on the app "hovers around over 50%."
Indeed, the age of people dating online has been falling—especially during the pandemic, according to Sensor Tower.
Read more about how online daters are skewing younger, the rise of borderless dating, and how niche communities can make dating less exhausting in this week's field guide, The Dating Biz.
Not yet a Quartz member? Get unlimited access to each of our weekly field guides, and all of Quartz's global journalism, with a Quartz membership. Use the code QZTWENTY to get 20% the first-year subscription price.
---
Office perk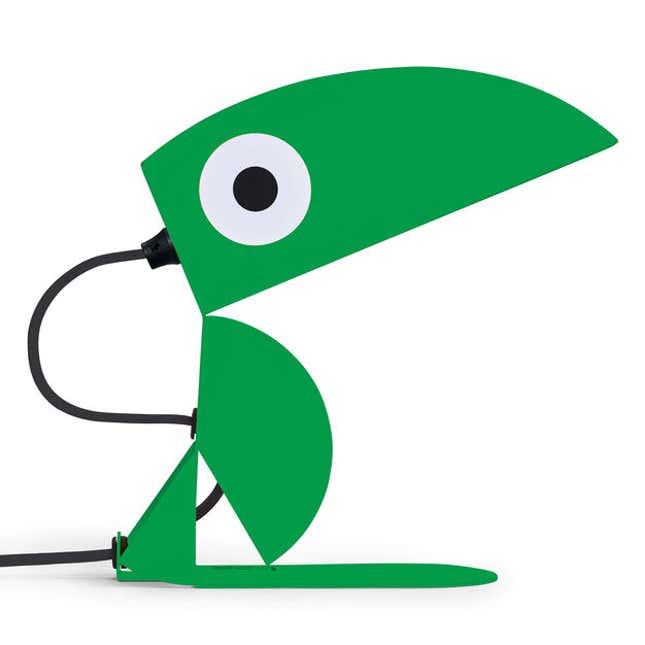 Maybe your company was on the avant-garde art installation train before the pandemic arrived, or you feel nostalgic for some whimsical wallpaper that brightened your workspace—and now you're tired of your considerably less interesting home office.
Understandable, but you have complete creative control over your space now, which isn't nothing. Why not guard against an all-work-and-no-play mindset by ordering this silly, bright-green toucan lamp ($160) to keep you company? "Perfect for a child's room or young-at-heart adult's desk," says the Moma Design Store.
For an in-depth exploration of an ideal at-home set-up, check out "How to design a happy home office" by design reporter Anne Quito
---
It's a fact!
Four in 10 employers still haven't decided whether they will make Covid-19 vaccinations mandatory for their staff, according to a recent report by Littler Mendelson PC, an employment and labor law firm.
In the survey of more than 1,800 C-suite executives, HR professionals, and in-house lawyers, 80% of respondents named employee resistance as one reason not to adopt a vaccination requirement, though companies are also concerned about morale and legal liabilities. Eleven percent said they would dangle cash incentives to encourage employees to get a jab.
---
Words of wisdom
"Don't use the words 'potty mouth' to describe a woman who speaks her mind and uses the English language in all its flourishes and adjectives. It tells me and everyone else who isn't dumb that you're not creative and you have not examined the deeply-rooted invisible misogyny you were raised with." —Sarah Silverman, American comedian, reacting on Twitter to a recent Washington Post story about her career.
---
Save the date!
Join us this Thursday, Feb. 18 at 11am US eastern time for a free, one-hour workshop on how to promote disability inclusion at your workplace.
The pandemic showed us that businesses can rapidly adjust and adapt when they have no choice. Companies that previously rejected work from home policies or flexible hours had to implement and champion remote working models in a matter of days. The resulting accommodations reflect changes that people with different abilities had long been fighting for.
In this workshop, we'll talk with disability inclusion advocate Caroline Casey, founder of The Valuable 500 initiative, about how businesses can create an accessible and inclusive workplace for people of all abilities that extends past the present pandemic.
---
ICYMI
Psychologists say the thing you love about your partner is also what drives you crazy about them. It appears that the same is true of our relationship with the physical office. Perhaps you've forgotten, but all those lovely people you've missed over the past year were once a source of deep annoyance, according to this excellent piece from our archive by reporter Michelle Cheng. In one of her first stories for Quartz at Work, she shared a ranked listing of the worst office distractions.
---
You got The Memo!
Our best wishes for a productive and creative day. Please send any workplace news, decorative lamps, and secret crushes to work@qz.com. Get the most out of Quartz by downloading our app and becoming a member. This week's edition of The Memo was produced by Lila MacLellan, Sarah Todd, Karen K. Ho, and Marc Bain.