To modern workers everywhere,
I love coming up with ideas. Sometimes I imagine my brain as a rock tumbler, turning over rough notions about social justice and boot trends and the facial-recognition capabilities of crows. The thoughts rattle around and then out pops something bright and shiny. A gem of an idea! I'll then excitedly offer it to my boss or a colleague or the anonymous masses of social media.
But sometimes the response is that my idea is not a gem but a common pebble, better tossed into a gravel driveway than put on display. Under such circumstances I may feel discouraged (What if my mind is filled with nothing but pebbles?) or take offense. But as a recent interview with Nobel prize-winning psychologist and economist Daniel Kahneman highlights, we're ill-served by being precious about our ideas. Instead, we should treat them as easy come, easy go. "I've never thought that ideas are rare," Kahneman said on Adam Grant's Work Life podcast. "If that idea isn't any good, then there is another that's going to be better."
In other words, as Grant observes, Kahneman believes that ideas are abundant rather than scarce—which "makes it easy to stay detached." It's a mindset that's served Kahneman well throughout his career, during which he and his frequent collaborator Amos Tversky introduced the world to important concepts from the planning fallacy (or, the tendency to underestimate how much time a task will take) to loss aversion (which holds that people place more value on avoiding loss than they do on getting a potential gain). Since Kahneman is confident there are always more ideas just around the bend, it's easier for him to let weak ones go and to feel excited and surprised, rather than upset, upon discovering that he's wrong.
Practicing detachment with respect to our own ideas is an important skill, especially for managers, who risk producing shoddier work and demoralizing staff if they consistently prefer the thought that came from their own head over the contributions of the people they supervise.
Kahneman's abundance mentality means he doesn't see his individual ideas as extensions of himself, nor does he take their reception as mini-referendums on his own worth. It's an approach that fuels curiosity and open-mindedness. The view that ideas are plentiful also may be reassuring for anyone who's had to walk away from a plan that just wasn't working out. It's counterintuitive, but it's encouraging to know that sometimes the most rational and efficient thing to do is to give up.—Sarah Todd
---
Five things we learned this week
More women are mastering the stock market during the pandemic. Hit hard by the economic downturn, women are taking the reins of their finances and opening up new brokerage accounts.
There's a known formula for starting a meaningful racial justice initiative in your office. Inviting co-workers who may not yet be engaged in diversity, equity, and inclusion issues is key.
McKinsey is facing a moment of reckoning. Once the gold standard of management consulting, the 95-year-old firm has a growing reputation problem.
A default setting on Dell's webcam is to blame for the Zoom lawyer cat-tastrophe. The avatar featuring a Taiwanese kitten named Eldest Mouse was introduced to compensate for the low resolution video in the early aughts.
Stand-up comedians can make your next staff meeting a must-see event. Services like Laugh.Events can perform interactive skits based on your company's remote work saga.
---
30-second case study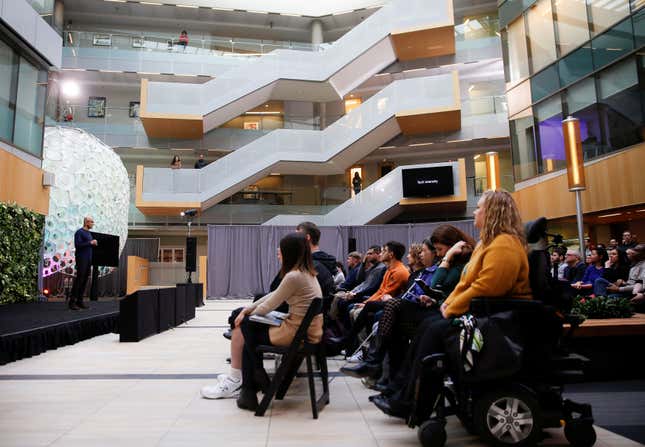 With greater awareness of the value of neurodiverse individuals, organizations are redesigning hiring processes and making them inclusive, accommodating, and even fun. For example, Microsoft conducts a four-day activity four times a year where potential hires tinker with Lego Mindstorms, participate in mock interviews, and spruce up their online résumés. JPMorgan improved the physical environment for interviews, offering clear wayfinding instructions and noise-canceling headphones if the room is too loud. Most importantly, HR managers are rethinking the phrasing of their standard questions avoiding trite open-ended queries like "Where do you see yourself in five years?" which tend to be misinterpreted, as Alex Ossola reports.
The takeaway: The improvements in hiring processes offer a classic design lesson: Considering the needs of people with disabilities inevitably results in better conditions for all.
---
It's a fact
In a study published in Nature, John Kirwan, a professor of rheumatology at the University of Bristol, calculated that only 5% of his ideas came to fruition and just 2.7% were "especially good." Extolling on the virtue of exploring paths that may lead to dead ends, he argued that "thinking of and testing ideas that do not work out is not a waste of time and effort—it is an integral and necessary part of successful research."
---
Quartz field guide interlude
Video game live streaming is now mainstream entertainment, and Hollywood wants in.
One big number: About 33% of Gen Z consumers watch content on Twitch at least once a week.
For young consumers roughly between the ages of eight and 25 who grew up on the internet, watching live streams can be as natural as older generations turning on the TV or flipping on the radio. These digital gaming spaces are where many of them feel the most comfortable throughout their day.
"These creators provide kids a community that they can feel they belong to," said Doron Nir, the CEO of StreamElements, a company that provides many popular streamers with on-screen graphics, overlays, and other features. "That is really powerful." Read on.
Not yet a Quartz member? Sign up now for a 7-day free trial. )
---
Words of wisdom
"Make your ego porous. Will is of little importance, complaining is nothing, fame is nothing. Openness, patience, receptivity, solitude is everything."― Rainer Maria Rilke
---
ICYMI
In 2017, two books about Leonardo da Vinci put our notions about the so-called "cult of genius" to the test. In Leonardo da Vinci, Walter Isaacson contends that genius is a trait that can be cultivated. "[Leonardo's genius] was based on skills we can aspire to improve in ourselves, such as curiosity, and intense observation. He had an imagination so excitable that it flirted with the edges of fantasy, which is also something we can try to preserve in ourselves and indulge in our children," he writes.
Mike Lankford, author of Becoming Leonardo: An Exploded View of the Life of Leonardo da Vinci, on the other hand, argued that there are no born geniuses per se. Rather, we're all capable of "moments of genius" like the Renaissance master. "He was not a permanent genius—no one is," Lankford writes.  Da Vinci, in fact, struggled to catch up with his peers. Considered a late bloomer for arriving at the workshop of painter Andrea del Verrocchio at age 15, he was keenly conscious of the need to figure things out quickly. Writes Lankford, "the sense of lateness is the animating spark of every autodidact."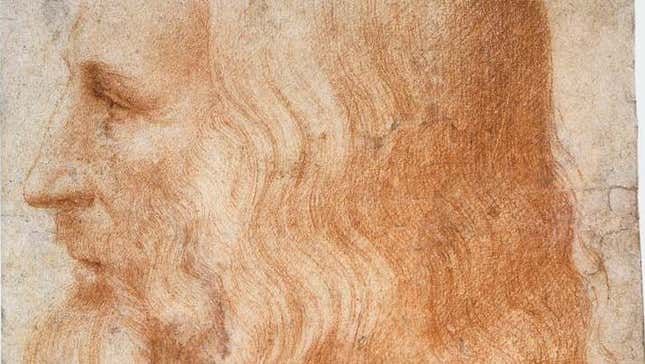 Our best wishes for a week filled with moments of genius. Please send discarded ideas, job interview breakthroughs, and Twitch favorites to work@qz.com. Get the most out of Quartz by downloading our app and becoming a member. This week's edition of The Memo was produced by Anne Quito and Sarah Todd.