To modern workers everywhere,
Is there a workplace topic more interesting right now than the near-term future of the office?
This time last year, some were willing to bet that the office had no future at all. That prognosis quickly gave way to discussions about the efficacy of plexiglass dividers and air-filtration upgrades. Then it was on to reimagining the office as a collaborative space, designed to bring people together rather than spacing them six feet apart.
Now the discussion is all over the place. Where you work today (or come September, or starting in 2022) might depend on your industry, your company culture, your manager, or your situation at home. There are presumptive bellwethers, but no clear trends. To Viktor Mayer-Schönberger, this is an excellent sign.
Mayer-Schönberger is a professor of internet governance and regulation at Oxford and a co-author of the new book Framers: Human Advantage in an Age of Technology and Turmoil (May 2021, Dutton), which is about how we can improve our thought models to make better decisions. The pandemic, he says, hasn't definitively proven that one way of working is better than another. But it has opened our eyes to a wider range of possibilities than most companies saw in the before times, which means companies are likely to have more innovative answers to the question of where and how we work—even the ones that resume their office-bound ways.
"There is no return to normalcy," says Mayer-Schönberger, whose research focuses on the role of information in a networked economy. "The environment people are reentering is fundamentally changed, so we need to reframe how we see our work and ourselves. If there is a reason why we go to a workplace, it needs to be a different reason than the one that we had: that this is the way we've always been doing it."—Heather Landy
You've just read the introduction to our recent Q&A (or QZ&A, as we like to call it) with Mayer-Schönberger. In conversation with Quartz, he explained the elements of smart framing, the reframing of work post-pandemic, and the reason why "thinking outside the box" is precisely the opposite of what innovators and dreamers should do. Read the full interview here. 
---
Five things we learned this week
🧳  Airbnb is catering to remote workers who crave a change in scenery. Its forthcoming search tools will be super flexible, enabling a carefree "take me anywhere, anytime" attitude.
🥊  WeWork should prepare for stiff post-pandemic competition. Along with a $2.6 billion quarterly loss, the company reported an increase in demand for flexible office space, but hotels and other businesses are eyeing the same market.
🌇  Funding for African American communities in six US cities would change the trajectory of the entire country. That's just one of many arguments for sustained corporate giving to honor George Floyd's legacy.
🦕  Some companies still use Internet Explorer. Microsoft will officially shut down the once-dominant browser next month, but it has made accommodations for corporate holdouts.
👛 Jeff Bezos is no longer the world's richest person. This time it's a different CEO billionaire, and not Bill Gates, who stole the top spot from Amazon's founder.
---
30-second case study
Earlier this month, Adidas released a gorgeous bright blue sneaker, the brand's latest from its collaboration with singer Pharrell Williams. But some customers were not happy.
The shoe has the word uluntu printed across its top, from toe to tongue. As Quartz fashion reporter Marc Bain writes, uluntu means either "human race" or "community" in Xhosa, a language spoken by millions of members of one of South Africa's largest ethnic groups. The flap around the shoe wasn't just about issues of cultural appropriation. Adidas also drew criticism because it declined to make the shoe available in South Africa. "The community the sneaker drew its inspiration from was excluded from a chance to buy it," Bain notes.
The takeaway: To be fair, Adidas was following a tried-and-true distribution model in the sneaker industry when it launched the shoe with select retailers in a limited number of markets, making it a sought-after commodity. What's more, other shoes in the same series by Williams also feature foreign languages.
Adidas is also far from the only megabrand to stumble this way, whether by design, a miscalculation, or plain ignorance. "The situation can be complicated when a designer is trying to show appreciation for a culture," Bain writes, "but often it amounts to a company turning a cultural group's heritage into a way to make money without so much as consulting it."
The Adidas controversy shows that creative industries need to build a checkpoint into their production systems, so that even diverse teams are forced to pause and examine questions of cultural sensitivity. It's not enough to avoid offensive motifs and stereotypes. Before green-lighting anything, somebody should ask: How can we include the populations from which this idea originates? And how can we respect those cultures by providing due credit and, at the very least, the opportunity to engage with the finished product?
---
Office culture trend watch 👀
What's hot: We're entering the age of the Covid compliance officer.
What's not: Cold calls. The Wall Street Journal reports that Merrill Lynch has banned the practice among trainee stock brokers, describing cold calls as "a vestige of an era when the industry pushed hot stocks on anyone who would pick up the phone."
Fading fast: Handshakes, according to an unscientific Twitter poll by comedian Sarah Cooper, which got nearly 50,000 votes. In answer to the question of whether handshakes are ever coming back, 55% chose "No, thank god."
---
Quartz field guide interlude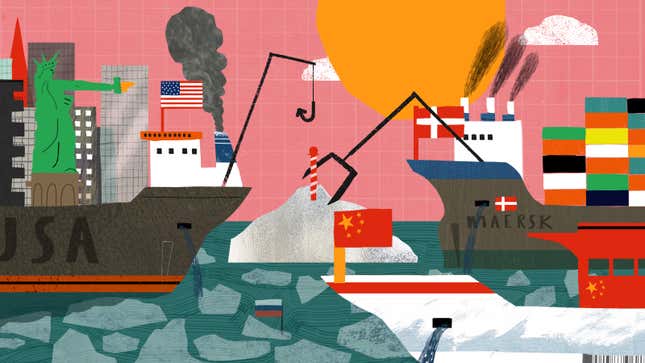 Ordinarily in January, the waters of the Arctic ought to be encrusted with thick, daunting ice, the kind that resists nearly every ship on earth. This past January, though, the Christophe de Margerie sailed the Arctic herself. In 11 days, the de Margerie reached the Chinese port of Jiangsu, not far from Shanghai, where the liquefied natural gas she carried was unloaded; then she sailed home, east first and then north, back through the Bering Sea and along the Northern Sea Route. Video footage of the voyage makes the de Margerie look elegant but spooky: a ship that appears to glide on frozen land, until the ice cracks to reveal the water beneath.
The journey was unprecedented. In bygone times, the Northern Sea Route was navigable only from July to November, but the changing climate has both prolonged the sailing season and shrunk the ice cover in the deepest part of winter. The de Margerie's journey proved that the Arctic is already open for business year-round—"that year-round safe navigation is possible along the entire length of the Northern Sea Route," said Igor Tonkovidov, the president of Sovcomflot, which ran the de Margerie on its voyage.
Read more about how cargo ships are increasingly "shrugging off their icebreaker chaperones" in our latest member-exclusive field guide, Opening the Arctic.
Not yet a Quartz member? Sign up now for a 7-day free trial.
---
Fun fact!
Turning off your camera during a video call will reduce its carbon footprint by 96%, according to researchers at Purdue University. (H/T Harper's Index.)
Their study also found that one hour of videoconferencing or streaming requires 2 to 12 liters of water and emits 150 grams to 1,000 grams of carbon dioxide. For comparison, your car emits about 8,887 grams of CO2 when it burns a gallon of gasoline.
---
Words of wisdom
"I don't want anything in there. I go into the room and I feel as if all my beliefs are suspended. Nothing holds me to anything." —Maya Angelou
The late American poet on turning a hotel room into a writing studio, as quoted in a recent New Yorker column about the cognitive benefits of working from near home.
---
ICYMI
As the economy opens and schedules fill up once more, housekeepers are bound to start getting more calls from time-strapped customers. It's an ideal time to revisit this thoughtful Quartz at Work piece on what the movie Parasite got right about the ethics of hiring domestic help. As Sarah Todd writes, people who employ housekeepers can help reduce structural inequalities by fighting for better pay and benefits for gig workers, but "money is not all that's owed to the people who power middle- and upper-class homes."
---
Office tunes
This Memo was produced to the wondrous songs of nightingales, piped in whenever the noise from idling delivery trucks, car horns, and nearby drilling blocked the springtime melodies of actual birds.
---
You got the Memo!
Our best wishes for a productive week. Please send any workplace news, excellent excuses to turn off our Zoom cameras, and post-pandemic new job titles to work@qz.com. Get the most out of Quartz by downloading our app and becoming a member. This week's edition of The Memo was produced by Lila MacLellan, Marc Bain, and Sarah Todd.