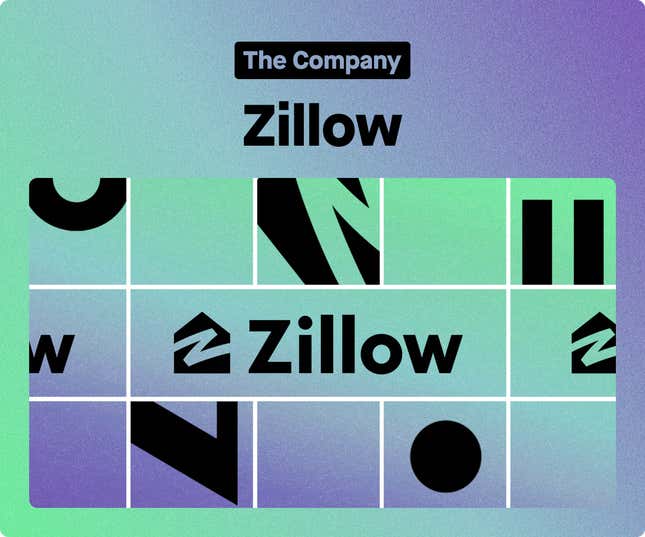 Hi Quartz members,
Tell us what Zillow means to you and we'll tell you where you are in life.
If you're ignoring low-balance alerts from your bank while looking up nine-bedroom homes online, you're among a record 9.6 billion page views the real estate listing site racked up in 2020 (including among teenagers). If you recently checked your "Zestimate," you're a homeowner still smarting from 2008, interested in today's seller's market, or both. And if you're addicted to smartphone notifications about houses that meet a specific search criteria, you're an aspiring buyer or renter, perhaps no longer so closely tied to the office downtown.
Co-founded in 2004 by Rich Barton (who also founded Expedia) and Lloyd Frink, Zillow was meant to end the information asymmetry between home buyers and sellers. For years, real estate agents had access to tons of market data, but buyers—including Barton—couldn't even figure out a house's address. It was like "shopping in a dark grocery store with a flashlight," Barton told NPR's How I Built This. "Worse than that, the flashlight was held by an agent who you [had] to ask to point at something."
Enter the Zestimate: Zillow's algorithm for estimating a home's value, which takes into account tax records and other public data, physical features, and user-submitted information. Zestimates are attached to houses whether they're on the market or not, which turned them into data points that could inform users' fantasy searches, or satisfy their penchant for snooping. Zillow solved a problem for home-buyers; the Zestimate made Zillow a cultural force.
For over a decade, Zillow monetized that popularity by selling ads to real estate agents and property managers. It also acquired competitors Trulia, StreetEasy, and HotPads. Then in 2018, the company got into real estate itself with an iBuyer operation called Zillow Offers. Like other iBuyers, Zillow Offers purchases houses directly from sellers, using algorithms to make nearly instant offers. The company then fixes and renovates those homes, and resells them directly on Zillow (for a fee, of course).
Or at least, it did—on Oct. 19, Zillow said it would have to pause buying new homes. The company cited a backlog of already-purchased properties in need of repair, inspection, and re-listing. But the development also exacerbated a larger anxiety: As the US contends with a 6.8-million unit housing shortage and skyrocketing home prices… is Zillow part of the problem?
---
By the digits
1.1 million: Homes for sale on Zillow.com at the end of September 2021, a sliver of the site's complete database of 135 million homes
9.6 billion: Page views on Zillow in 2020, up 19% year over year
$308,220: Current Zillow Home Value Index for the US, meaning the typical value of homes in the 35th to 65th percentile range
42%: Increase in home values in US zip codes where the median home value was less than $100,000 three years ago
393%: Increase in Zillow's stock price between February 2020 and February 2021, when the stock hit a record $202 per share
50: Zillow employees laid off after the 2008 housing crisis—one-quarter of the staff
6,400: Zillow Group's current employee count
3%: Homes in the US sold in "whisper listings" that never reach Zillow or any other site
1.3 million: Followers of "Zillow Gone Wild," an Instagram account that shares extraordinary and bizarre Zillow listings
---
Holding pattern
After taking a hit at the onset of the pandemic, the iBuyer market is now red hot: Industry leader Opendoor has made the strongest recovery, while Offerpad just broke into the California market. So is Zillow's pause a cause for iBuyer concern? Here's what we know:
🔥  The block is hot, and the labor market is tight. Zillow says demand grew so quickly that it didn't have the staffing to conduct inspections, execute repairs, and get houses back on the market.
💰 Zillow might have been a victim of its own success. Earlier this year, the company started treating Zestimates as price tags in Zillow Offers markets. A potential seller only had to click a button beneath the number, and Zillow would make a preliminary offer within one day.
​​🥂  Zillow has otherwise had a banner year. The second quarter of 2021 was the company's most profitable yet—Zillow Offers alone netted $70 million. Zillow is also investing in a relatively new mortgage division.
🤔  Not everyone is buying it. Some competitors and analysts are skeptical of Zillow's explanation for the pause, and wonder why the company didn't simply cut back on offers.
---
I on the prize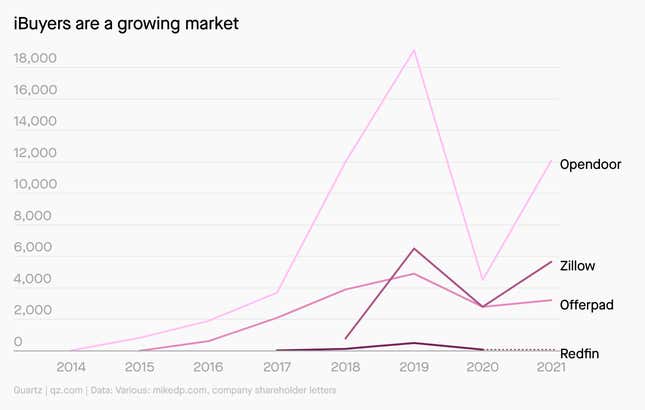 ---
The world of real estate
Does the rest of the world have Zillows? Not exactly. But real estate voyeurism is a global phenomenon. Here's where to get your fix in some major markets.
---
So, *is* Zillow manipulating the market?
In a TikTok video with over 2.4 million views, Las Vegas realtor Sean Gotcher suggests that as Zillow expands into the home-buying business, the company uses its immense trove of housing data to buy up a block and strategically overpay, thereby manipulating the local market.
The company says its Zestimates have a median error rate between 1% and 4% for active listings across the US, and insists that it pays market rates for housing. The data backs this up: An analysis of iBuyer transactions done by real estate strategist Mike DelPrete found that before 2020, they tended to pay about 1.3% less than fair market value. At least for right now, iBuying businesses actually tend to lose money.
Even if Zillow was overpaying, at this point it doesn't have enough reach to make a major dent: All iBuyers put together only make up about 1% of US home purchases. But that hasn't stopped lawmakers from asking the head of the Securities and Exchange Commission to "closely examine competition issues" in the real estate market.
---
Hunted houses
You can't put a price on how fun it can be to troll Zillow for unique, ostentatious, or completely quirky listings. Here are five that people can't stop talking about.
🍄  No, you're not tripping—It's a mushroom house. (Forked River, New Jersey)
🍑  Don't mind the color scheme; this apartment is just peachy. (Las Vegas, Nevada)
⚔️  A knight at the museum. At least you'll never feel alone? (Chattaroy, Washington)
🧸  You too could have 18 bedrooms and…a teddy bear room. (Great Neck, New York)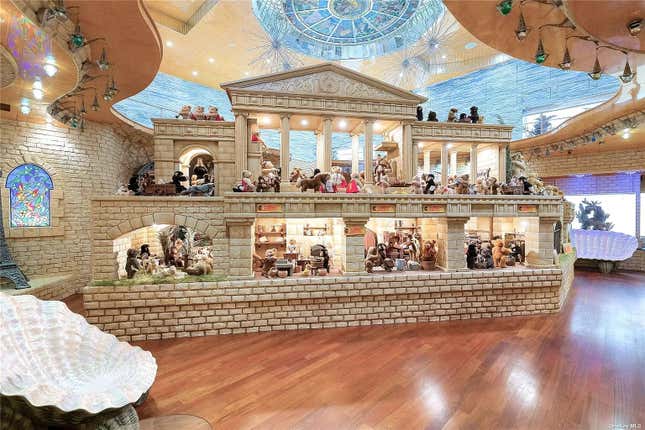 ---
Keep learning:
---
Have a great end to your week,
—Camille Squires (fought for her life on StreetEasy)
—Lila MacLellan (New Yorker with a mental map of Hudson Valley listings)
---
One 💡 thing
Pop quiz: What two words were combined to create the name "Zillow"?
Zippy and mellow
Zillions and pillow
Zilch and low
Zest and billow
The correct answer is B. Co-founder Rich Barton wanted to use Z, a high-value Scrabble letter, to create a brand name that captured real estate's money-focused, data side and its emotional connection to "home."
---
We need a Zestimate. Roughly how much are you enjoying our member emails? Please take a minute to share your feedback in this short survey.