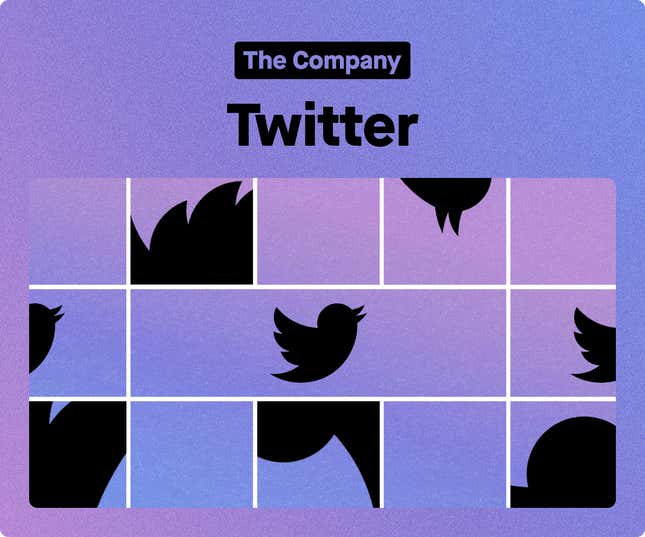 Hi Quartz members,
On Nov. 29, Jack Dorsey stepped down as chief executive of Twitter, hand-selecting Parag Agrawal as his heir. Agrawal, a longtime Twitter employee, had been chief technology officer; in naming him, Dorsey praised Agrawal's understanding of both the company and its core product. Dorsey was also a programmer when he co-founded Twitter in 2007, and reportedly sees a lot of himself in Agrawal (though not the beard).
But Twitter's CEO switch is more than just a reflection of its engineering origins—it's a reflection of the company's shifting priorities.
In the past year, Twitter has been focused on its product: changing the interface, functionality, and experience of its platform. The company launched social audio feature Spaces, bought integrated newsletter company Revue, gave creators a way to tweet exclusively for a paying audience through Super Follows, and started rolling out Twitter Blue, a $3-per-month subscription product that gives power users better features and cosmetic options.
But for many years, Twitter's top priority was not product but trust and safety, which is industry-speak for keeping bad stuff off the platform. The company famously "deplatformed" Donald Trump after he used Twitter to incite violence at the US Capitol; well before that, it introduced new policies concerning what world leaders can say and the repercussions of spreading lies and threatening real-world harm. Twitter started placing warning labels alongside many of Trump's falsehoods, and even blurred out his worst tweets, including "When the looting starts, the shooting starts," which he tweeted during Black Lives Matter protests last May.
Nearly one year after Trump's dismissal from social media (he is also still banned from Facebook until at least 2024), it's tempting to imagine that Twitter has the luxury of focusing more on product than content moderation. But what fresh hell might be wrought by Trump's political resurgence—or the rise of someone made in his image? Would Vijaya Gadde, Twitter's top lawyer and head of trust and safety, have been a better fit for the job?
Agrawal will be tested in the months and years ahead—not only on his ability to transform Twitter's ecosystem, expand its user base, and build new streams of revenue, but also his ability to keep Twitter safe from those determined to abuse it. Especially if those people are in charge.
---
By the digits
$1.2 billion: Twitter's third-quarter revenue in 2021, up 37% year over year (pdf)
211 million: Daily active users on Twitter (pdf)
$2.99: Monthly price of Twitter Blue
97%: Share of total tweets that come from just 25% of users
386,000: People who follow Quartz on Twitter (follow us!)
40404: The five-digit phone number Twitter used for its text-to-post service until 2020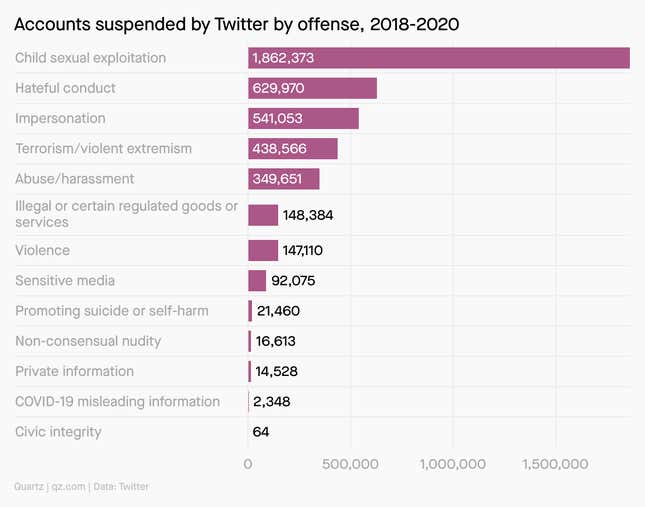 ---
Has Twitter peaked?
A new report from eMarketer and Insider Intelligence suggests it might soon. While Twitter does not report monthly users, eMarketer estimates that its US user base will peak at 54.6 million in 2021, coming off years of pandemic-induced growth. Through the end of 2025, the market research company expects Twitter to lose 1.1 million US users.
That doesn't spell doom for the social network. "Twitter's value proposition has never really been about the overall size of its user base, but rather the engagement of those power users or those who really use the platform regularly," says eMarketer senior analyst Jasmine Enberg. But Agrawal will need to find ways to add new users and engage existing ones, if he wants to please investors. Enberg says Twitter Blue, the platform's new paid tier, will be crucial in that effort, as will equipping creators with new tools to communicate with their followers.
---
Brief history
2006: Twitter is founded by Jack Dorsey, Evan Williams, Noah Glass, and Biz Stone as part of the podcast company Odeo.
2007: Twitter spins off as its own company with Dorsey as CEO and finds wide appeal at tech and music festival South by Southwest.
2008: Ev Williams replaces Jack Dorsey as CEO.
2009: Twitter is valued at more than $1 billion.
2010: Dick Costolo, a former Google product manager, takes over as CEO.
2012: Twitter buys short-form social video app Vine for $30 million.
2013: Twitter goes public on the New York Stock Exchange at $26/share (today it's $45).
2015: Twitter buys the livestreaming app Periscope; Jack Dorsey becomes CEO for the second time.
2016: Twitter introduces an algorithmic timeline for the first time. Donald Trump, known for his controversial Twitter feed, is elected president.
2017: Twitter shuts down Vine, three years before short-form social video app TikTok takes off in the US.
2021: Trump is banned from Twitter for inciting violence.
2021: Parag Agrawal replaces Dorsey as CEO.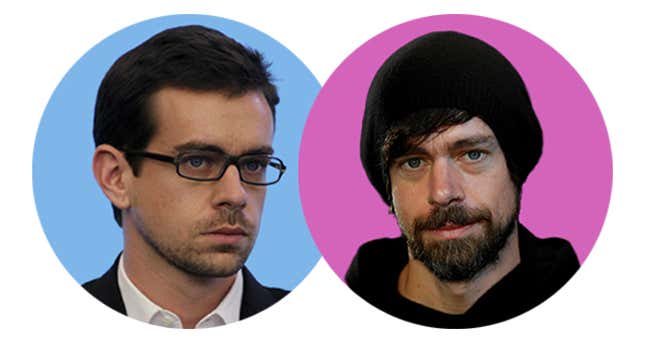 ---
Keep learning
---
Have a logged-off end to your week,
—Scott Nover, emerging industries reporter (and Quartz's foremost tweeter)
---
One 😁 thing
In his resignation note, Dorsey may have taken a swipe at Facebook (sorry, Meta) founder and CEO Mark Zuckerberg. Dorsey said Silicon Valley fixates on whether a startup is "founder-led," which he has come to find "severely limiting" for a company.
It's unclear how much time Dorsey actually spent leading Twitter, considering he had simultaneously been serving as CEO of payments platform Square (sorry, Block). But Dorsey said he needed to put his company over his own ego. "I know we'll prove this was the right move," he wrote.
Was Dorsey's farewell address directed at Zuckerberg? Sounds petty enough to be true.