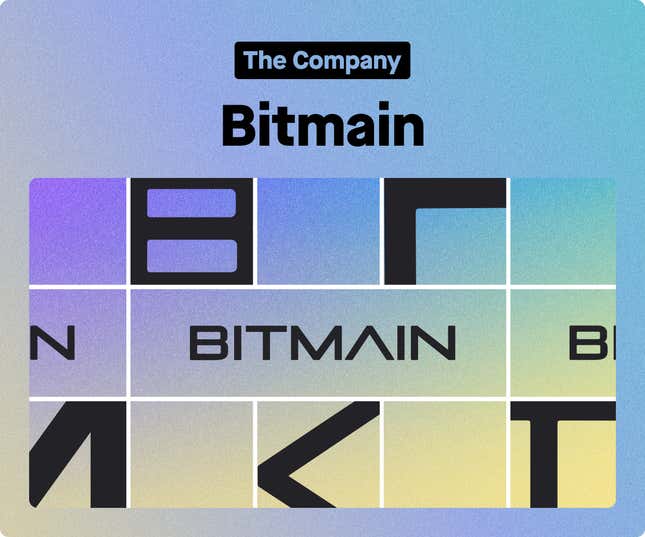 Hi Quartz members,
The people who made the most money in the California Gold Rush were those who sold picks and shovels, or so the saying goes. That same logic is driving the success of eight-year-old Bitmain Technology, one of the world's largest makers of crypto-mining "rigs"—power-hungry computers that solve algorithmic puzzles to be rewarded with new bitcoin.
But while Beijing-based Bitmain is riding high on demand for crypto, it's also dealing with drama at home. After banning crypto trading and exchanges in 2017, China remained a popular base for mining thanks to its cheap electricity prices. In September, the country's 10 central agencies put a stop to that, too, banning all crypto mining and all crypto transactions. In response, Bitmain said it would no longer sell "Antminer"—its core mining products—to clients in mainland China.
Therein lies Bitmain's survival strategy: continuing to manufacture a product in China that it can no longer sell to Chinese customers. Or more broadly: striking a balance between its core business model and its need to keep Beijing happy. In 2018, co-founder Wu Jihan told Bloomberg that as "a China company," Bitmain "[has] to be prepared."
In a way, this could be Beijing's survival strategy, too: allowing companies like Bitmain to exist in China, while kicking out crypto's miners and traders. "Bitcoin was clearly a threat because of the kind of financial and political structure in China," says Fiorenzo Manganiello, founder of private equity company Lian Group, which owns renewable bitcoin mining farms in Europe. But "Chinese president Xi Jinping is also keeping a big part of the [crypto] business," which can bolster the wealth of Chinese companies. Whether that balancing act will last on either side remains to be seen.
---
A brief history
2013: Bitmain is founded by chip-design expert Micree Zhan and private equity entrepreneur Wu Jihan. The company releases its first product, the Antminer S1—an application-specific integrated circuits (ASIC) chip customized for crypto-mining machines.
2014: A falling bitcoin price caused by the collapse of Mt. Gox, a Tokyo-based crypto exchange, pushes Bitmain into tough times as demand drops for rigs. Still, the company rolls out several new products: the S2, 3, 4, and 5 of Antminer.
2015: Bitcoin bounces back, and so does crypto mining. A Bitmain subsidiary takes over a massive bitcoin mine—picture racks of bitcoin-mining machines in a room with large fans—in Inner Mongolia, an attempt by the company to get into mining itself.
2017: China bans initial coin offerings (ICOs) and crypto trading, wary of its volatility and utility for transferring capital abroad. In an effort to build revenue streams beyond crypto, Bitmain begins selling prototypes of its Sophon BM1680, a type of ASIC chip that the firm says can speed up machine-learning algorithms.
2018: Bitmain files for an IPO in Hong Kong—reportedly seeking to raise up to $3 billion—but is forced to let its application lapse after Hong Kong exchange officials raise concerns about the business amid another bitcoin price drop. The company reportedly conducts a massive layoff round in December, citing strategic adjustment.
2019: Bitmain reportedly starts the year with losses due to weak demand for crypto-mining rigs. An internal fight between the co-founders starts to emerge publicly.
2021: In June, the company halts sales of mining rigs following China's ban on crypto mining. An exodus of miners, who sell their gear at depressed prices, drags down the price of Bitmain products.
---
Bitmain's Game of Thrones
Despite having created Bitmain together after a chance encounter—and made themselves billionaires in the process—co-founders Micree Zhan and Wu Jihan eventually started to disagree about the company's direction. Zhan insisted the firm should diversify into new areas like AI chips, while Wu wanted to focus on crypto-related businesses.
In early 2019, both Zhan and Wu resigned as co-CEOs, though they remained company directors and co-chairmen, according to Chinese financial news outlet Caixin. Fast-forward to October of that year: Wu suddenly announced that Zhan, at the time attending a meeting in Shenzhen, was being stripped of all his positions including chairman, executive director, and legal representative.
After Chinese authorities ruled that Zhan could resume his position as legal representative of the company, Zhan and his lawyers had a physical clash with Wu's representatives in May 2020. A month later, Zhan announced his return to Bitmain with an internal letter, in which he vowed to list the firm as soon as possible, and achieve a market capitalization above $50 billion within five years. Meanwhile, Wu's side issued statements (link in Chinese) blasting Zhan's return, saying he had no right to represent the company.
The power struggle finally came to an end in January 2021, when Wu once again resigned as company CEO and chairman. The disagreement was settled in "an amicable and, more importantly, a constructive manner," he wrote in a statement. Wu went on to head Bitdeer, a Bitmain spinoff that has mining data centers in Norway and the US.
---
By the digits
2,594: Bitmain employees as of June 2018
94%: Share of Bitmain's revenue that came from selling crypto mining rigs in the first half of 2018, equivalent to $2.7 billion
3%: Share of Bitmain revenue over the same period that came from proprietary mining, or the company's own mining activity
1.5%: Share of Bitmain revenue over the same period that came from "mining pool service," where miners contribute their power to jointly mine cryptocurrencies and share the rewards
59.2%: Share of semiconductors, by value, that Bitmain sourced from Taiwan's TSMC in the first half of 2018.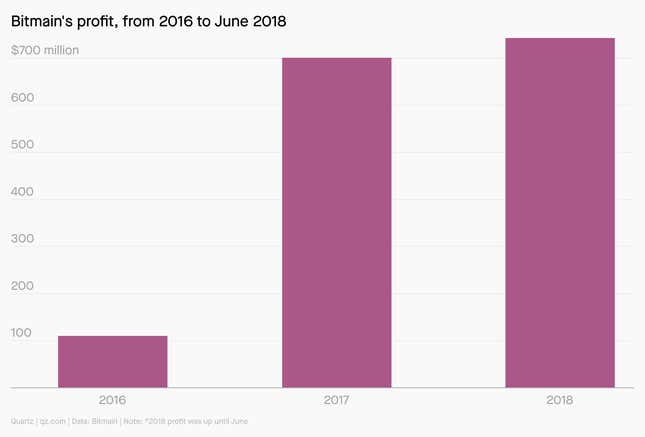 ---
Keep learning
---
Have a balanced end to your week,
—Jane Li, reporter (went to the same high school as Bitmain co-founder Wu Jihan)
---
One ⚡ thing
China's crackdown on bitcoin mining has created a new batch of "crypto refugees," i.e. crypto miners and traders who are fleeing the country. Among their favorite destinations are the US (specifically Texas), Russia, and Kazakhstan, where authorities have been more tolerant. The inflow of entrepreneurs has already caused power shortages in Kazakhstan, leading the country to ration energy consumption for crypto miners.