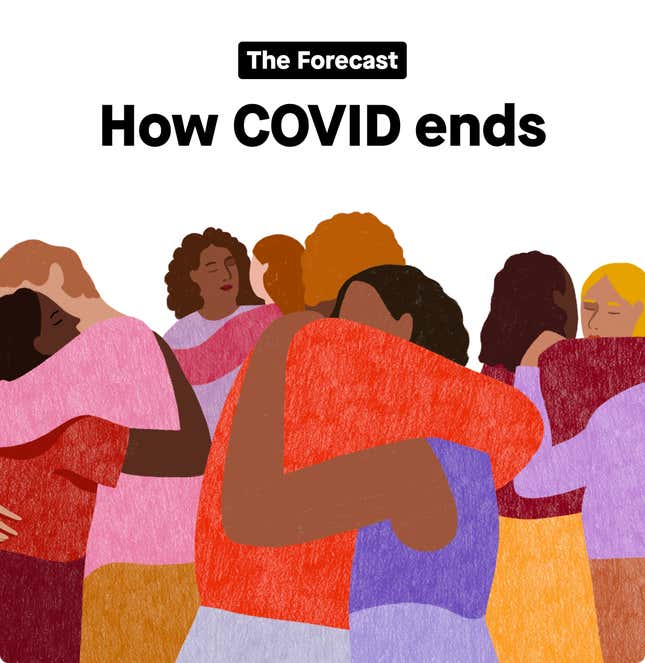 Amid all the loss of the 20 months of the Covid-19 pandemic, there have been real successes—primarily, the quick development and deployment of a life-saving vaccine.
But if the delta variant's rampant proliferation shows us anything, it's that the pandemic isn't over.
Here's what has to happen for us to start to refer to it in the past tense.
---
A checklist to end the pandemic
Wondering what it'll take to put the pandemic behind us? Here's the bare-bones gameplan:
1️⃣ Vaccinate everyone
2️⃣ Achieve herd immunity
3️⃣ Stay ahead of variants
4️⃣ Learn to live with Covid-19
Let's break down each step to really understand it.
1️⃣ Vaccinate everyone
The pandemic won't end until there is widespread immunity. This can happen naturally, after someone gets Covid-19, or with a vaccine. Public health officials, of course, are hoping people get vaccinated (instead of getting sick) because the immunity conferred by vaccine is better understood, the virus is less likely to spread to others, and those who are vaccinated are less likely to become seriously ill or die if they do contract the virus.
2️⃣ Achieve herd immunity
Experts don't know exactly what percentage of the population needs to be immune to reach herd immunity. In the US, 70% of the adult population has received at least one dose of vaccine, but that doesn't include kids. "[With delta], transmissibility is so much more than the original… We need much more than 70% [immune] for herd immunity," says Lucia Mullen, a research associate at Johns Hopkins Bloomberg School of Public Health. No country is there yet, but a few are close to hitting 80% of their entire populations vaccinated.
3️⃣ Stay ahead of variants
The longer immunity takes, the more likely it is that a variant will evolve that is able to evade our existing immunological defenses. "A billion people have already been infected, which leaves 7 billion more people [providing] opportunities to mutate," says Maureen Miller, an adjunct associate professor of epidemiology at Columbia's Mailman School of Public Health. "The next [variant] is terrifying to me…once a variant occurs that can really start evading vaccine effectiveness in a significant way, we're back to where we started."
4️⃣ Learn to live with Covid-19
Covid-19 is unlikely to ever fully go away. Smallpox is the only virus that has ever truly been eradicated, meaning it's gone from the planet. And SARS-CoV-2 is harder to eradicate because it can spread among animals, such as bats and ferrets. Because of the structure of its genetic material, though, the virus could be eliminated—that is, locally gone but still existing in the world, like measles.
More likely, experts predict, is that the virus that causes Covid will eventually become endemic, one that's always present and infecting people at relatively low levels, like the seasonal flu. Years in the future, people will still die from it, but fewer. Shunted to smaller populations, the virus will evolve more slowly than it is now, which will hopefully enable us to make effective vaccines against any new strains.
---
Shot callers
For the US, a country where most people are at least partially vaccinated, the approach to fighting the pandemic has to be dual-pronged: Get as many shots in arms as possible abroad, and target the straggling communities of the unvaccinated at home. Here's how each of those could happen:
🌎 Abroad
🇺🇸 At home
Tailor pro-vaccine campaigns to the concerns of holdout populations. Are people in a community unvaccinated because they distrust the government, or because they can't take the time off work or think it'll cost them? How public health officials approach those groups should be completely different.
Incentivize the vaccine. Organizations (governments as well as private employers) can encourage employees and the general public to get vaccinated with a carrot, no matter whether it's in the form of cash, sweets, or paid time off.
Make it ridiculously easy to get the shot. If vaccines were available where people already are—like at work, next to public transportation, or visiting their physician—then more people might get one.
Make it extremely inconvenient to not be vaccinated. Vaccine mandates, like the one in New York City that requires patrons of restaurants and gyms to show proof of vaccination, can push people to get vaccinated if only to do things they enjoy. "If this became the social norm and people expected it, resistance would drop," says Howard Koh, professor of public health leadership at the Harvard T. H. Chan School of Public Health.
Have the US Food and Drug Administration (FDA) approve (not just authorize) vaccines. The FDA just approved Pfizer's vaccine this morning, which might help convince holdouts of their safety.
---
Billion-dollar question
What will the next year look like in the US?
Life won't be like it was in March 2020. But it hasn't fully returned to normal, either. Here are experts' best guesses about what may happen in the next 12 months.
Tightening and loosening of Covid restrictions: 🟢Likely🟢
And necessary, too. "There needs to be an understanding and adaptability to what's going on in the community," says Mullen.
Full lockdowns: 🔴Unlikely🔴
That was a blunt tool to begin with, Mullen notes, and now there's little political or economic appetite to go back to it.
More vaccine mandates: 🟢Likely🟢
"We have evidence that a) you mandate vaccines, and then b) people get vaccinated. That simple message isn't coming across," says Miller.
Schools reopen… and then close again: 🟡Possible🟡
"I think it'll wax and wane," says John Swartzberg, a professor emeritus at UC Berkeley's School of Public Health. "We'll see clusters of cases, kids out to quarantine because of exposure. There may be some school closures. I think we're going to limp our way through a year of that."
Greater attention on long Covid: 🟢Likely🟢
Late last month, the Biden administration announced plans to include sufferers of long Covid under disability protections, while back in February the National Institutes of Health launched an initiative to study the condition.
---
🔮 Predictions
How long will this be going on? That is, when, exactly, will the pandemic be over? We asked some experts for their best guesses.
"Based on where things are now, probably more in the range of three to five years."
—Glen Mays, Chair of the Department of Health Systems, Management & Policy, Colorado School of Public Health
"Higher vaccine coverage in the US and Europe means those would be more likely to have a relaxed view or almost a post-covid world by the end of next year. In other countries, it'll take longer."
—Lucia Mullen, research associate, Johns Hopkins Bloomberg School of Public Health
" I think it's safe to say that we'll certainly see continued disruptions during the 2021-2022 school year."
—Eva Enns, associate professor of health policy and management, University of Minnesota School of Public Health
"It'll take between one and two years. Two years to get much of the world vaccinated."
—John Swartzberg, professor emeritus, UC Berkeley's School of Public Health
---
Sound off
When do you think Covid will no longer affect your daily life?
In last week's poll about the decarbonizing crypto, 48% of respondents said they think the value of bitcoin will rise into the stratosphere in the next six months. Anyone got some bitcoin they want to share?
---
Stay safe,
—Alex Ossola, membership editor (can't wait to go dancing once this is all over)
---
One ☺️ thing
Is there any good news in all this? When I asked Swartzberg, he noted: "This is a small virus and it only codes for a finite number of proteins. So although it can mutate, it probably has a limited number of ways it can change." That means he thinks there won't be any or many variants that dodge our mRNA vaccines. I hope he's right.