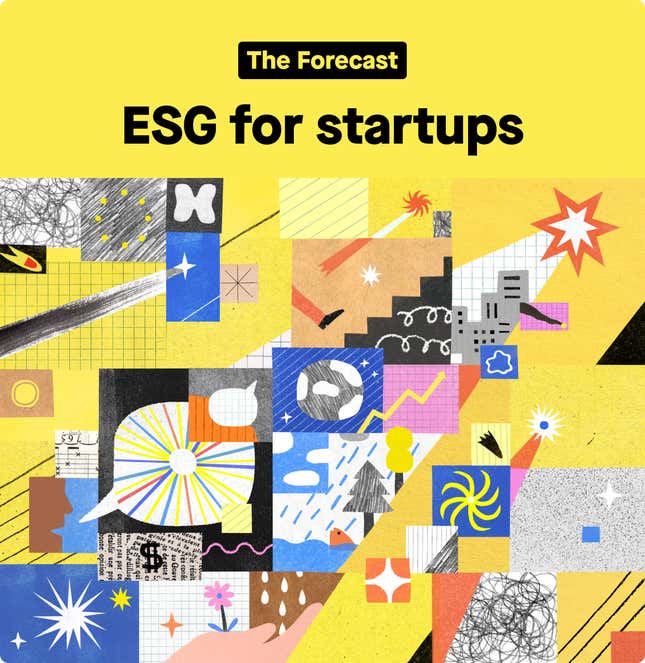 Hi Quartz members,
Investors are flocking to it. The world's biggest asset management firms have embraced it. And publicly traded companies are assuring stockholders that they get it. It, of course, is ESG, and by 2025 more than $50 trillion of global assets is expected to be committed to choosing investments based on environmental, social, and governance criteria.
And yet venture capitalists, those elite money managers who pride themselves on anticipating the future, are largely sitting on the sidelines.
That's what Hannah Leach discovered to her dismay when she became a venture capitalist herself in 2020. Leach is at Houghton Street Ventures, a London-based VC firm that partners with the London School of Economics to back and support promising startups founded by alumni. She didn't understand why venture capitalists charged with nurturing the next Facebook or Twitter were failing to make adoption of ESG a moral imperative. Didn't they have a responsibility to address climate change, inequality, and other socioeconomic crises just like other businesses? She believed they certainly did and decided to do something about it.
Leach joined forces with London-based GMG Ventures and Johannes Lenhard, an academic at the University of Cambridge, and set up VentureESG in London in July. It's one of the first advocacy organizations of its kind in the VC space. Their goal is to coordinate with like-minded VCs and push their peers to adopt ESG principles when they invest in startups, and in their own internal operations. The pair assembled a pro-ESG network of VCs and institutional investors stretching from Britain to Germany, Israel to Japan.
"ESG should apply the same way regardless of a business's industry or its size, and across all asset classes," Leach says.
Not everyone agrees. VCs often question why they need to bother with ESG because they invest in startups, not carbon-spewing industrial concerns.
But despite skepticism from some corners of the tech world, more than 20 influential firms welcomed their call, including 500 Startups, the US venture firm with $2.3 billion in assets, Pitango, the biggest VC firm in Israel, and KfW, which oversees €13.5 billion ($15.2 billion) in assets.
Their burgeoning campaign comes as ESG enters a new phase. After winning mainstream acceptance by asset managers such as BlackRock in recent years, the action is now shifting to alternative investing—a more rarefied domain where private equity firms, hedge funds, and VCs cater to institutional investors and the ultra-wealthy.
While VCs might resist embracing ESG, investors wary of workplace scandals and concerned about climate change and inequality are likely to force them to change.
---
BY THE DIGITS
~$40 trillion: Money held in ESG assets worldwide
90%: Millennials active in the markets who say they believe in sustainable investing, according to a 2019 study by Morgan Stanley
⅓: The share of European startups with ESG policies in place, according to a 2021 study by KfW, the state development bank in Germany
83: Number of ESG criteria that Kinnevik, a Swedish growth-stage VC firm, uses in its due diligence process
45: The number of VC firms that are certified as B Corps
25%: Share of US VC deals with at least one female founder
---
Projects to watch
---
Pros/Cons
The case that startups should consider ESG from day 1:
It's easier to build ESG principles into a firm's strategy and culture from the beginning than to change course years later (as evidenced by the ethical lapses at big tech platforms).
Regulators and investors will increasingly demand it. For example, the European Union's regulations requiring financial services companies to disclose how they're meeting sustainability standards have kickstarted ESG efforts. Venture capital firms must now disclose policies and practices they've adopted to comply with the EU's environmental and social justice obligations.
There's mounting confidence that companies attuned to ESG are better managed. That's why Matthew Joseph, Kinnevik's sustainability director, sits on the firm's investment committee and scrutinizes prospective startups.
Startups that fail to prevent hostile and abusive workplace cultures can vaporize their valuations, a problem that falls under the Social category in ESG.
And the case that ESG isn't a good match for tech startups:
Startups with just a few employees and limited resources shouldn't be distracted from their search for product-market fit by dozens of complex metrics designed for larger firms. For example, it's not realistic for a young company to measure the carbon emission impacts of its suppliers.
Software companies don't have the same environmental profile as industrial companies. Though any operation that uses electricity contributes to climate change, software startups are typically renting space in the cloud, not themselves emitting CO2.
VCs tend to see rules and standards as things to be upended, not complied with. The art of venture investing is all about supporting companies that disrupt the status quo, so ESG standards can be tough sell.
---
QUOTABLE
"There is little interest [in ESG among VC], particularly on the West Coast. Some VCs are straight out saying no, we have no interest in this. It's not terribly surprising."
—Johannes Lenhard, an anthropologist and researcher at the Max Planck Cambridge Centre for Ethics, Economy, and Social Change.
---
🔮 PREDICTIONS
ESG is picking up momentum across the investing world. Mutual fund providers and asset management firms got on board a few years ago, and they're profiting from the movement by rolling out scores of ESG-branded funds. Meanwhile, private equity giants such as Blackstone, KKR, and TPG have also developed sizable sustainability practices and metrics, partly because they've become publicly-traded companies themselves and are answerable to the marketplace.
Venture capital, still private and still skeptical, is now the outlier. With grassroots efforts like VentureESG rallying their peers to recognize that ESG is shaping the future of investing, it looks likely that this last redoubt of resistance will eventually accommodate the approach in some way, shape, or form. The big question is how VCs will measure ESG performance, and how they will bake it into the culture of young companies that may eventually grow into the next generation of tech giants.
---
SOUND OFF
Will VCs come around to ESG?
No, it'll stay mostly for public companies
A few specialized firms will focus on it
In a few years it'll be mainstream
In last week's poll about mRNA vaccines, 66% of you said yes, mRNA technology will live up to the hype.
---
KEEP LEARNING
---
Have a good week,
—Edward Robinson, a freelance writer and editor based in London (long-time ESG follower)
---
One 💰 thing
Half the startups in a recent survey (pdf) in Germany said they embraced ESG to attract customers while only 30% did so because of societal expectations, a sign that entrepreneurs recognize how ESG can help the bottom line.
This story has been updated to include GMG Ventures' role in founding VentureESG.